Antrei Hartikainen has won admiration with his artfully crafted wood sculptures. We met the young master carpenter at his home in Fiskars.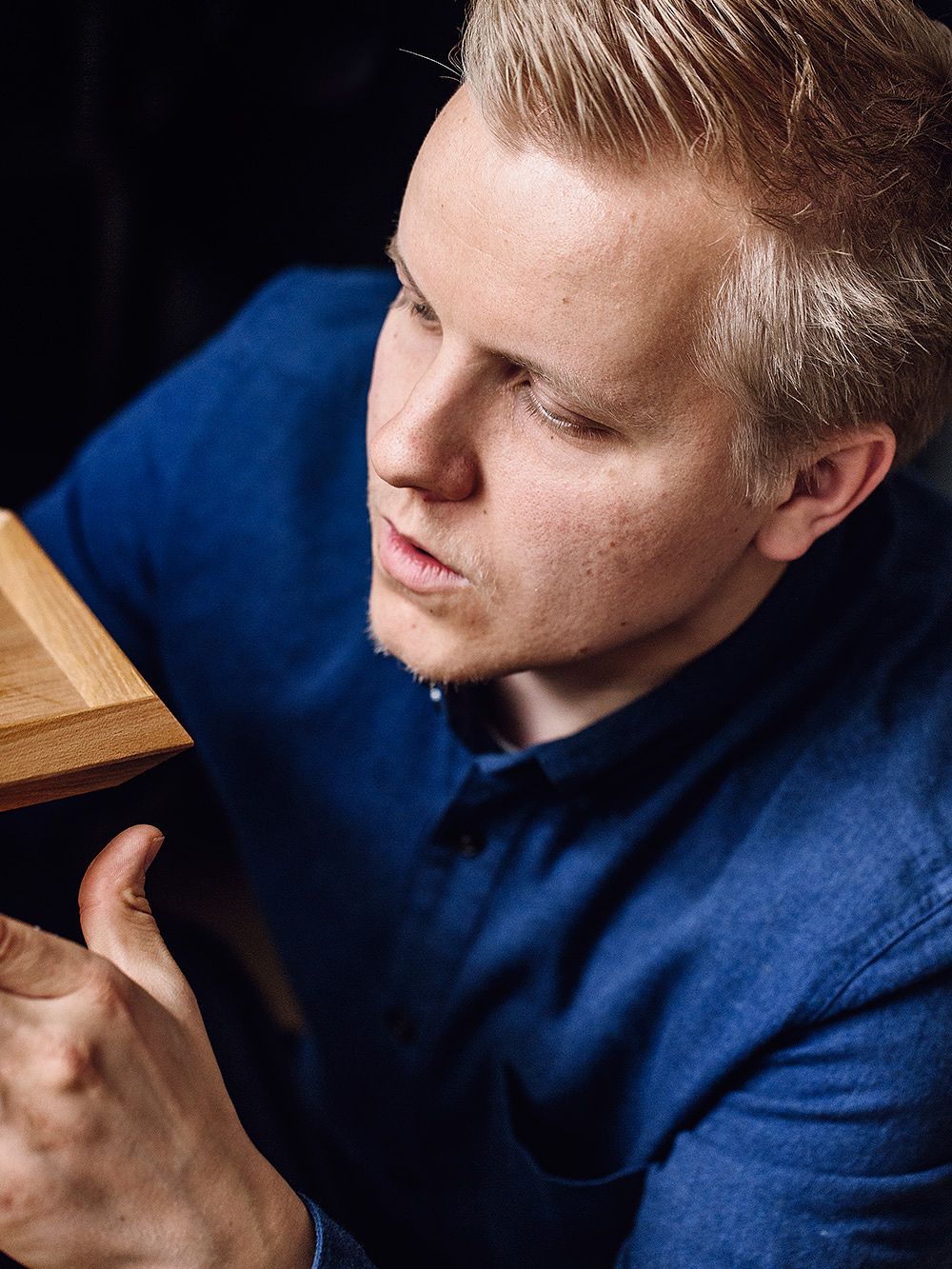 YOUR "KUKKII" SCULPTURES won the Product of the Year award at the Muoto gala at Helsinki Design Week. Could you talk a little about the work?
"The "Kukkii" ("In Bloom") sculptures have taken shape through exhibitions over several years. Their story began at a summer exhibition in Fiskars in 2014, for which I produced a conceptual kitchen utensil series in cooperation with Erika Kelter. The following year I held an exhibition in the Onoma mini-gallery in Fiskars, where the only space available was the wall. I made wall-fixed shelves from which flowers of various sizes grew. After that came long-stemmed flowers, which were part of the floor structure of my stand at the Habitare Talent Shop in 2016."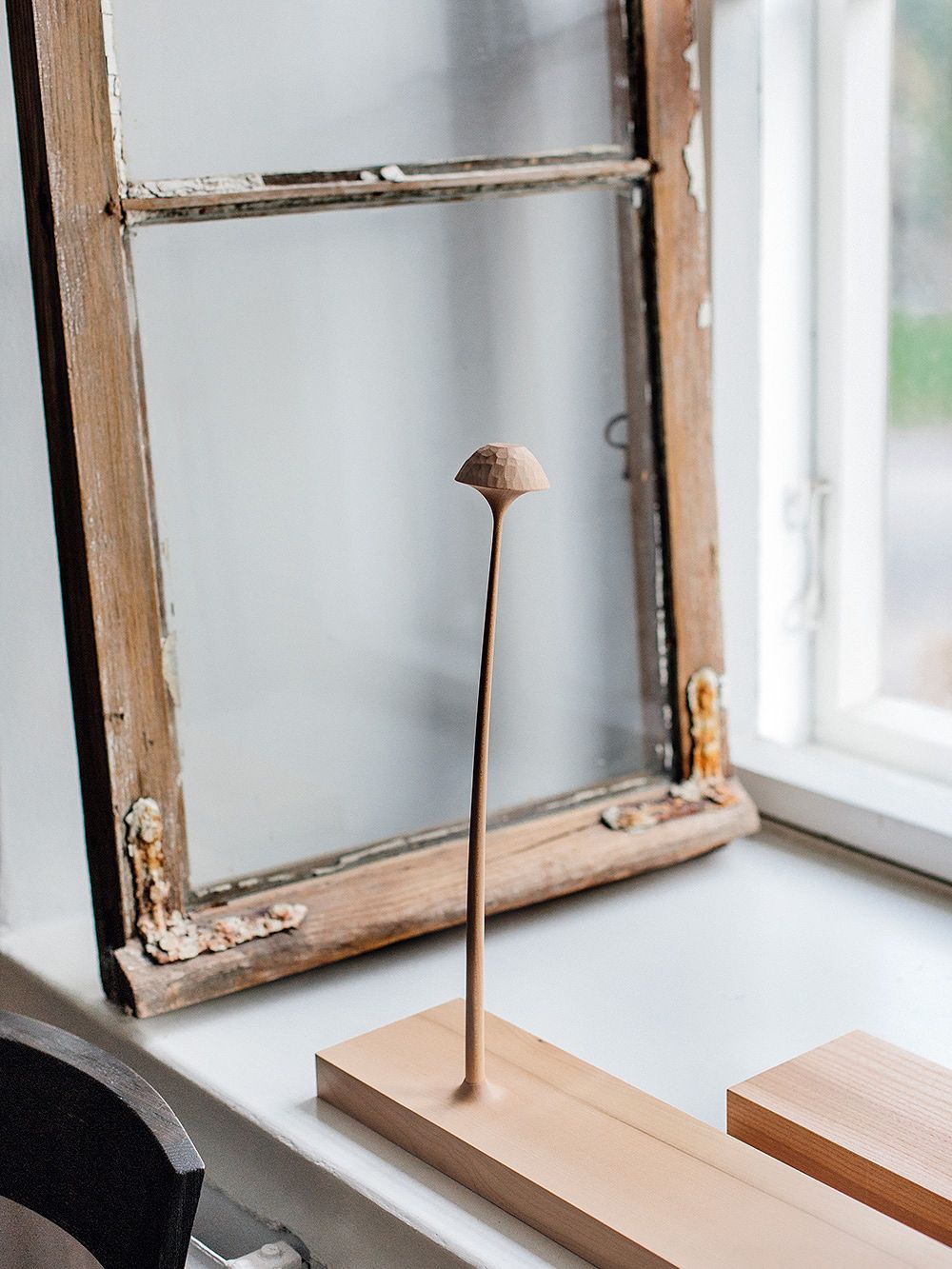 Nature is strongly present in the Kukkii sculptures.
"In sculptural work, ideas come easily from nature. I get inspiration from long-stemmed water plants that extend towards the sky. I am not a particularly passionate nature walker, but I pay attention to fine forms and how the light hits them. However, I do not try to copy any forms directly."
"In sculptural work, ideas come easily from nature."
The flowers are graceful and almost mystically delicate. Do they often break when you're working with them?
"I just made a hundred long stems, and six of them broke. Even a small knot is enough to break one. Not one broke at my shows. Actually, the sculptures look so delicate that nobody dares touch them."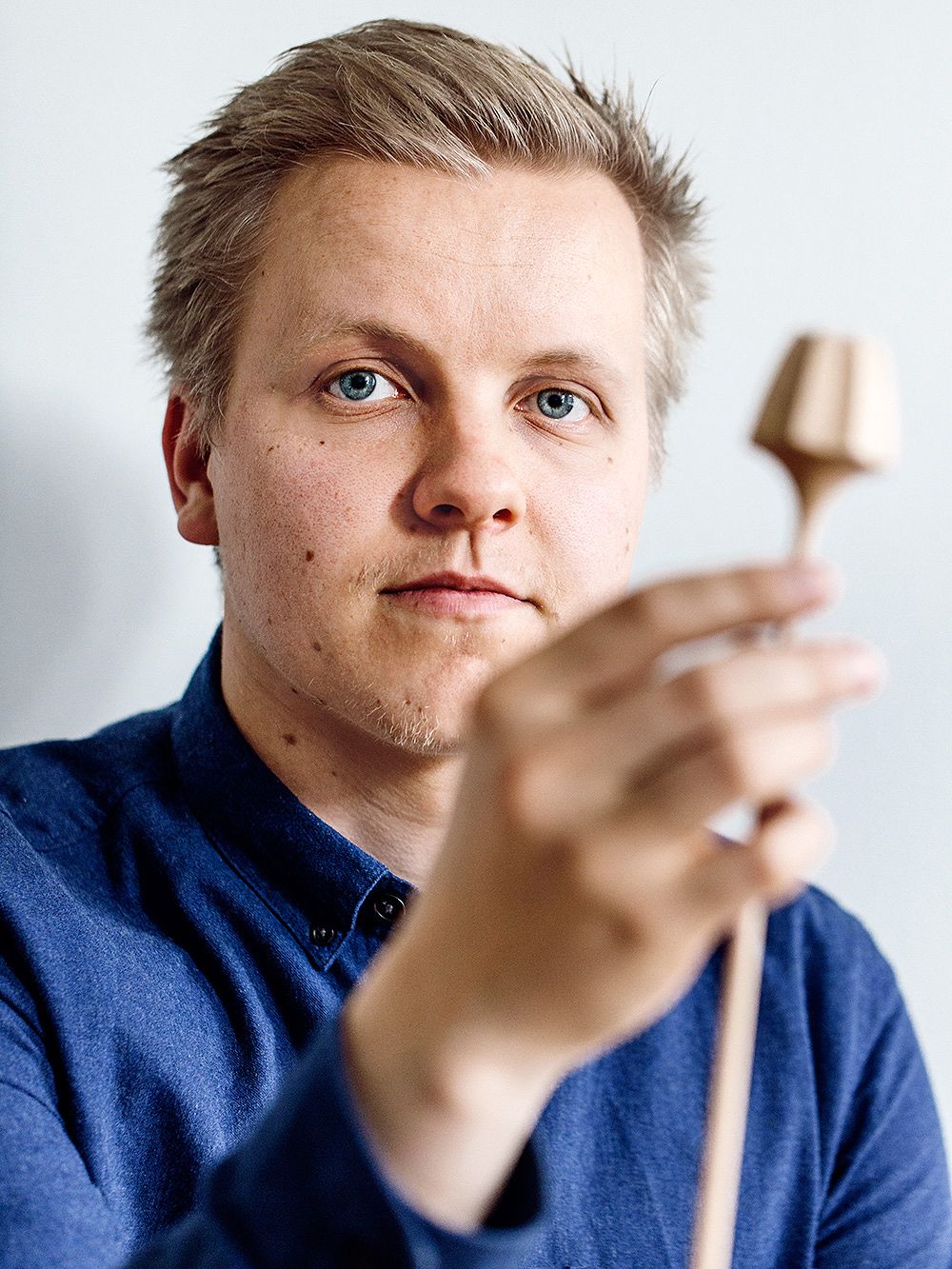 Where are you from and how did you end up as a master carpenter?
"I come from Outokumpu in Eastern Finland. My father ran a kitchen fittings business where I helped out every summer and when help was needed. From a young age I got a good feel for working with my hands. After high school, I applied to the woodwork artisan course at the vocational school in Joensuu. It was there that I realized that work experience is the best way to get to know the companies in the field.
I got a job at the Tetrimäki woodwork factory in Vehmersalmi, which at that time made such things as wooden Eliel Saarinen furniture. I also had a couple of work experience stints with the master carpenter Seppo Auvinen in Kitee. On my last work experience job in 2010 I worked at Nikari. I was 18 then, and since that time I've lived in Fiskars. In between, I completed my master carpenter degree in Lahti."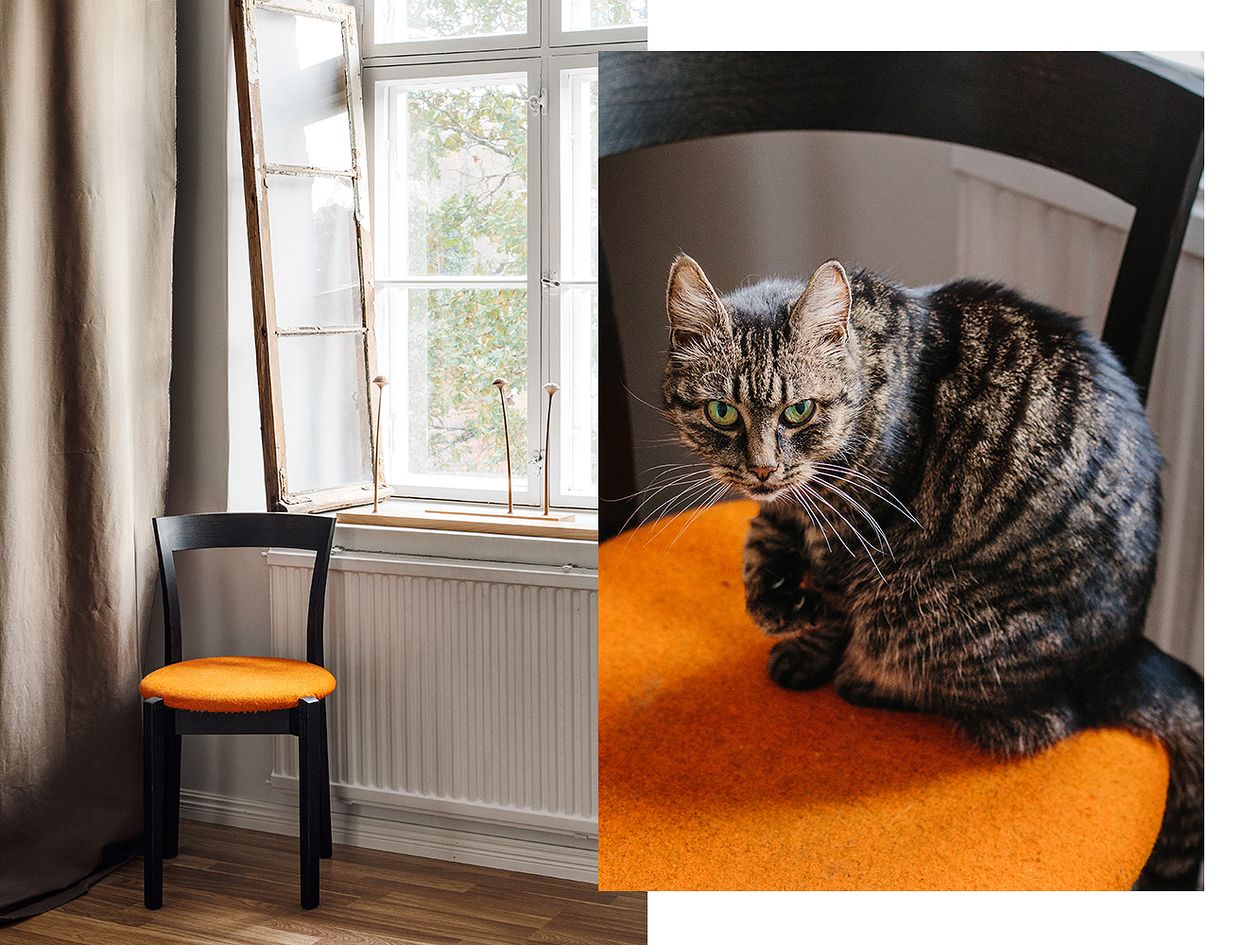 Nikari is known for its high-quality wood products and their factory is in Fiskars, too. What work do you do at Nikari at the moment?
"I am responsible for product development at Nikari. The designers and I work on structures and joints for new products. I come up with the first prototypes, and models for fairs, and sometimes I make furniture for the main Nikari collection, too."
"Already in my school days I would spend all my time on my own projects – I was often the last to turn out the workshop lights."
Were you encouraged towards design as a child?
Not really, but I got to try everything, and to go and do stuff. My mother is a retired art therapist. I of course had paint and brushes, and drew a lot. Thanks to my dad's work, there was a workshop environment right in our yard. Already in my school days I was passionate and would spend all my time on my own projects – I was often the last to turn out the workshop lights. Nowadays I always tell groups of students not to be afraid to try their own thing while they're still at school, because they won't necessarily get the chance later on once they're in work."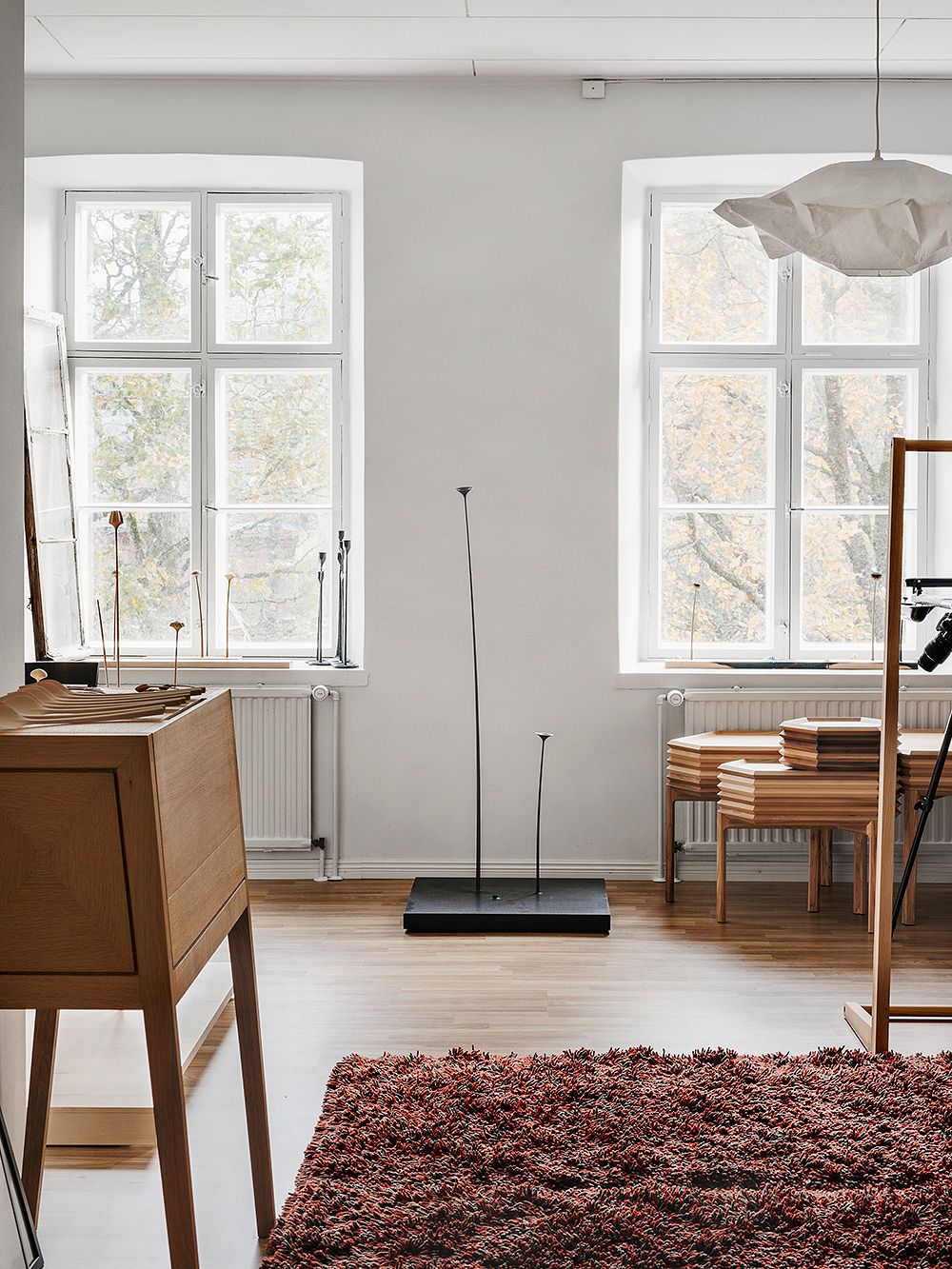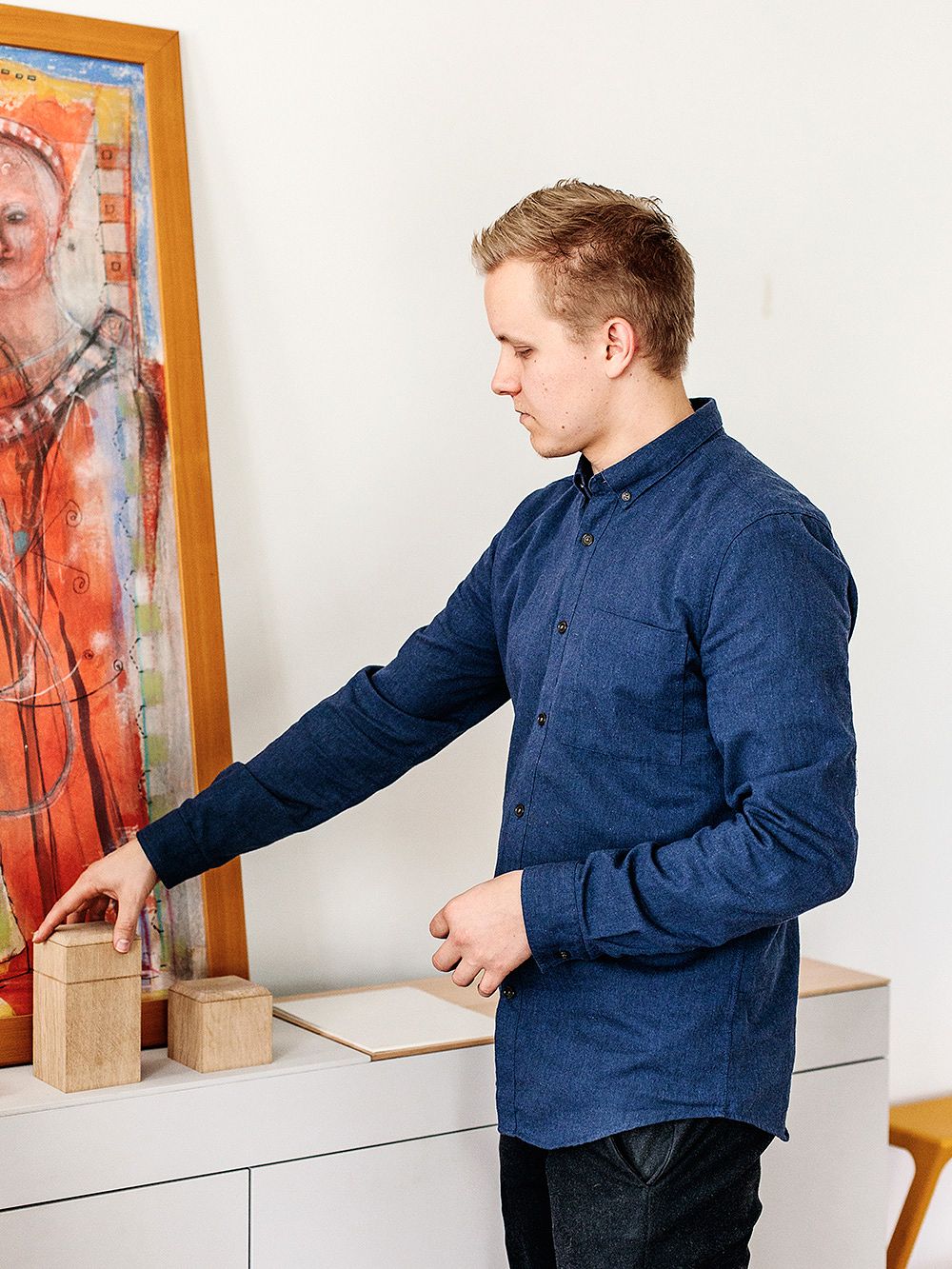 What's it like living in Fiskars near the historic iron foundry?
"This sure is a great place. Eight years have flown by. Fiskars is a lovely place to live and work in, but if you like action, this is really the wrong location! There are of course lots of tourists in the summer, but from October to March it's really quiet."
Lots of artists and craftspeople live in the area. Does Fiskars' creative atmosphere make you more productive?
"If I had stayed in Outokumpu I probably would not have got as much done. I have got to take part in summer shows, and they've been the start of a lot of projects. The people and the environment have had a big effect on me."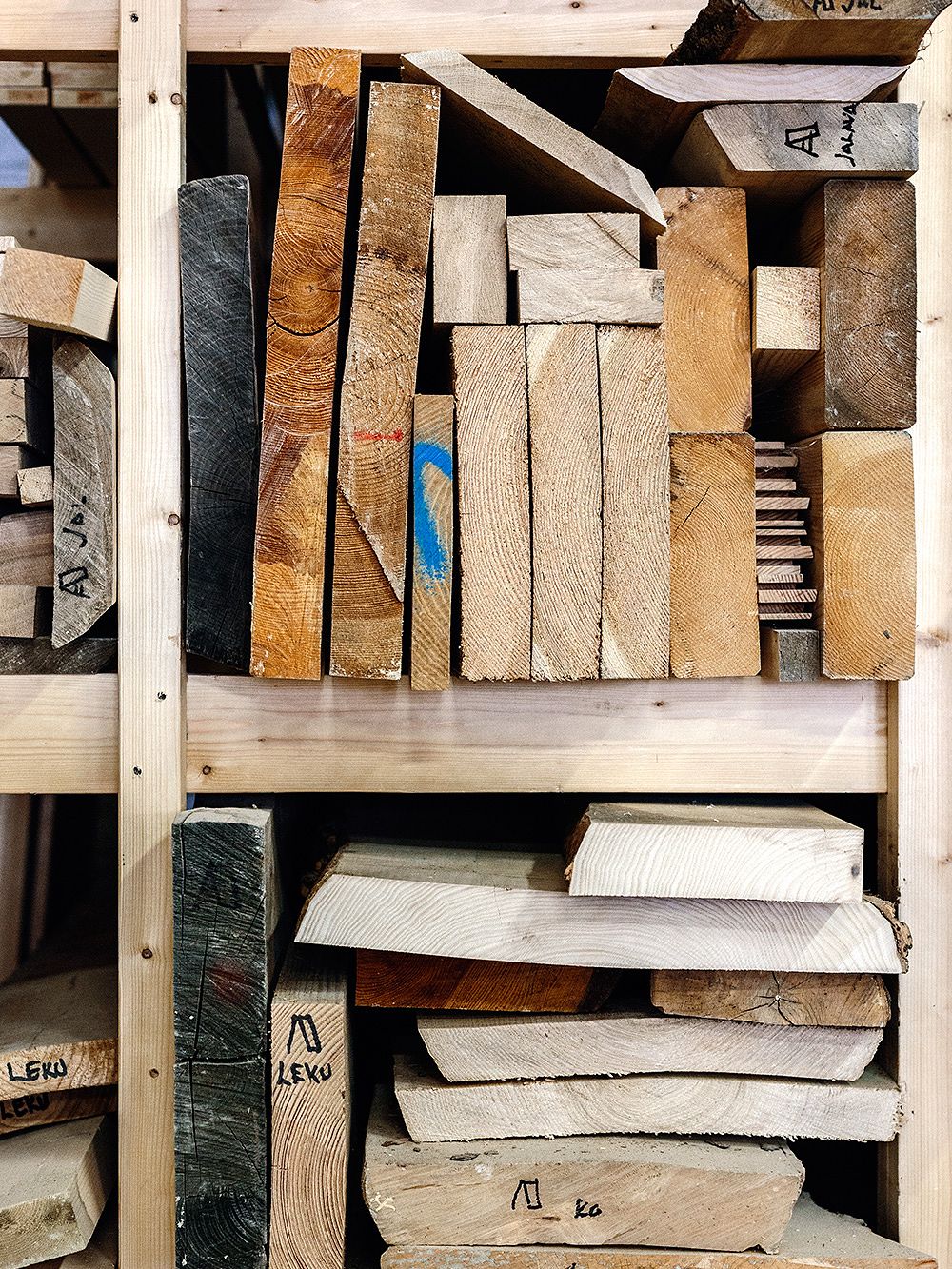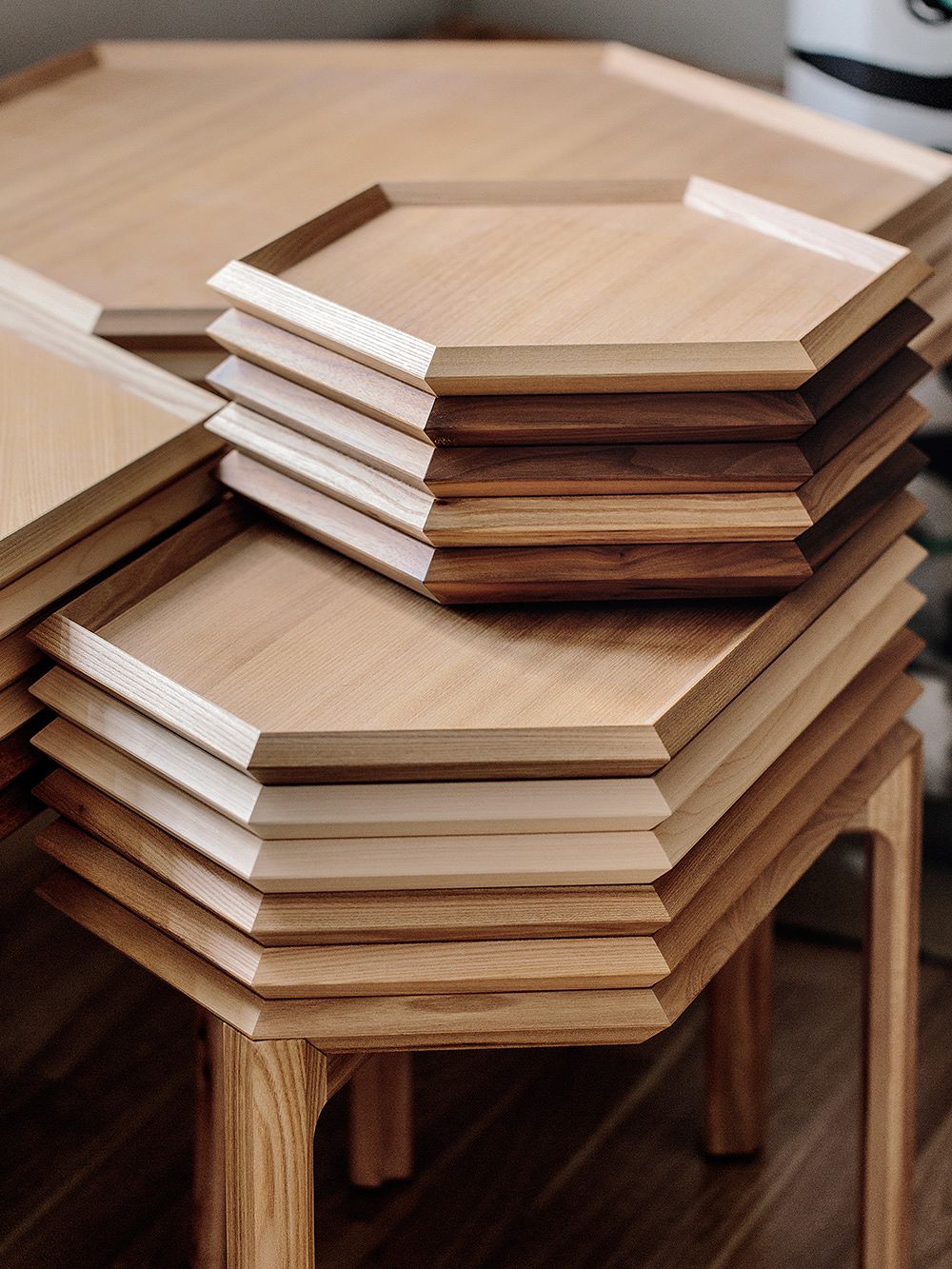 What excites you about wood?
"In Finland, wood is an everyday, basic material, and many people are happy with it staying that way. People don't have the patience to conjure fine things from it. But if you can bring something of your own to it, using form and sensitivity, this very everyday material starts to shine. Formability and workability are the reasons I work with wood. Sometimes you see people making things out of wood by forcing it to be something unnatural. I want to respect the special properties of the material, but not through any basic means."
"I want to honor the special properties of the material, but not through any basic means."
Do you have any favorite wood varieties?
"I have made a lot of small pieces from maple, because it is easy to shape into narrow, sensitive forms. At the moment, walnut is the most pleasant to work, and of the Finnish trees I have used linden for sculpting. To be honest, all wood varieties are good, but for different purposes. For example, alder is a really wretched and soft wood for furniture, but it makes for fine surfaces."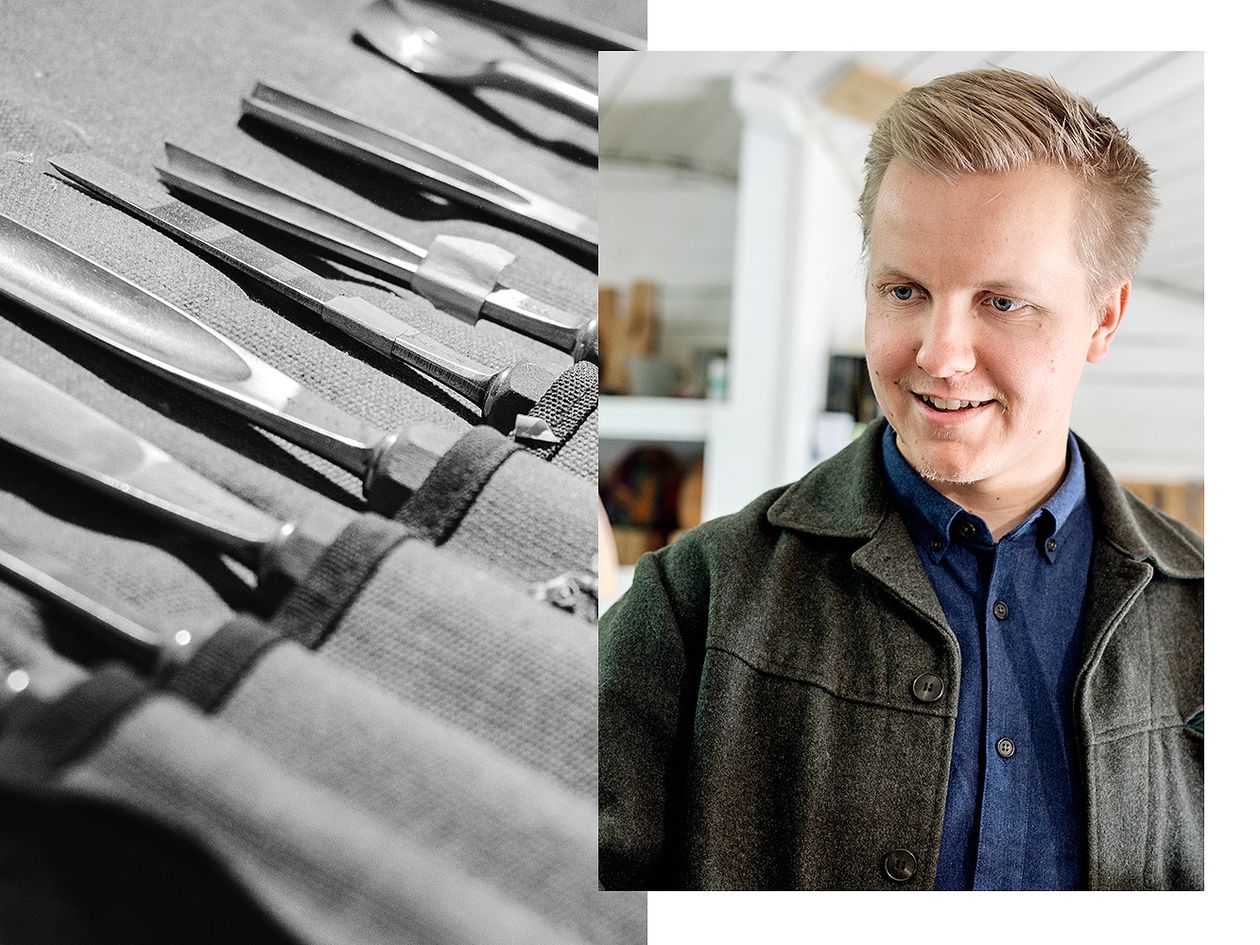 Where do you see yourself in ten years?
"I hope that I'll be able to concentrate more on wood sculptures, on a larger sculpture series, say. I'd like to combine technology with working by hand. Machine work can be made more human by finishing it off by hand. My cooperation with Nikari is also important to me. It brings something new into my own work. At some point it would be nice to live somewhere other than Fiskars. My partner and I could live abroad for a while."
What feedback have you got about your work?
"My work is considered sensitive and apparently people see a different kind of woodworking in them. Many of my smaller products are on the edge of being worth made from wood at all. But it's when you work on this very edge that the fine features of wood start to become apparent. The forms are demanding, but in spite of that the wood retreats a little – and it's durable."
Discover Antrei Hartikainen's products >
Text: Mikko Vaija Pictures: Suvi Kesäläinen