Inke and Jan Ketonen have picked up ideas from around the world, invested in classics and started nurturing plants. Gradually, they have developed a common style.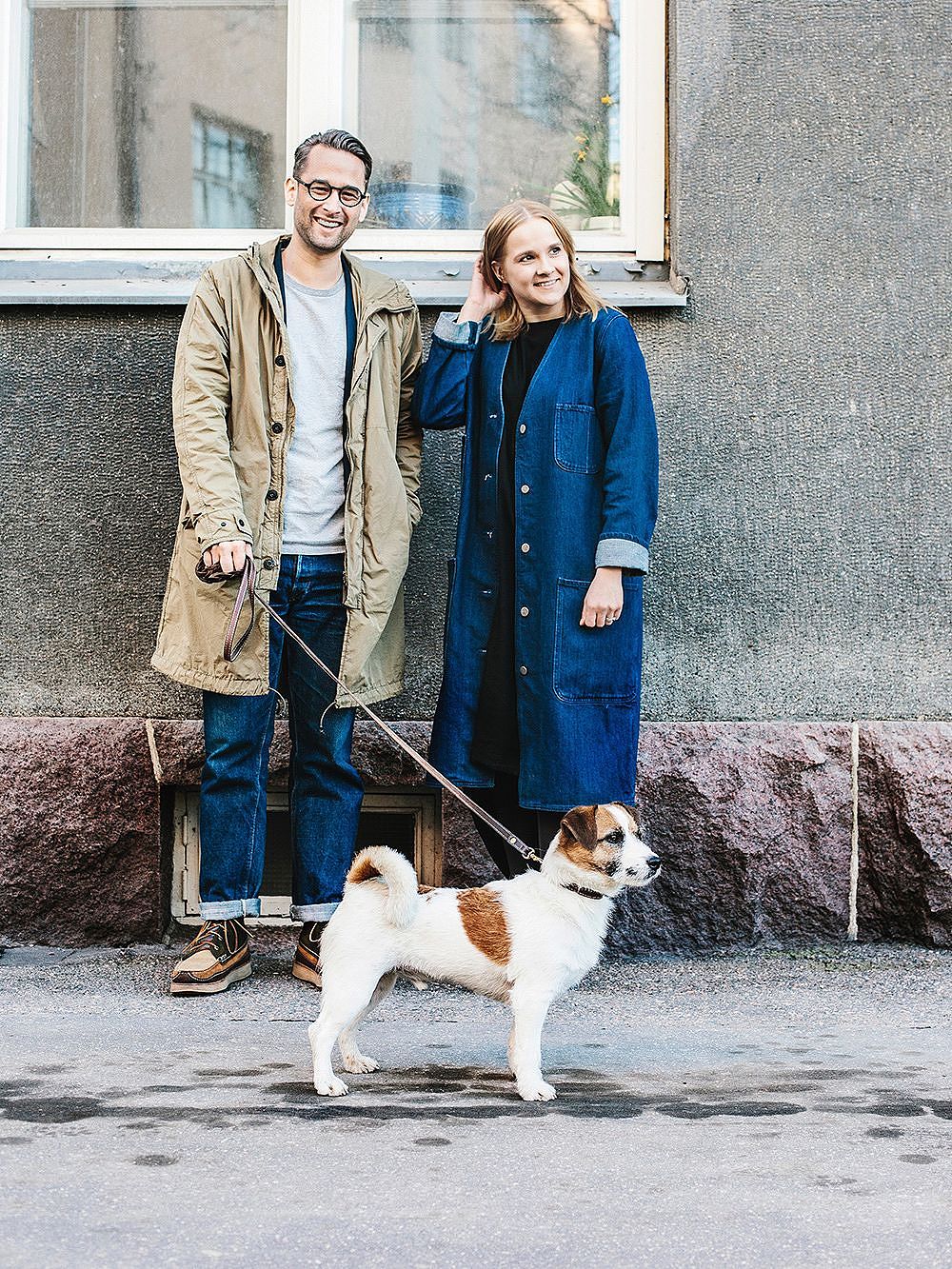 Residents:
Producer Inker-Maaria Ketonen and development manager Jan Ketonen as well as their Jack Russell Terrier Kaapo. Home is a 65 square meter two room apartment that was built in 1912 Max Frelander designed Jugend style building in Helsinki's Töölö district. The couple's design motto is "better incomplete than temporary".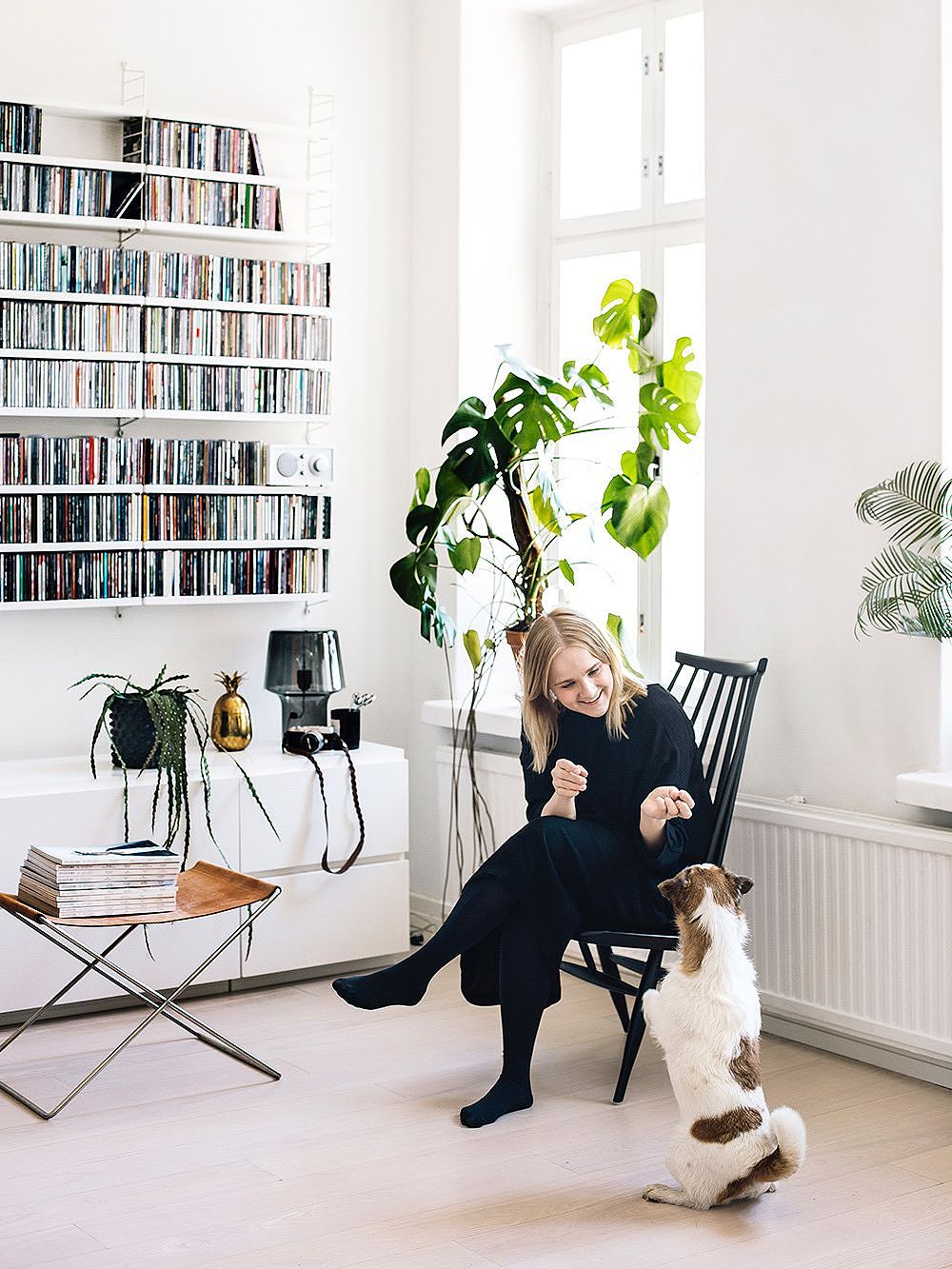 Inke and Jan's home was designed in waves. The apartment was fully renovated when the couple bought it and they were able to start designing their interior immediately. The dining area was designed first followed by the living room. From there they moved to the bedroom and the work station was the final area to be updated.
In the living room Muuto's Stacked shelf system was a perfect fit for the existing recess creating a compact bookcase. A Tapio Wirkkala vintage lamp was rewired and updated with fabric wires.
The music collection, wardrobe and window sills have been completed at a rapid pace with greenery and inspiring local and foreign finds. All angles are perfectly aligned and the aesthetic lifestyle is evident. The interior has been designed and curated, from beginning to end, together.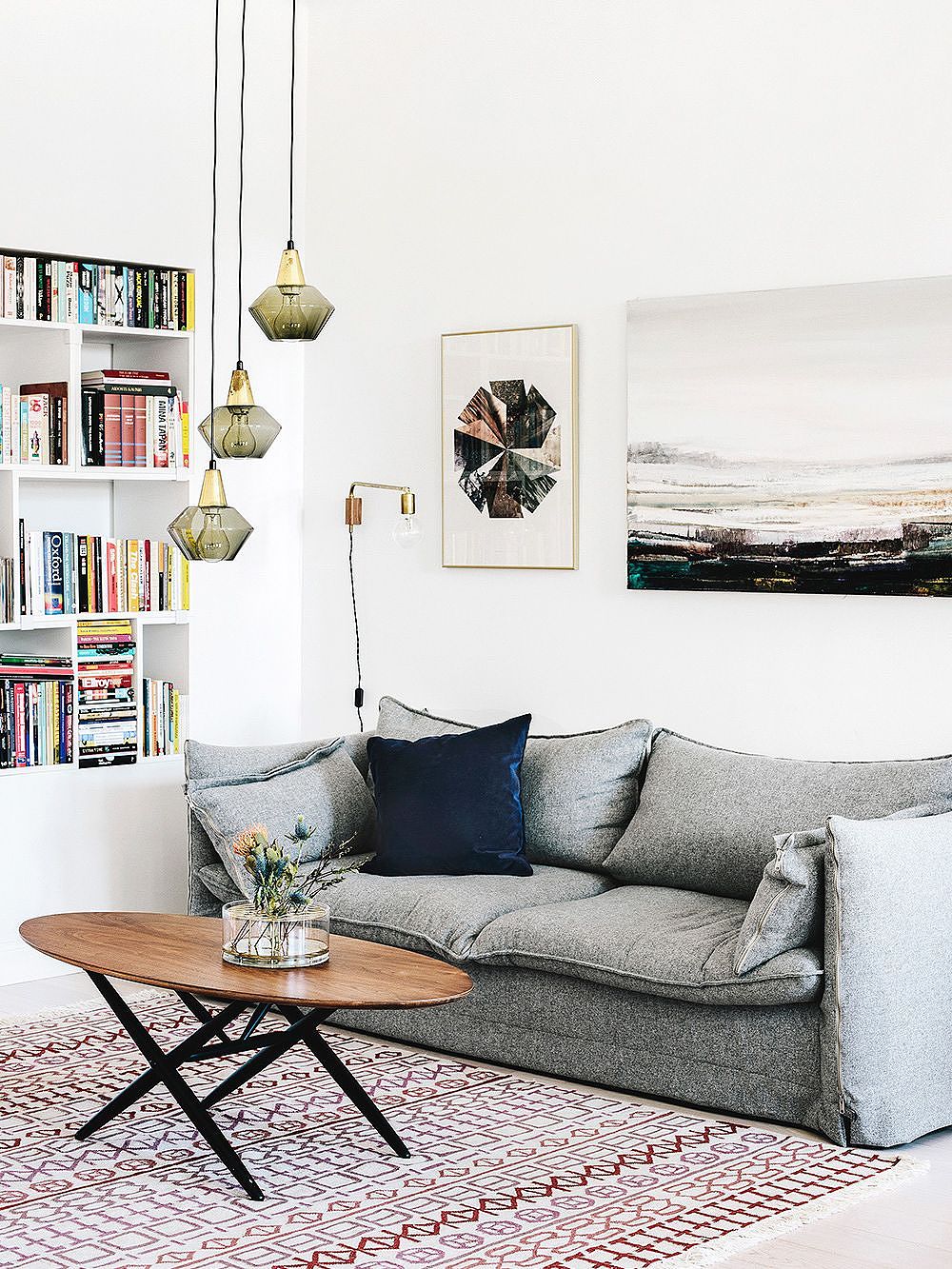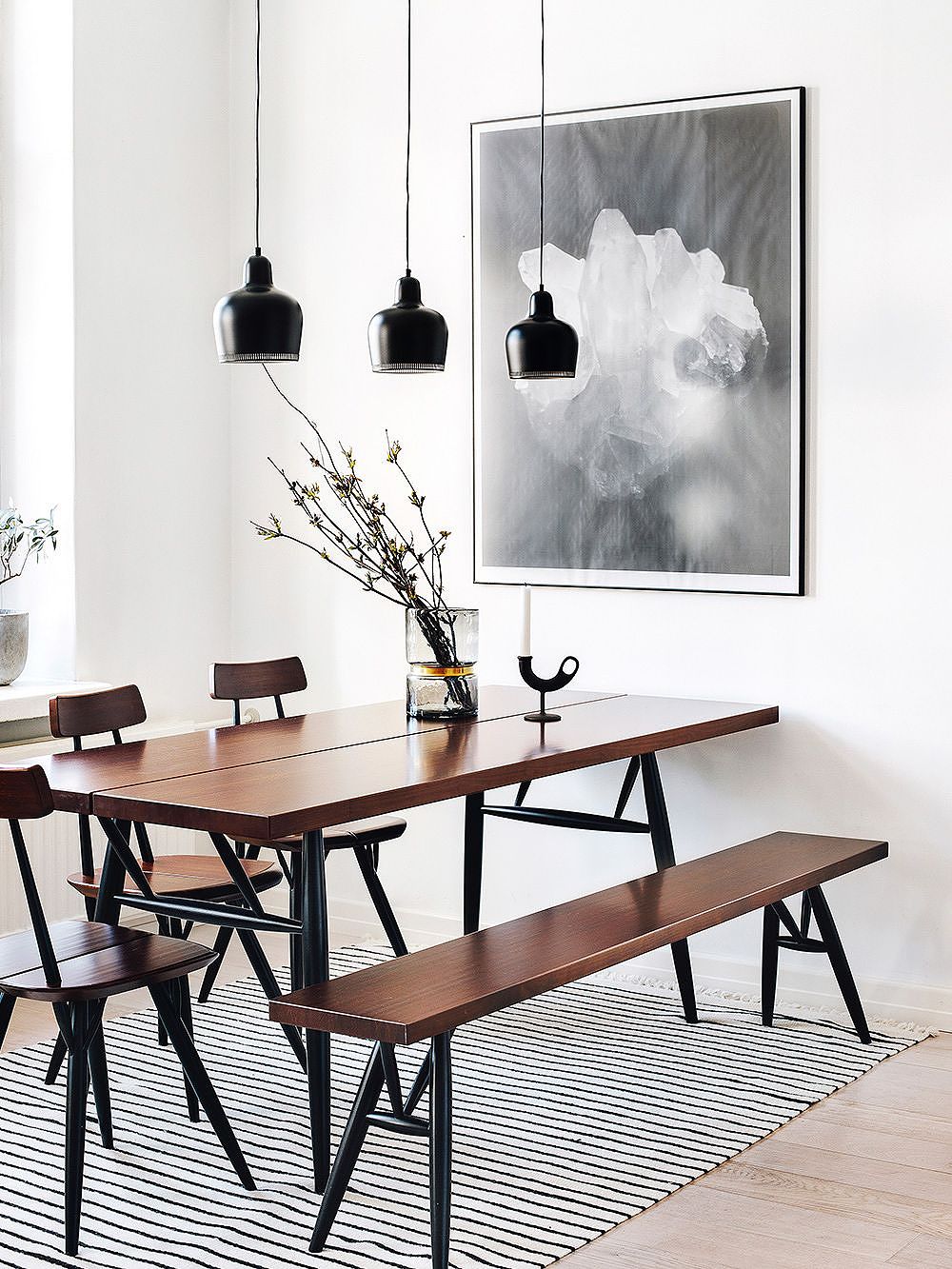 The saddle chairs and Artek table that had been bought for the previous apartment did not feel at home in the new house. They were sold and were replaced with a massive pine Pirkka dining ensemble. More classics were selected to hang above it: Artek's black A330S lights. The framed photo of crystal is Debbie Carlos's and the cast iron Ildhane candleholder is from Finnish Design Shop.
The interior has been designed and curated, from beginning to end, together.
Inke and Jan are unanimous in their acquisitions as both are interested in Finnish and Nordic design. The spacious apartment's walls are decorated with framed photographs and the abstract landscape painting they received as a wedding gift. These perfectly complement Ilmari Tapiovaara's and Tapio Wirkkala's design classics in the living room. Most of the furniture has been bought for this home as their previous pieces had primarily black and white graphics. This time the couple sought out light vintage pieces in various stains of wood and different greys.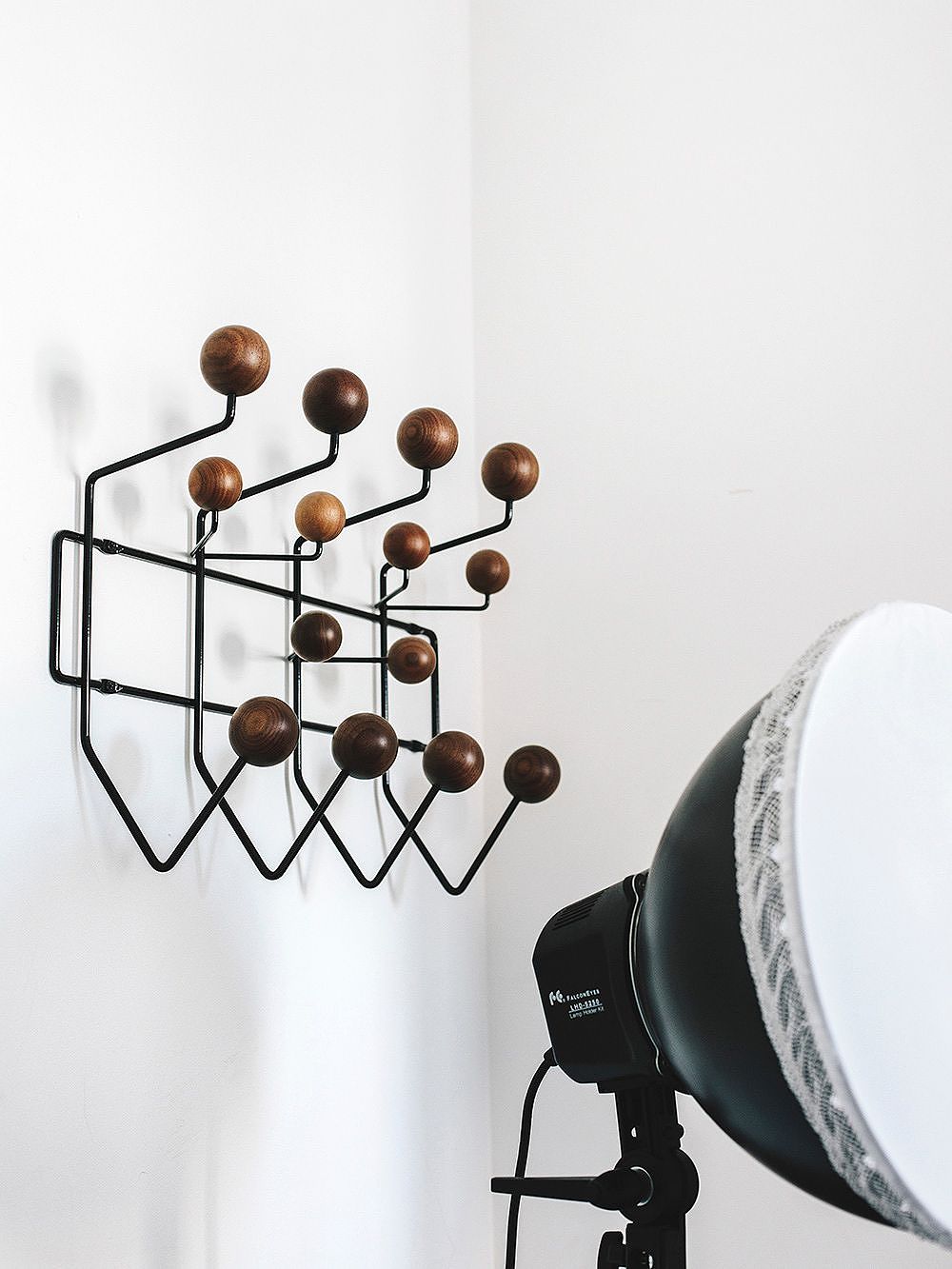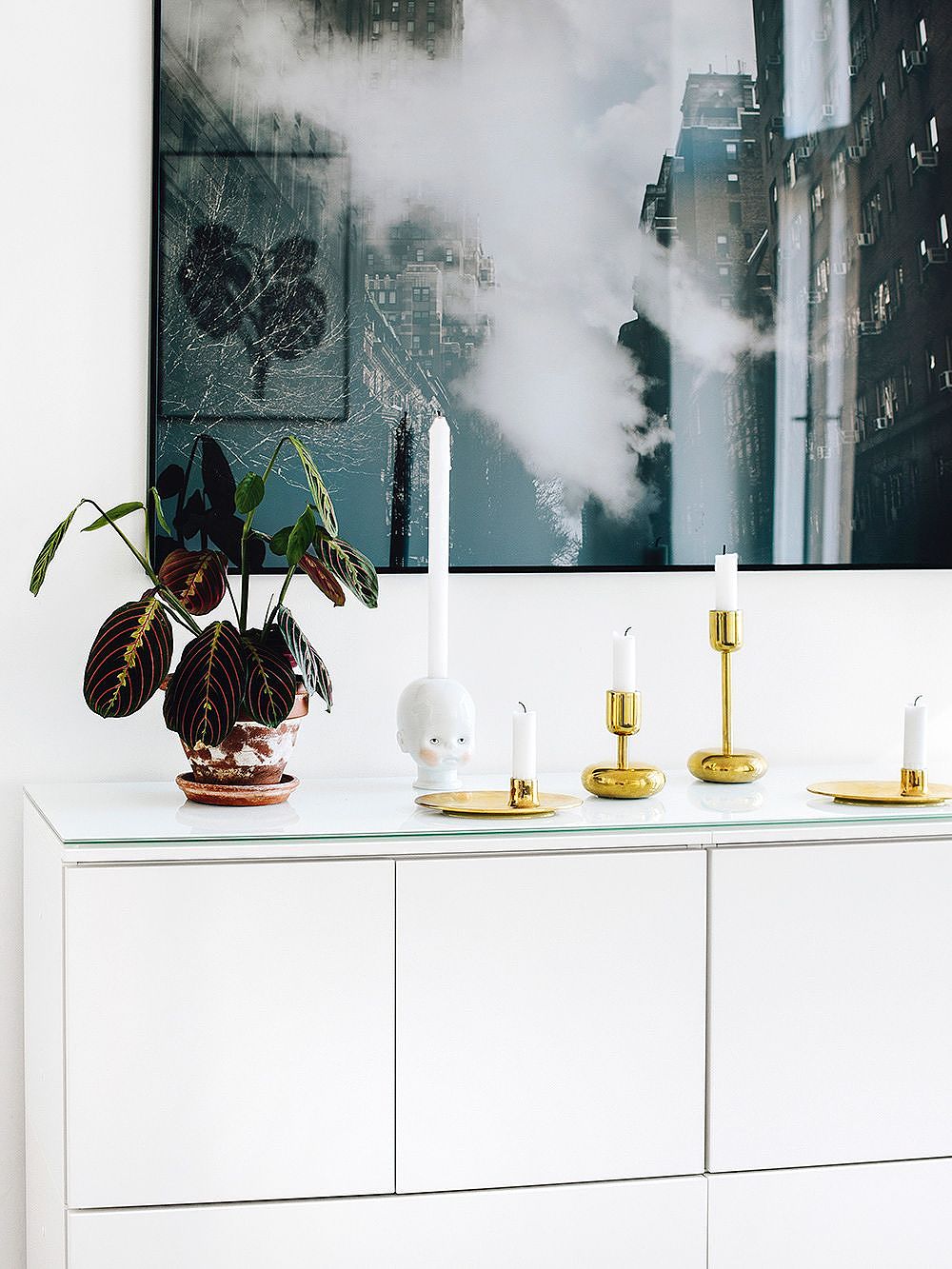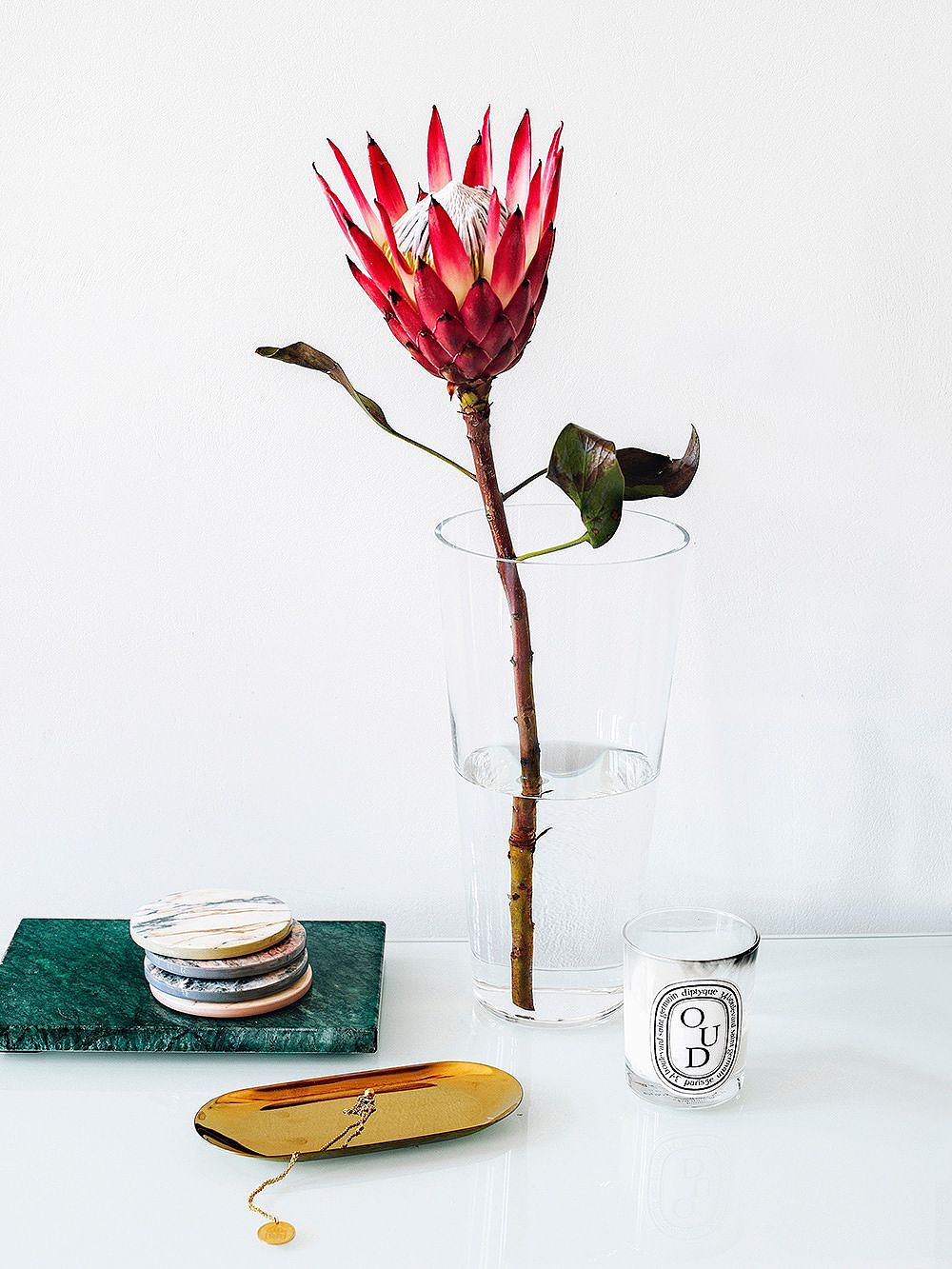 The interior design came together slowly over a period of four years. The result is deliberate, light filled, and airy. The compact work station was the last to be completed. The newest project with which they are helping is Inke's mother's cottage in Jämsä. Inke and Jan love Ilmari Tapiovaara's furniture such as the Mademoiselle chair.
Grey tones dominate the bedroom. Framed posters from Stilleben are hung above the bed. The idea came from Stockholm's Story hotel with its walls of art prints, pictures and drawings. The "Avaruusseikkailu" carpet is by Mum's and the bed cover is by Hay.
The look has been created through different stagings each with their specific items, candlesticks and scented candles. Their home can temporarily be called complete – before the next wave of design takes over.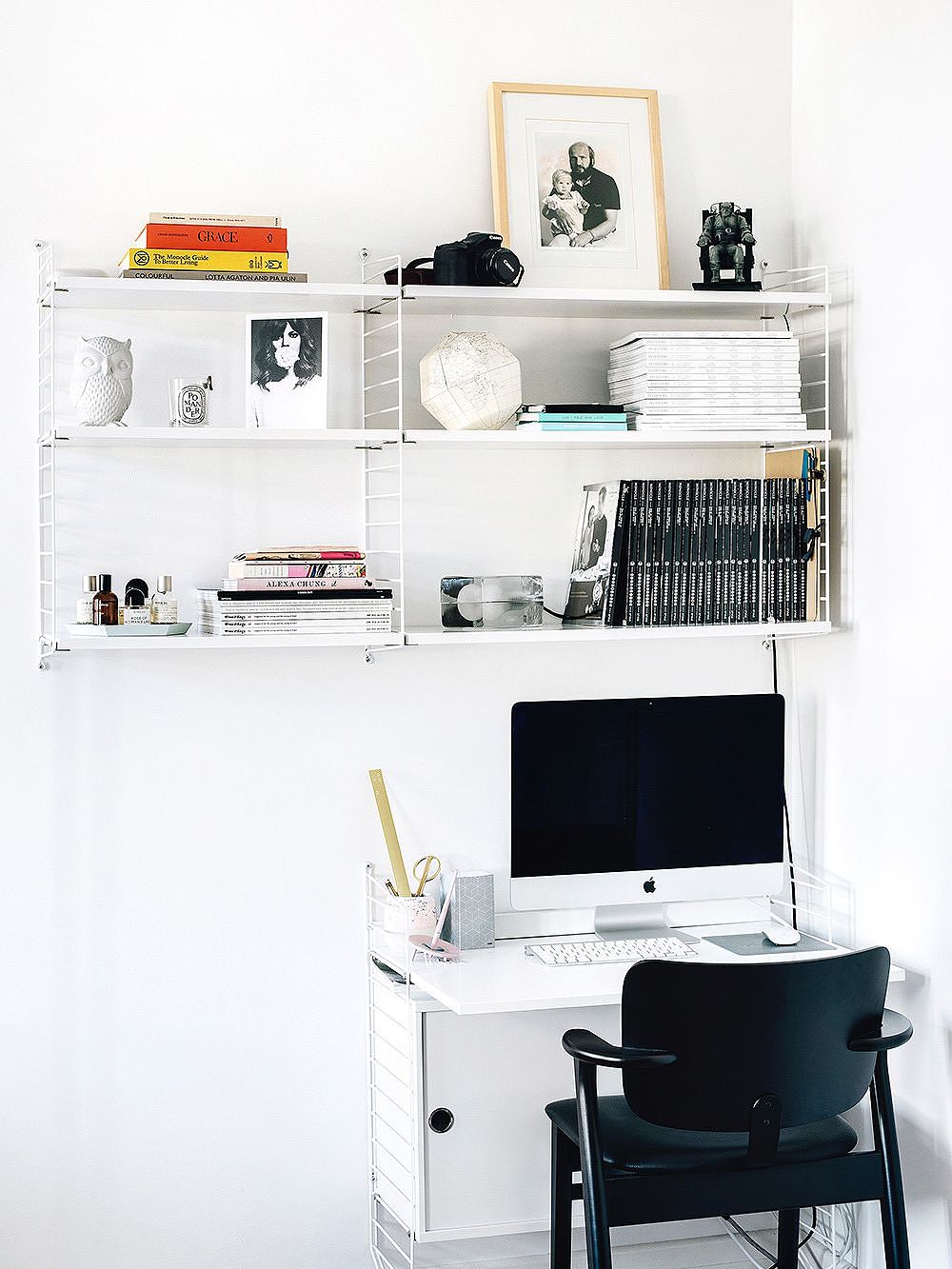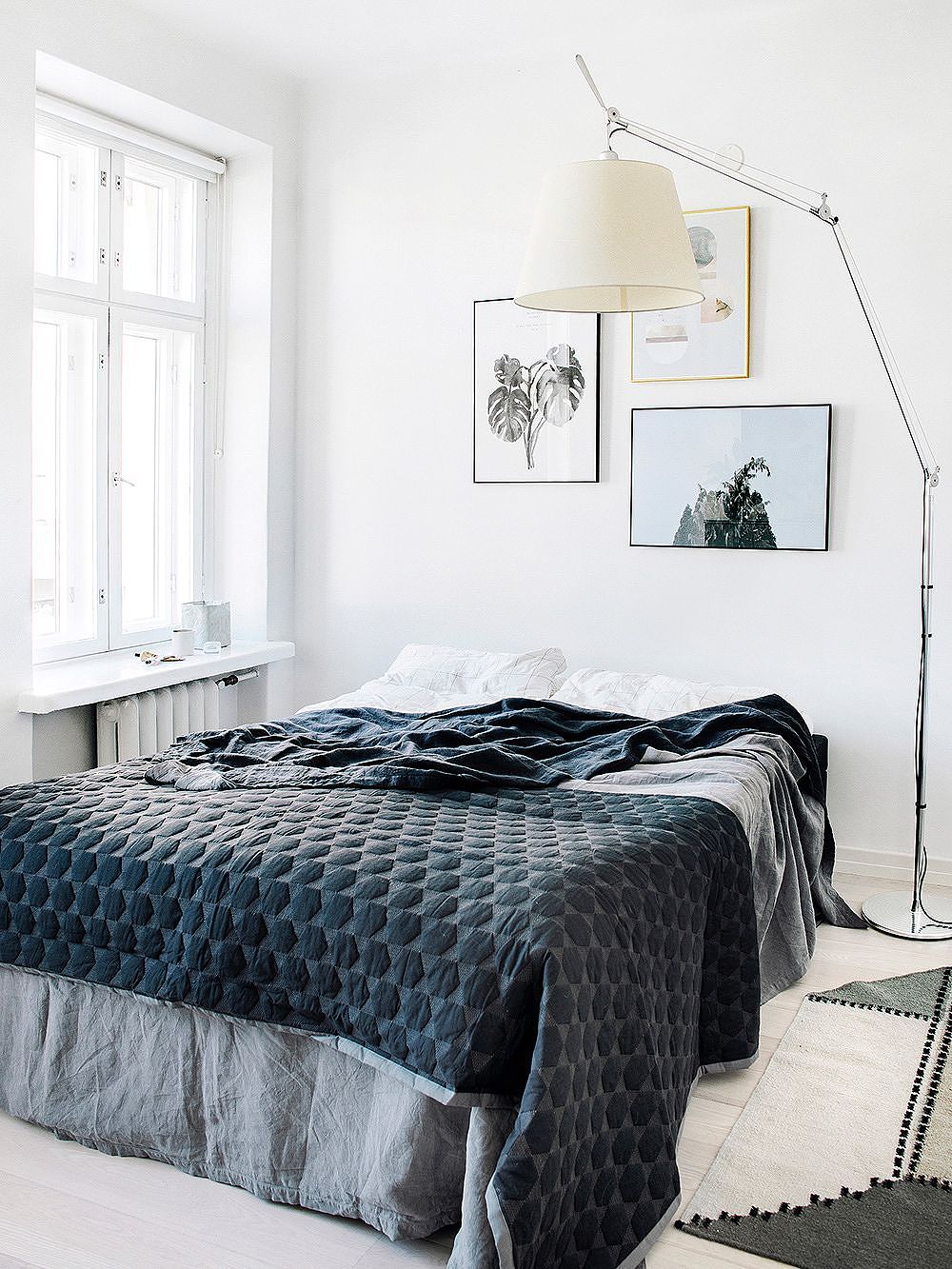 Inke and Jan's tips for inspiration
1. "New York is full of inspiring streets. The feeling and environment changes dramatically from neighbourhood to neighbourhood. We picked up ideas from rough as well as beautiful settings, from restaurants, cafés and lifestyle shops. When you are limited on time and budget escape to Tallinn for a night. The city's new restaurants offer up eye candy with a relaxed and lively style."
2. "Green plants add life and colour to the home. It is not so important to immediately have a green thumb – you learn by trying. Decorating with plants is relatively cheap and terracotta planters are very on trend."
3. "Renovating and refurbishing the cottage is very relaxing. Collect inspiration and interior decoration ideas from Pinterest boards and make them come to life. Or, maybe a "virtual cottage" is enough!"
Text: Riikka Siusluoto Photos: Suvi Kesäläinen
The story was originally published in Avotakka.