Klaus Haapaniemi and Mia Wallenius' home in Victoria Park, East London is a testing platform for Haapaniemi's enchanting animal and nature-themed products. The interior design of their home proves that richness of prints and colors can be harmonious and controlled.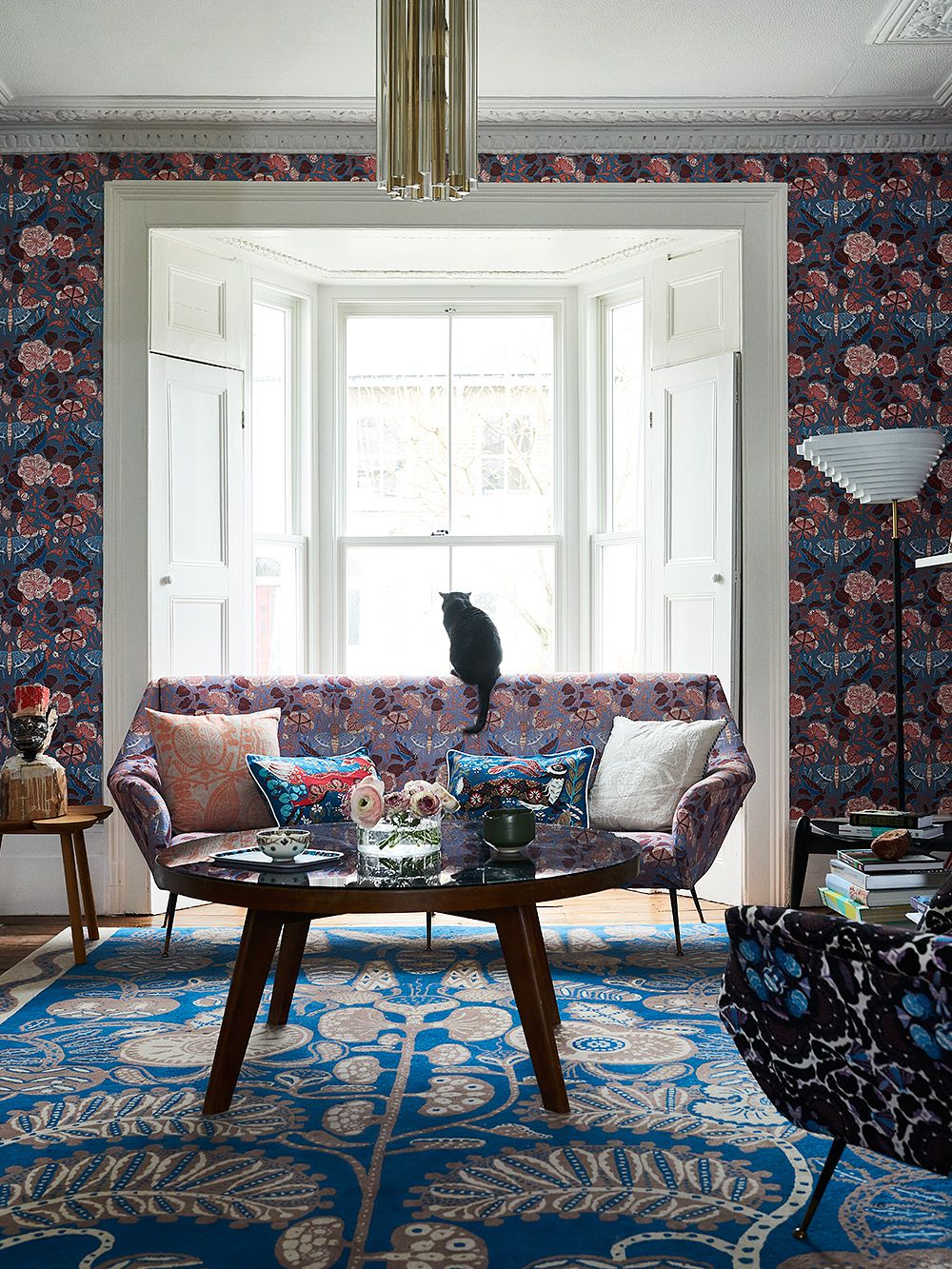 Klaus Haapaniemi and Mia Wallenius spend most of their time reading on the downstairs couch. Mia enjoys testing new wallpapers on the walls of their home. She has plastered the narrow wall surfaces of the living room herself with the spring-like Grasshopper wallpaper.
KLAUS HAAPANIEMI'S ILLUSTRATIONS decorate not only Iittala's popular Taika tableware series but also the interior design products of the Finnish designer's signature collection, such as pillowcases and blankets. His spouse, Mia Wallenius, is responsible for the brand's product design and marketing. New prints and products are tested at the couple's richly-colored home in East London.
"We test our patterns and products at home a lot. I don't think there are limits to combining them because all the colors have the same level of darkness. It's also important to see wallpapers and textiles as large surfaces, so I swap them every time we get new patterns in our selection," says Wallenius.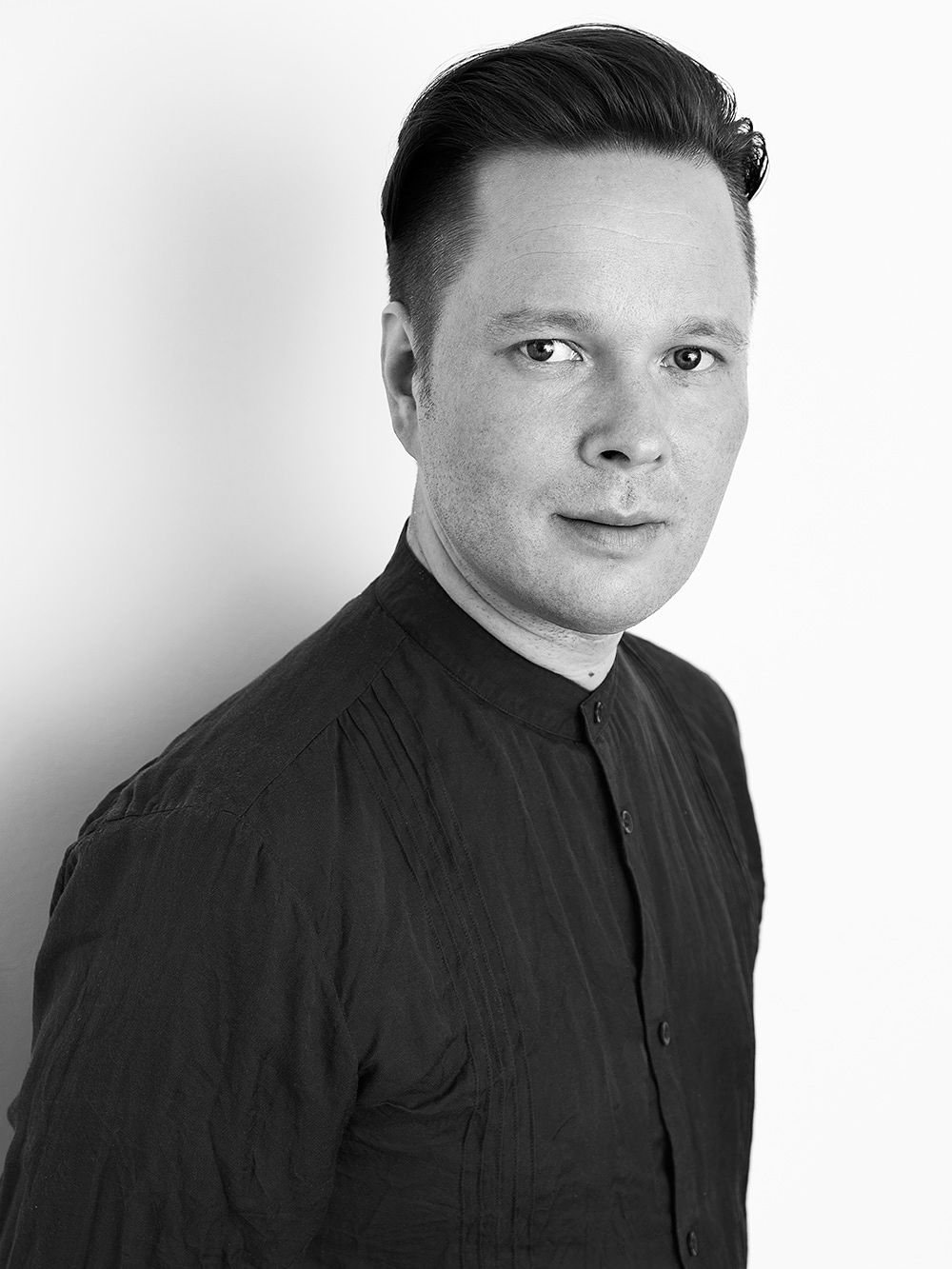 In addition to his signature collection, Klaus Haapaniemi has designed products for Iittala.
Haapaniemi and Wallenius have lived in East London for over 15 years. Over these years, the area has developed significantly. Victoria Park in Hackney is the first public park in London and a vast, blooming oasis in the middle of the hustle and bustle of London. And best of all, the area is now full of small delis, bakeries, wine shops, and fishmongers.
"We rarely need to go to supermarkets because everything we need can be found at small local shops," Wallenius rejoices.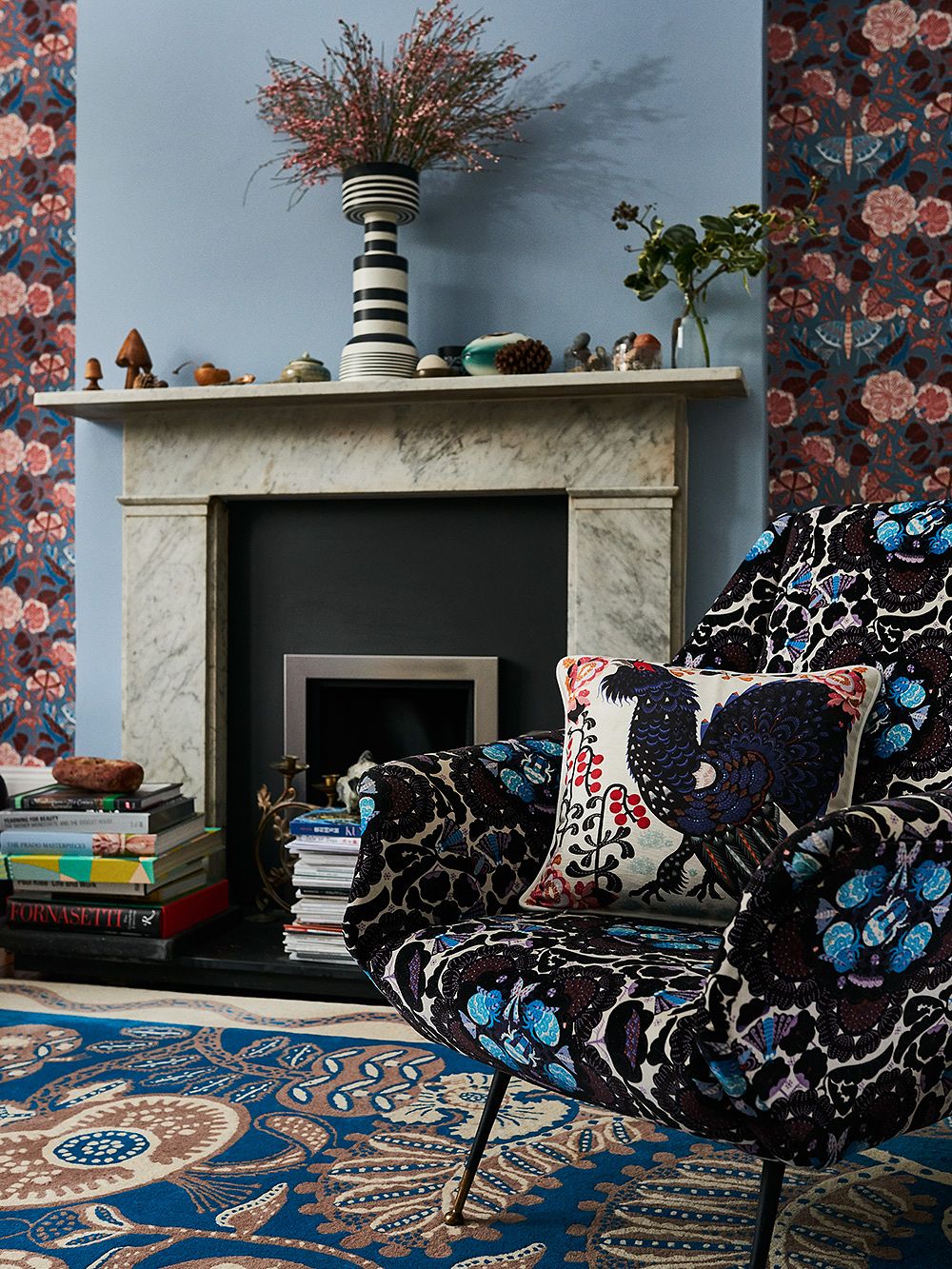 Wallenius and Haapaniemi's interior design is a relaxed but confident combination of colors and patterns. The richness is harmonious as the colors have the same value. The Grouse in the Woods cushion cover depicts a handsome capercaillie.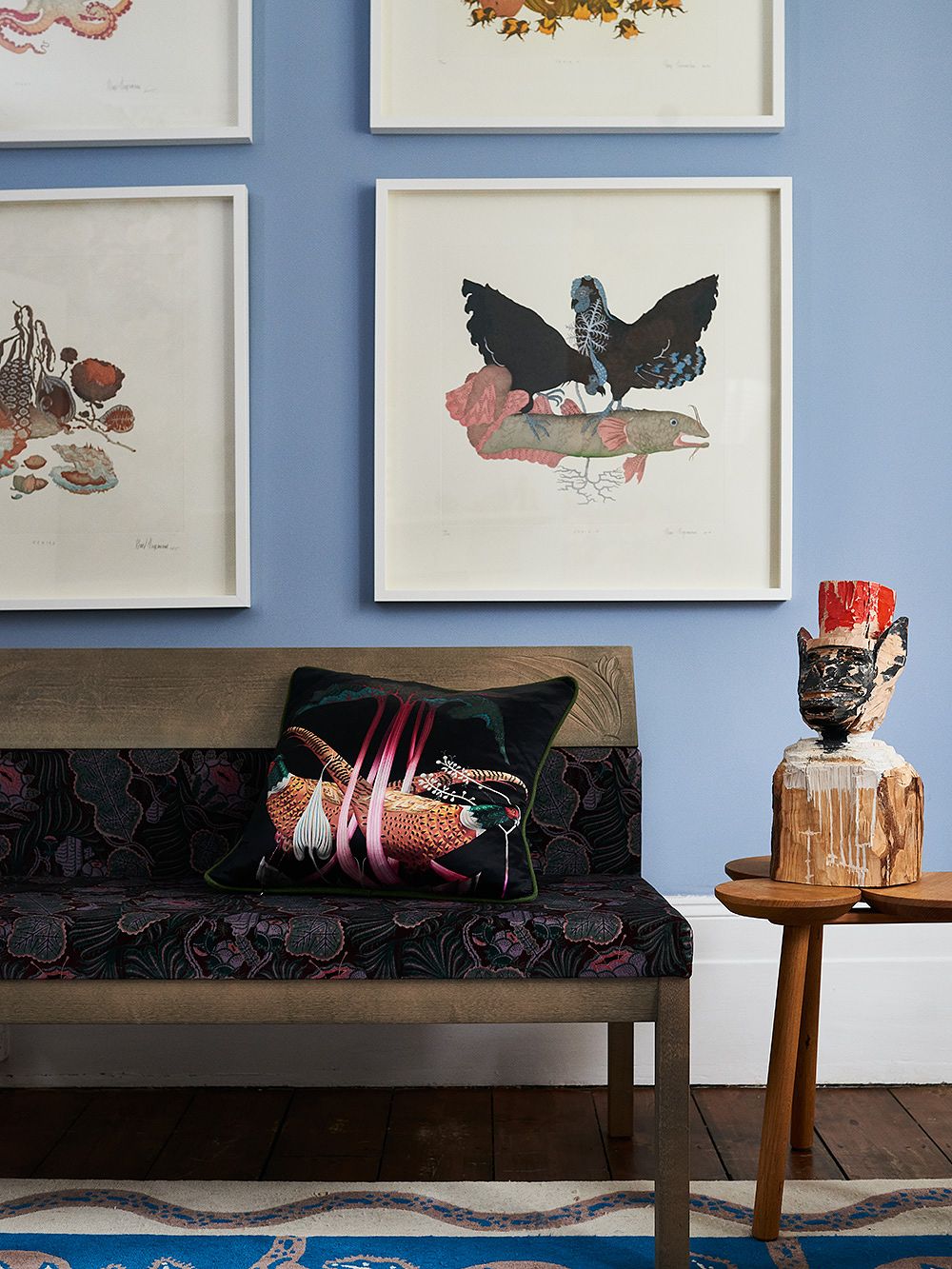 The wooden couch is a joint project by Klaus Haapaniemi and the Finnish brand Nikari. It hosts a Pheasants & Rhubarbs cushion from Haapaniemi's collection. On Nikari's July stool is Aimo Katajamäki's sculpture Kärpästen Herra (Lord of the Flies).
Klaus and Mia, how would you describe the interior design of your home and the objects that are important to you?
"Our interior design is very lively and relaxed. Objects are not too important to us, except for art, books and unique items. We value good design, but won't buy anything we wouldn't want to keep forever.
Over the years, we've received Arabia's Paratiisi tableware from Klaus' mother. From our trips to Japan, we often bring home nice ceramic teacups or special sake cups. In Vienna, we fell in love with Lobmeyr's elegant crystal glasses. You can admire them endlessly, but they are also items for everyday use.
"We value good design, but won't buy anything we wouldn't want to keep forever."
Much of our furniture comes from Italy, where we lived for four years. Some of it was bought from the Piazzola antiques market in Veneto, which is held once a month. You should definitely reserve a Sunday for shopping at the market if you're driving around those parts."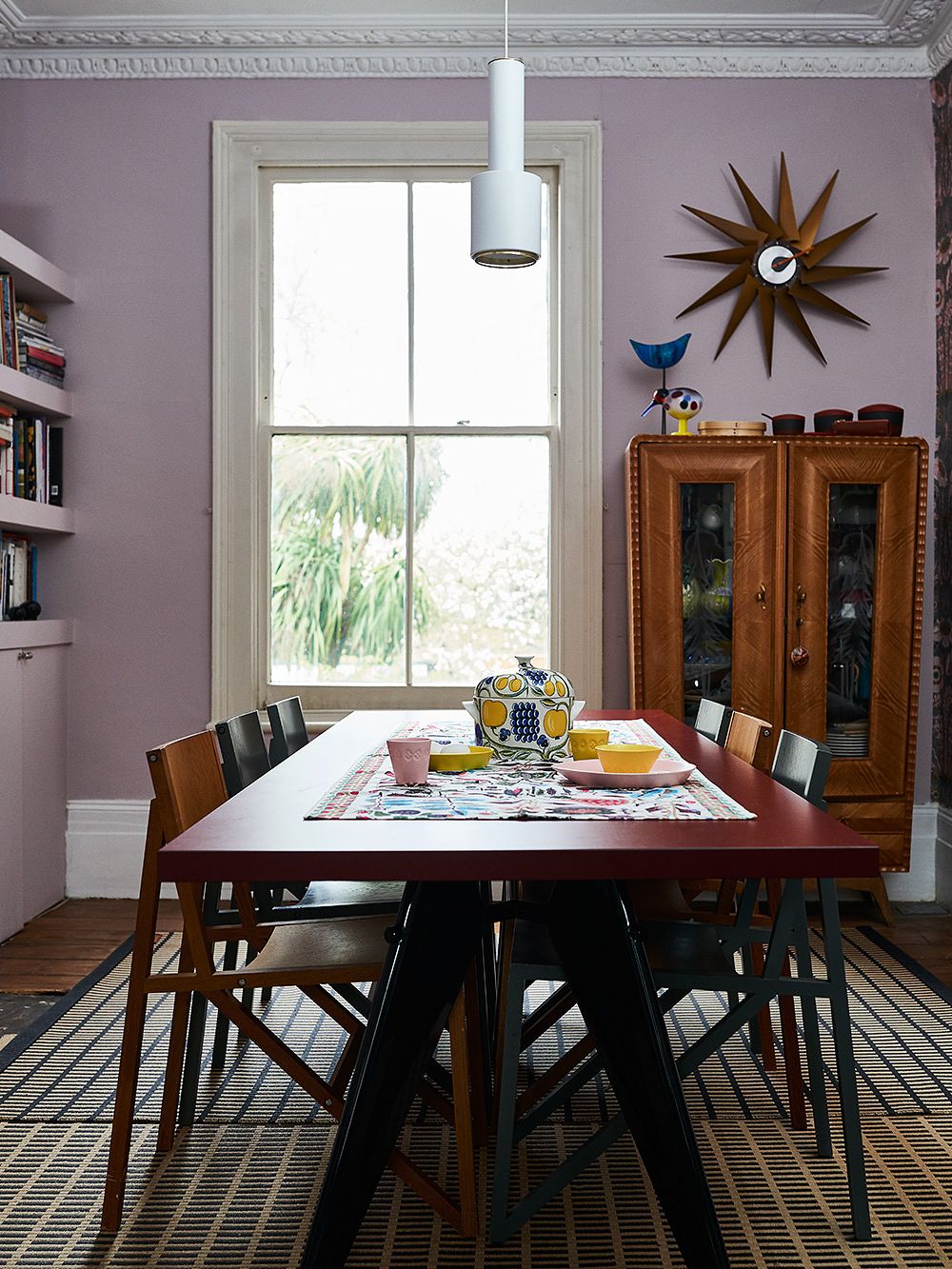 Friends are often invited to eat around the large Vitra EM Table. The pendant is Artek's A110 and the ceramic tureen is from Arabia's Paratiisi range.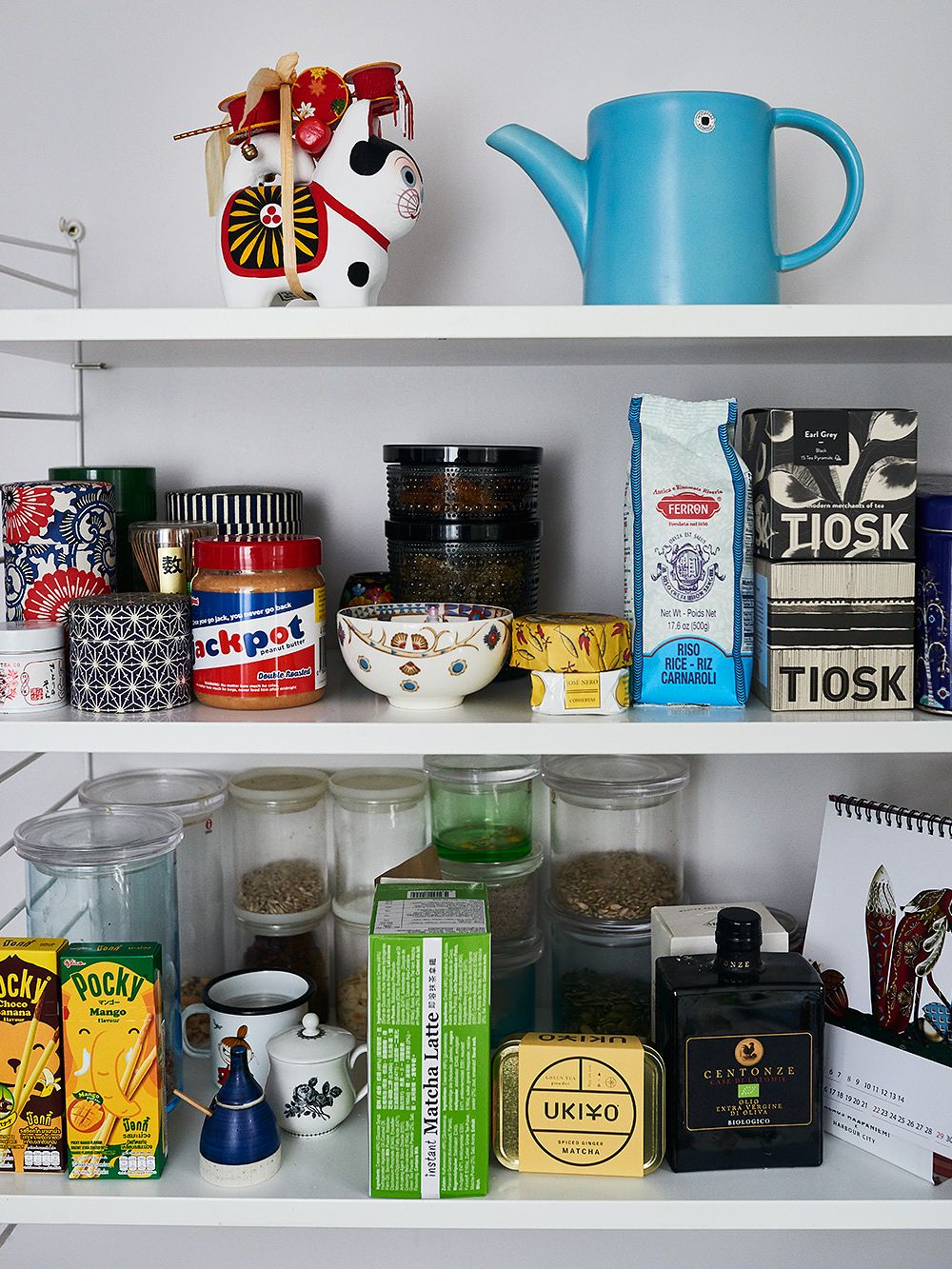 You can create an interesting detail by curating everyday kitchen items on String System open shelves. The grey Kastehelmi glass jars are from Iittala.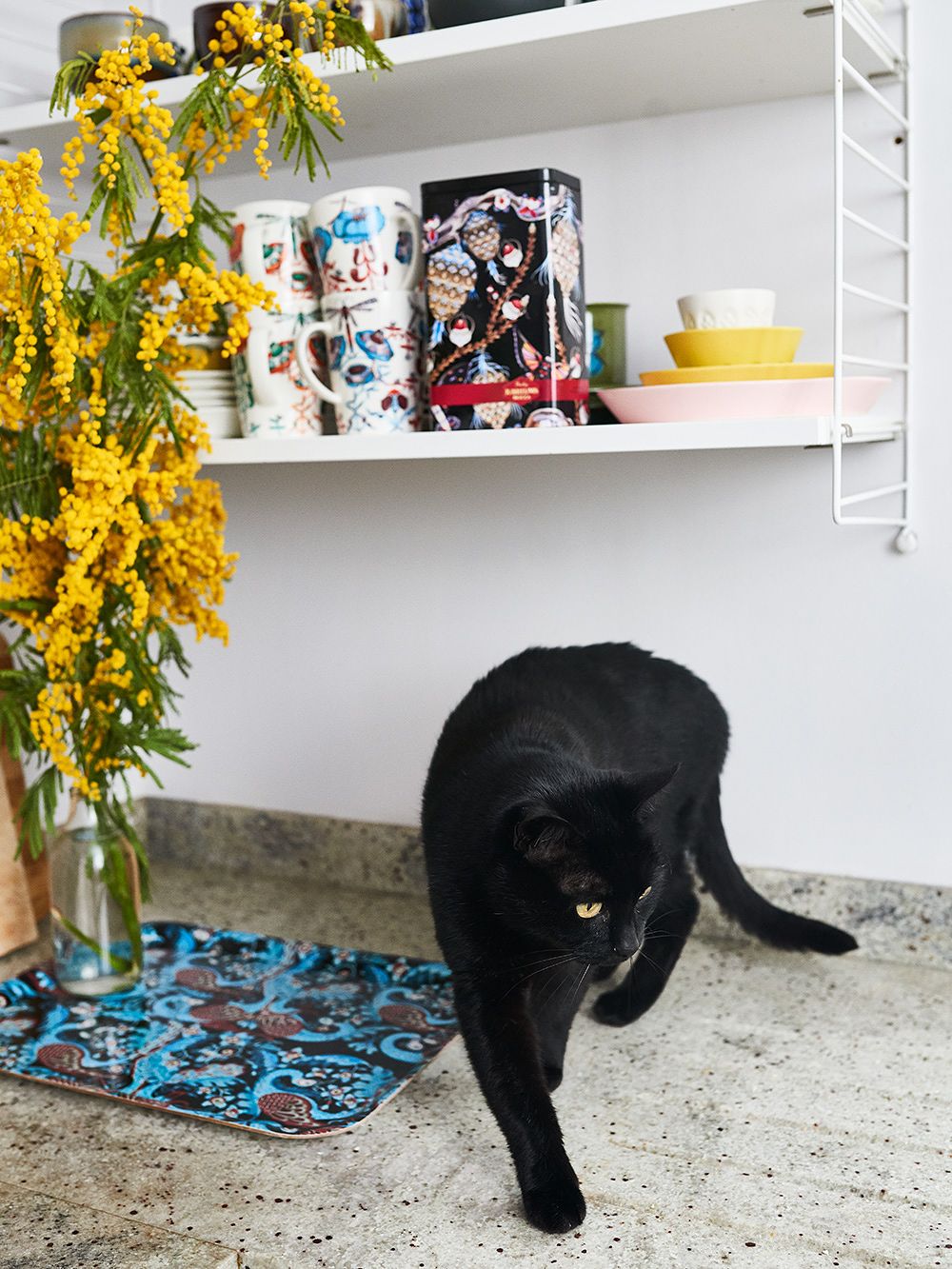 Born in Italy, the 16-year old gentleman cat Putte has inspired many of Haapaniemi's illustrations over the years. And believe it or not, the cat also has his own restaurant Putte's in Helsinki and a fan club in Japan!
"Klaus loves animals and creates stories around them."
What inspires your design work and in what direction are you taking it?
"The theme of our products is often nature and experiences related to it, such as the first flowers of summer or the frozen, wintery branches. Klaus loves animals and creates stories around them. Often these animal characters give birth to entire collections that have a clear narrative in addition to ornamentation.
Stylistically, we're going in an even more fantastic direction. Our next great work is the Lightings in Tiger Woods mural, which will be done on silk wallpaper. It has been custom-designed for the St. George hotel in Helsinki that opens in May 2018."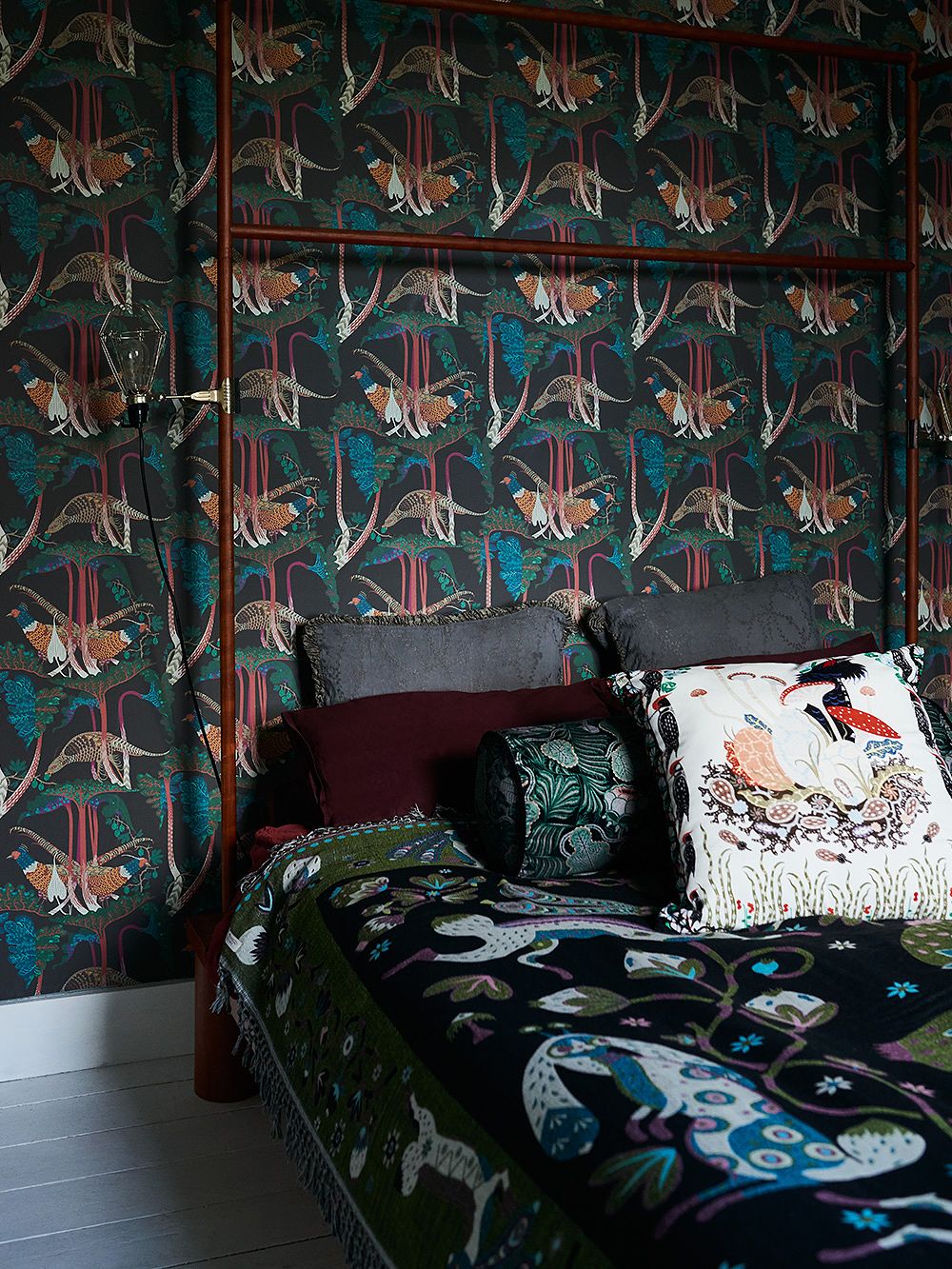 The decor of the upstairs bedroom is calming. Through the window, you can watch the sunrise behind the park. The wallpaper is called Pheasants; on the bed are a Rabbit throw and a Woodpeckers velvet cushion.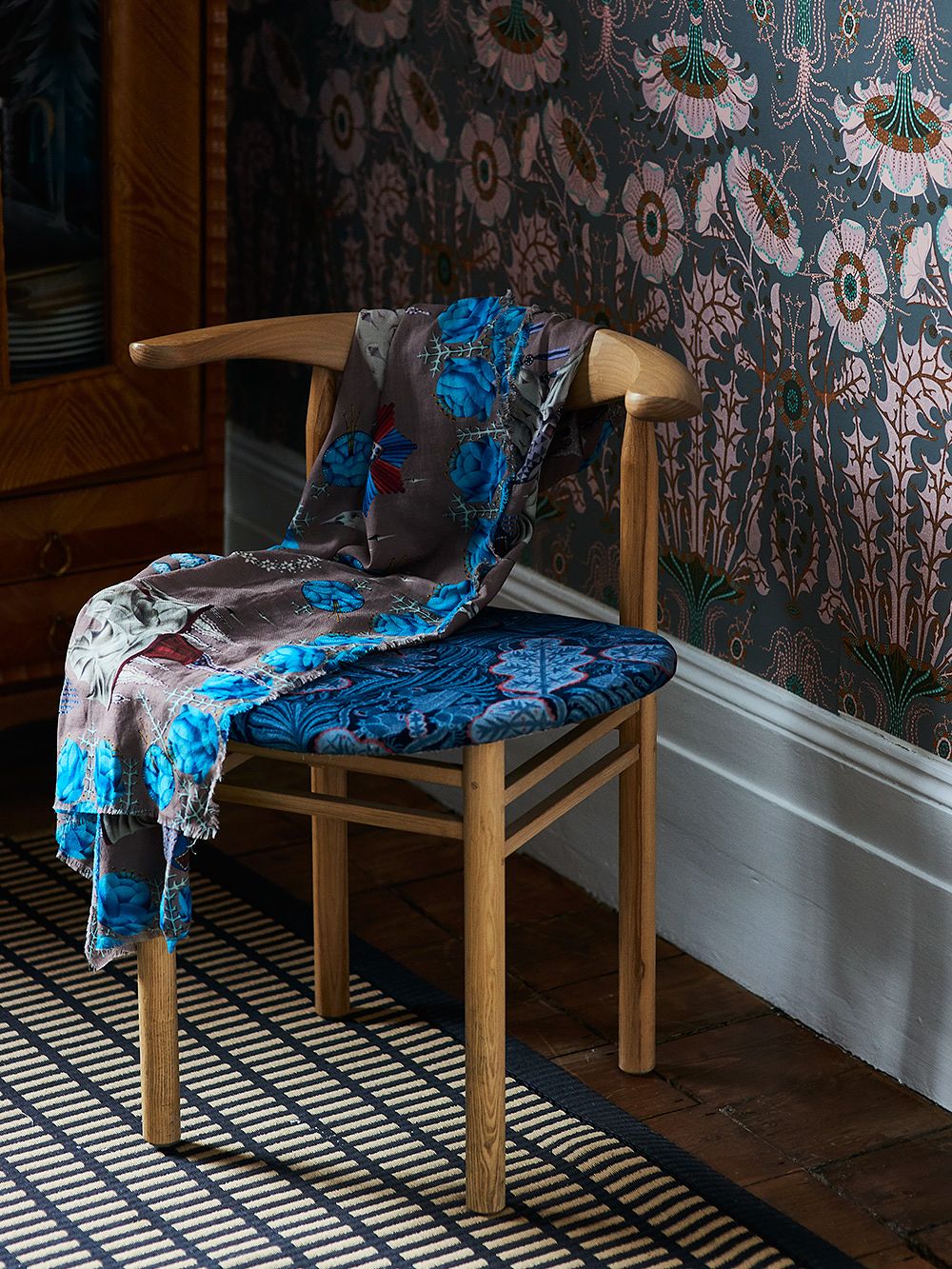 Nikari's Linea chair has been upholstered with Haapaniemi's blue Iceflower fabric, and the wall features his Equinoxe wallpaper. The paper yarn carpet is from Woodnotes.
What are your favorite restaurants, cafés and shops in London?
"Victoria Park has an excellent lunch and brunch café called Pavillion where all the tables are outside by a pond – even during winter! You should also visit the vintage store The Peanut Vendor near the park, which also has a café. There's always something interesting in that shop, from rattan chairs to concrete flowerpots from the 1960's.
You can also make fantastic design discoveries at the Béton Brut antique shop where all items are inspiring, though expensive rarities. You can then continue your walk along the Hackney Wick canals to cafés and bars that have been built inside old warehouses and industrial buildings. Mare Street Market is an interesting new concept store with a restaurant, and the Donlon Books bookshop at Broadway Market is always worth checking out.
Many top restaurants have popped up on Hackney Road and the nearby streets, so there's really no need to go any further. Morito Tapas, Marksman and Laughing Heart with its organic wine shop are all excellent. Sager + Wilde is a superb wine bar, Campania is a very romantic little restaurant and Brawn is an ambitious French corner restaurant. And obviously, our own shop in the heart of Shoreditch is one of our favorites!"
Text: Animaya Grant Photos: Elina Simonen, portrait by Iittala
See also: