Paper Collective's Morten Kaaber and Lill Bersang love to decorate with different materials in a light, Nordic setting. The mix provides a personalized, long-lasting style and creates a fun base for their family life.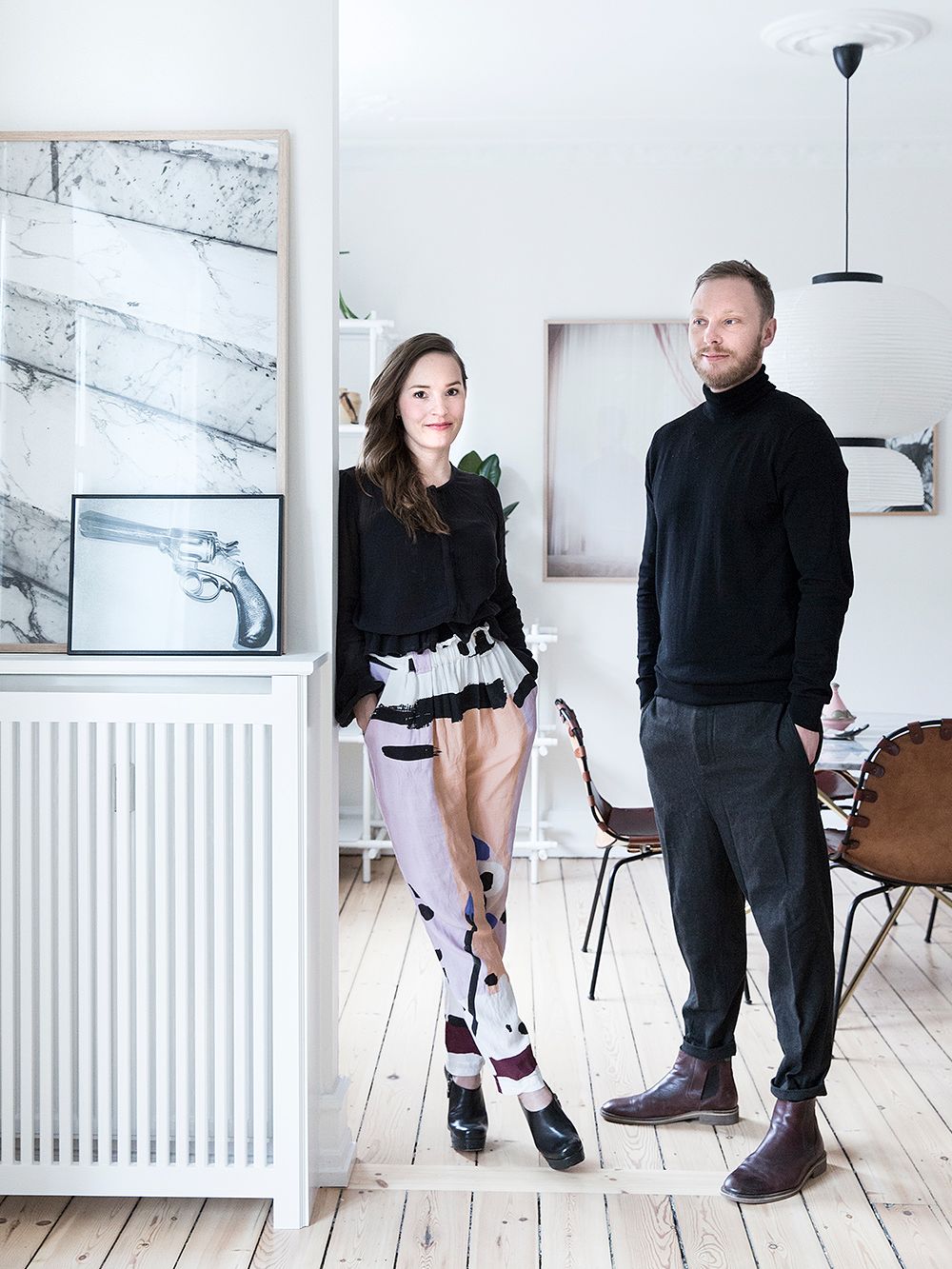 Residents:
Morten Kaaber, director of the design company Paper Collective and Lill Bersang, sales representative at Paper Collective, with their daughter Bjørk. Home is a 110 square meter apartment on Vesterbro in Copenhagen.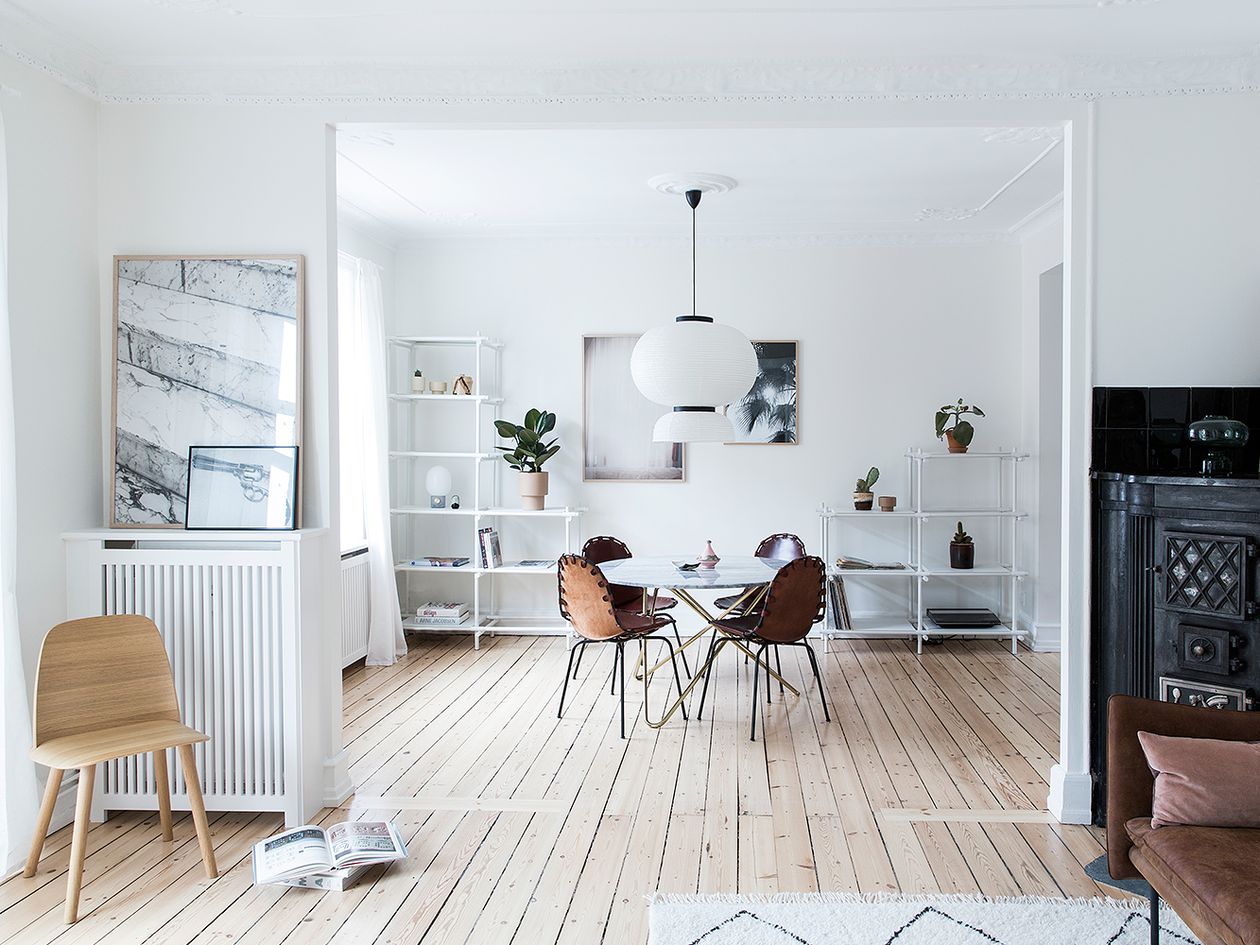 Morten and Lill have spent six months updating the apartment in 2017, and among other things they have torn down three walls down to create a large and bright living room. The oak chair is Muuto's Nerd, white shelf is Menu's Stick System.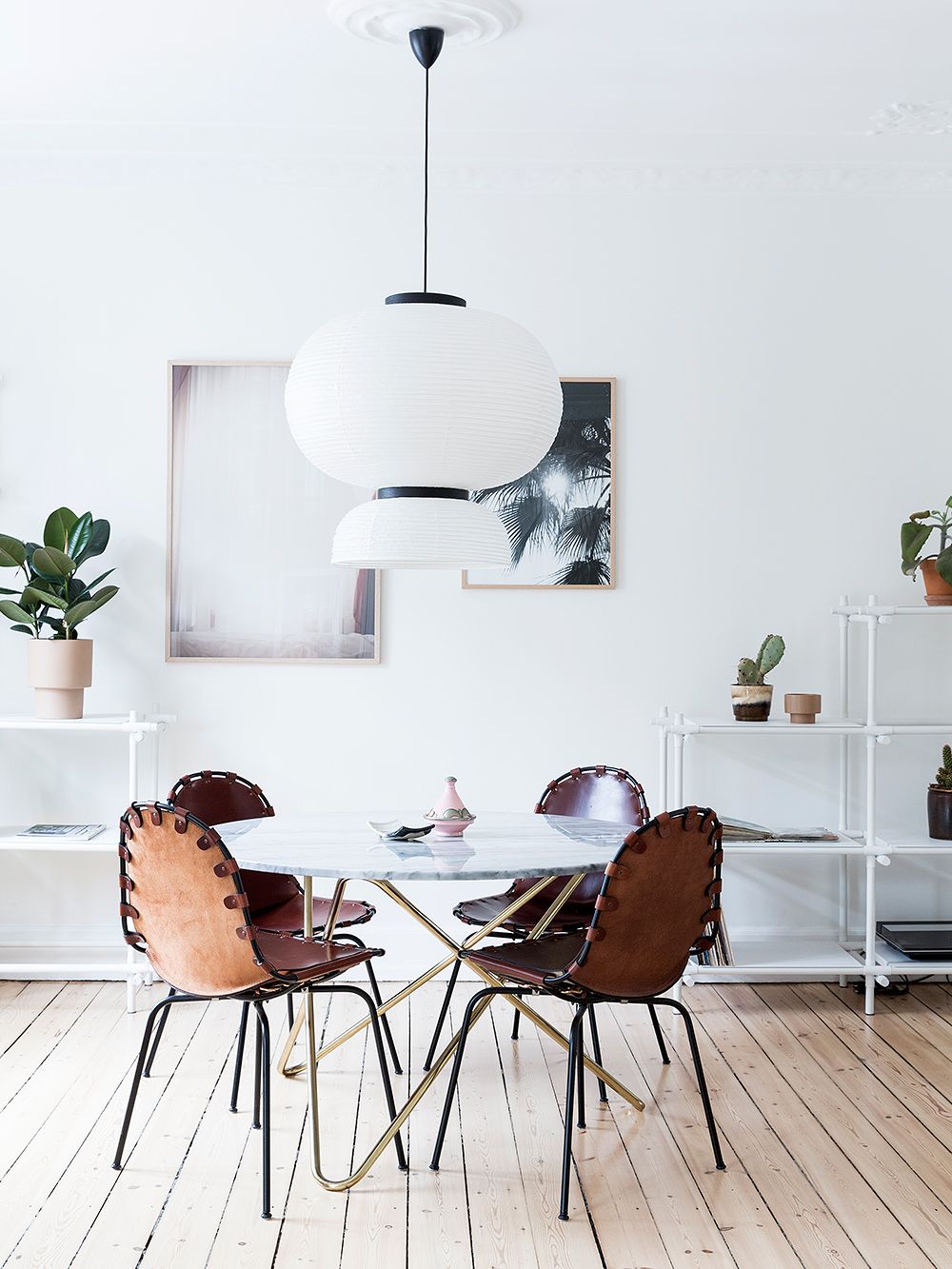 The dining table and dining chairs are also from Ox Denmarq. The Formakami JH5 pendant light is from &Tradition. The two posters are from Paper Collective and by Pia Winther and Norm Architects.
When Morten Kaaber and Lill Bersang moved in together five years ago, they each had their own style. While Morten was inspired by his work in the Danish design industry, and was dedicated to the new nordic style, Lill was more vintage bohemian with lots of findings from her travels. Instead of accommodating him and her, merging both styles, they chose to make a plan for their new, common home.
Morten and Lill chose to make a plan for their new, common home.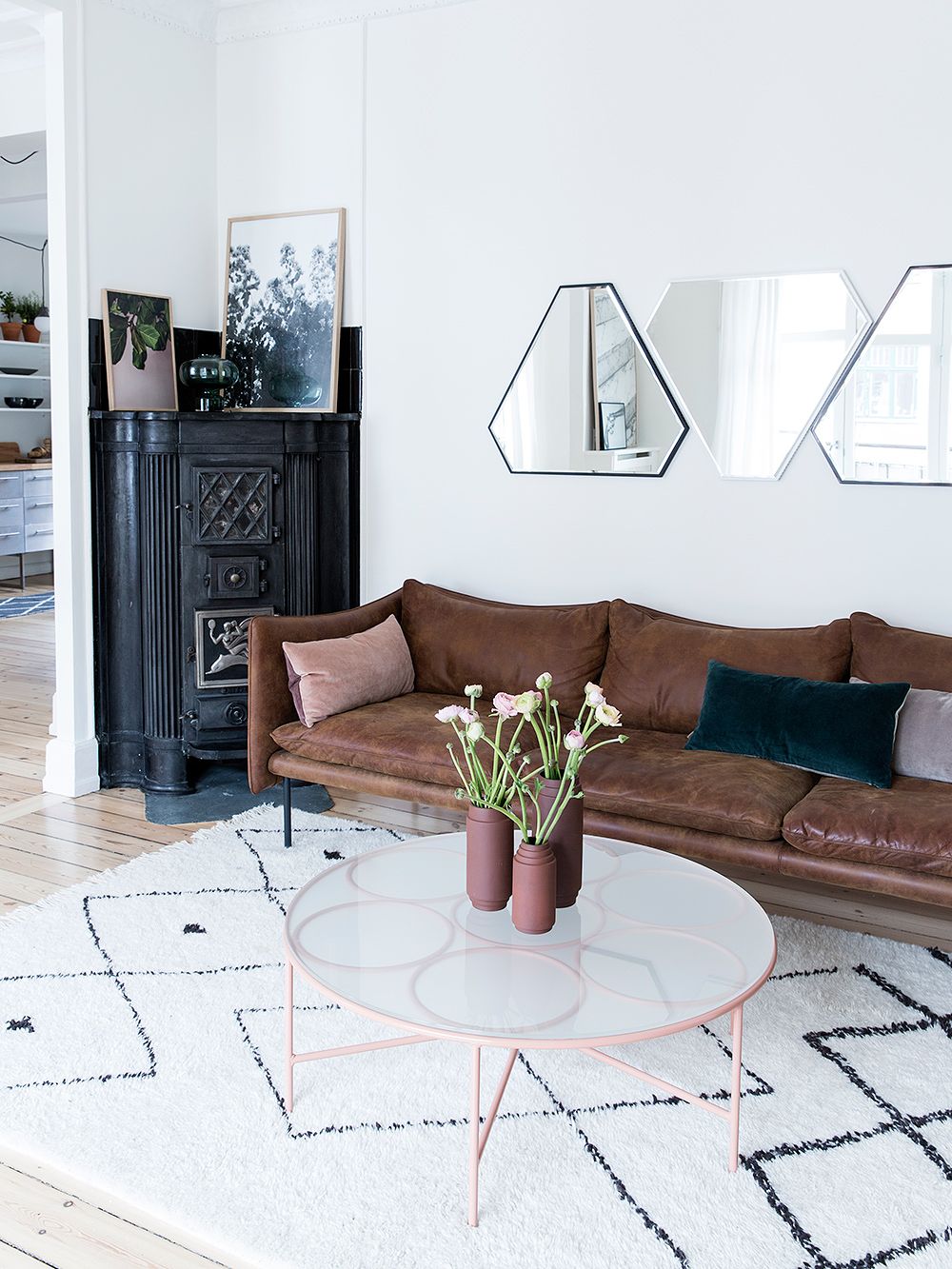 The sofa is by Norwegian designer Andreas Engesvik, whom the couple knows through their collaboration in Paper Collective. The coffee table is designed by Nikolai Kotlarczyk and is not yet in production. Edge vases are from Skagerak. The carpet is bought in Morocco, posters are from Paper Collective.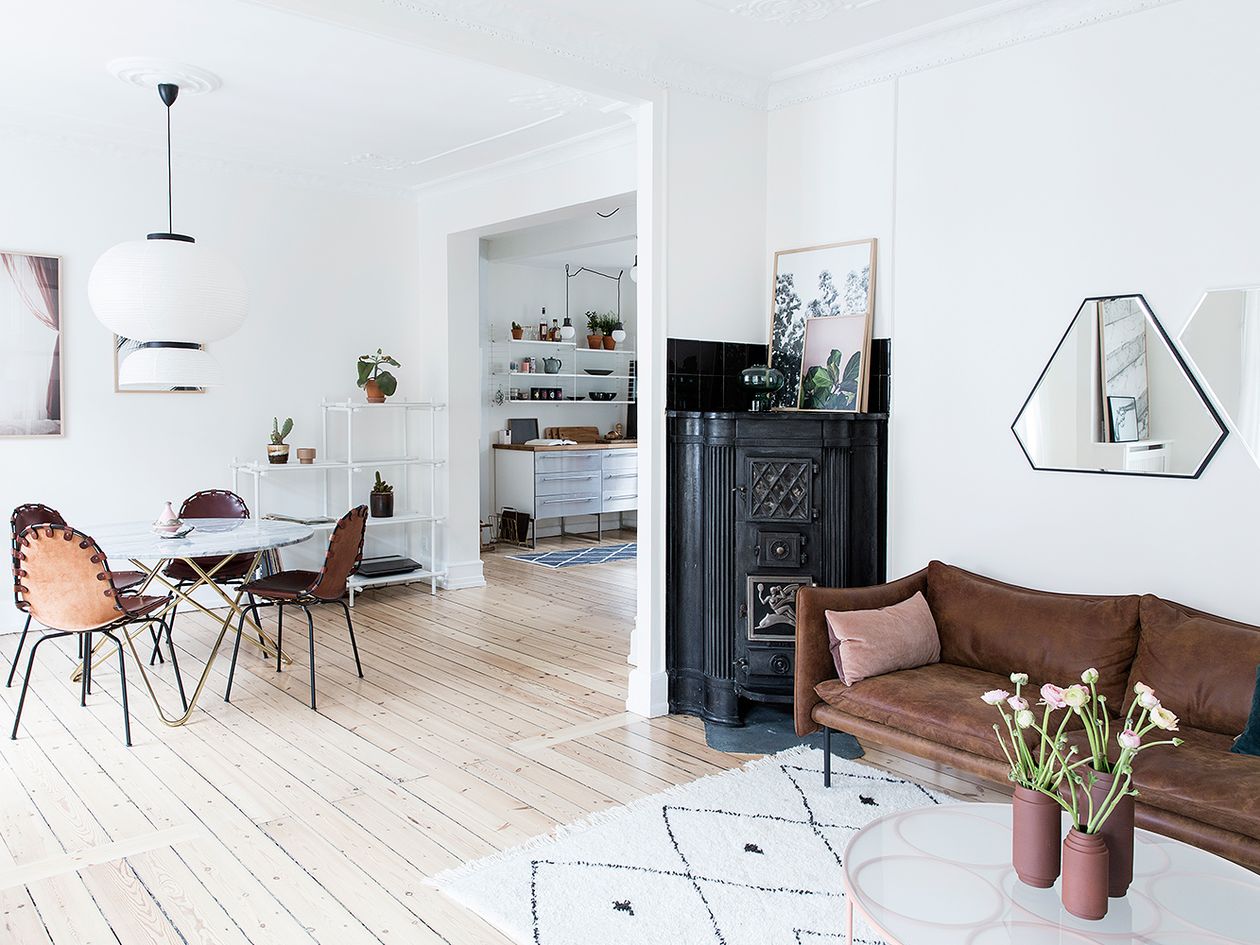 "We talked a lot about colors, materials, shapes and designs to find out what we both liked. We landed on items like leather, stone, ceramics and Nordic design with classic references; something we believe we want to look at for many years, and we made a little plan for our style without becoming too dogmatic. Our considerations have actually made it easier for us when we were buying bigger things, while helping us avoid buying in bulk or making too many mistakes."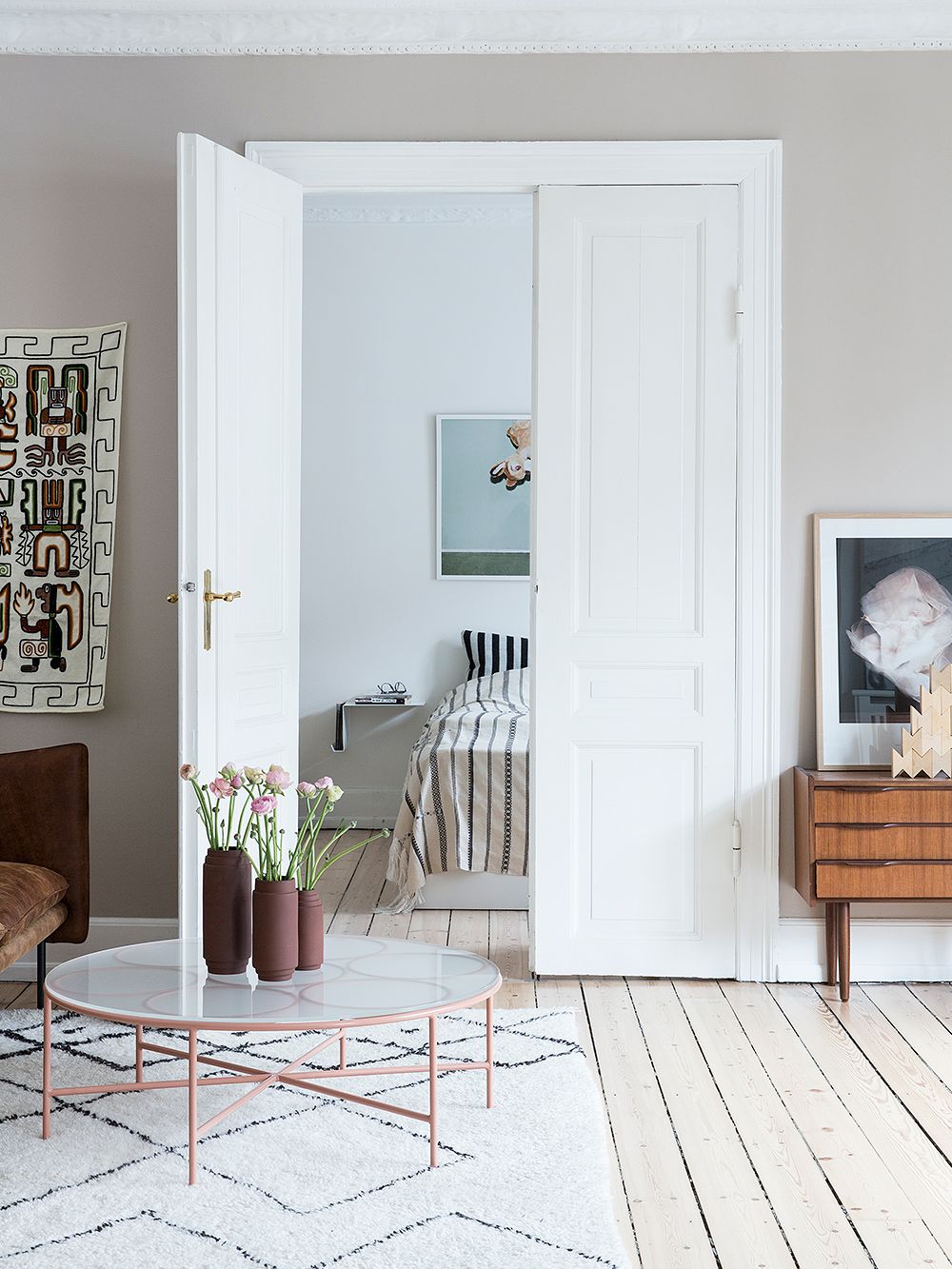 One wall of the living room has a warm sand color that gives a contrast to the white walls and ceilings in the room. The carpet on the wall is a travel encounter from Peru, while the teak drawer is a heirloom.
Looking around in the couple's home also seems that the plan is successful. Here are dark and light woods in beautiful association, statement design icons, hot shade ceramics and raw core leather, which works well with the bright frames.
"We focus on natural materials that give warmth, character and tranquility."
"We still live in Scandinavia, but we focus heavily on natural materials that give warmth, character and tranquility – and a much cozier home than when you live with synthetic materials. The natural materials combined with a graphic expression and tight lines, for example, our Tiki sofa by Andreas Engesvik, is a good example of how leather is put together into a tight design and just works," Morten explains.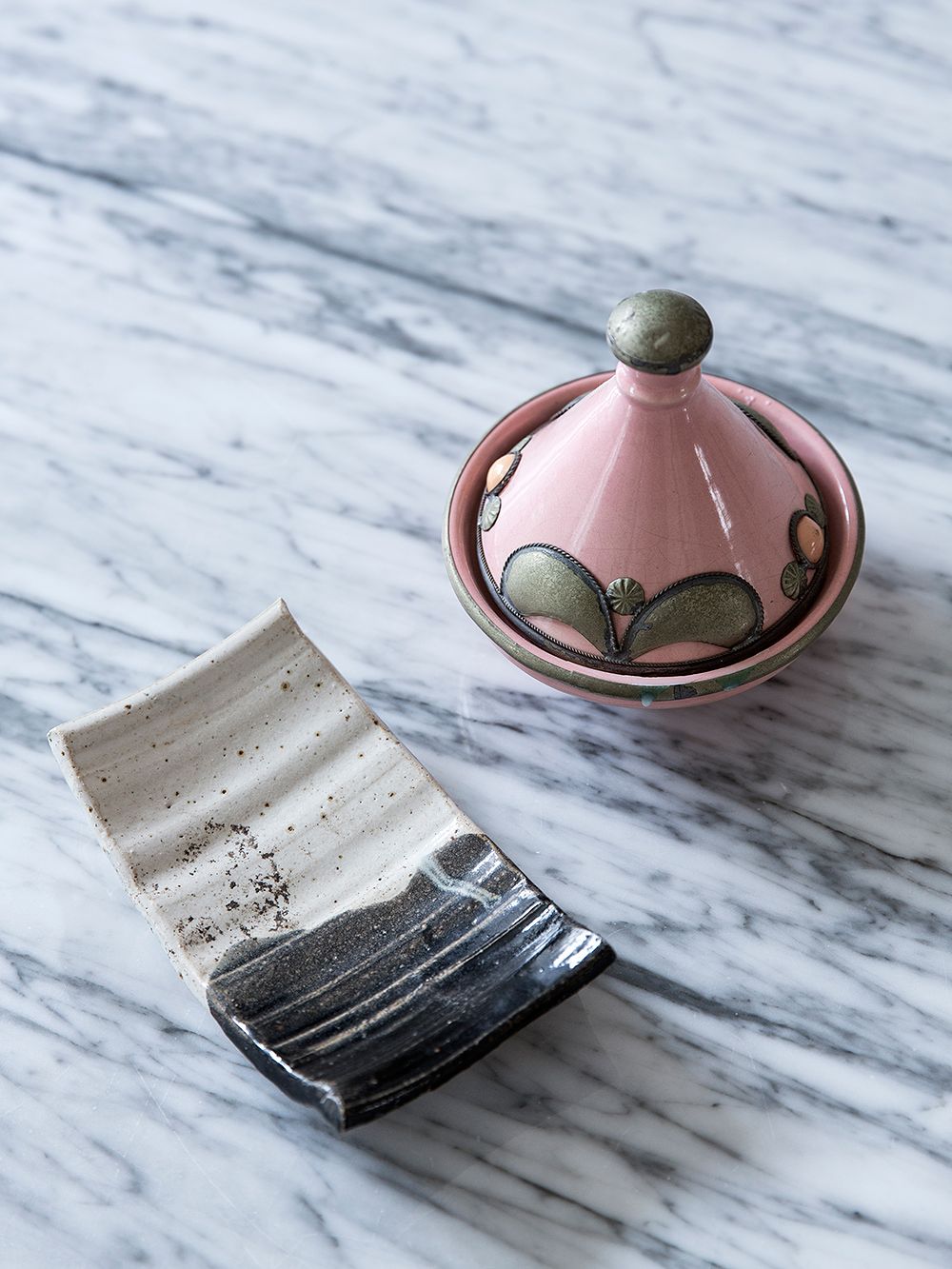 Mini tagine bought in Morocco, and a Japanese dish from Sing Tehus stands as a decorative decoration on the marble spoon table from Ox Denmarq.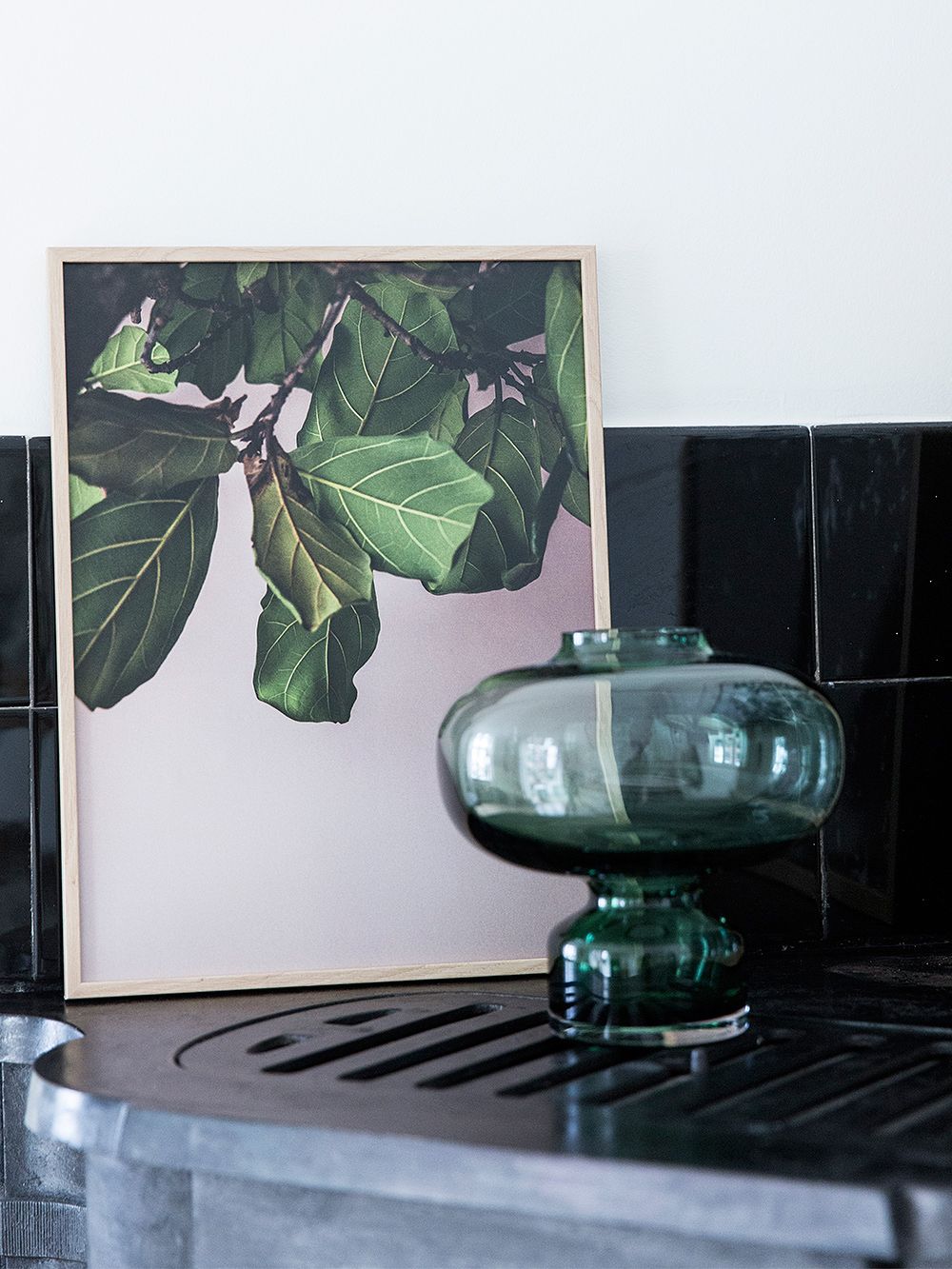 Alfredo vase is from Georg Jensen along with the Green Leaves poster from Paper Collective.
The pair are not big on nick-nacks, so only things with a function are allowed inside. Both, however, have a weakness for ceramics, and you virtually find ceramics in all rooms.
Both have a weakness for ceramics, and you virtually find ceramics in all rooms.
"The ceramics give it that sense of tactility in the same way as wood and leather, but much of our ceramics are not particularly avant-garde. We have chosen it because the shape or the colors have a certain quality to it and because it has a function like our flowerpots, dishes or teapot stoneware", says Lill.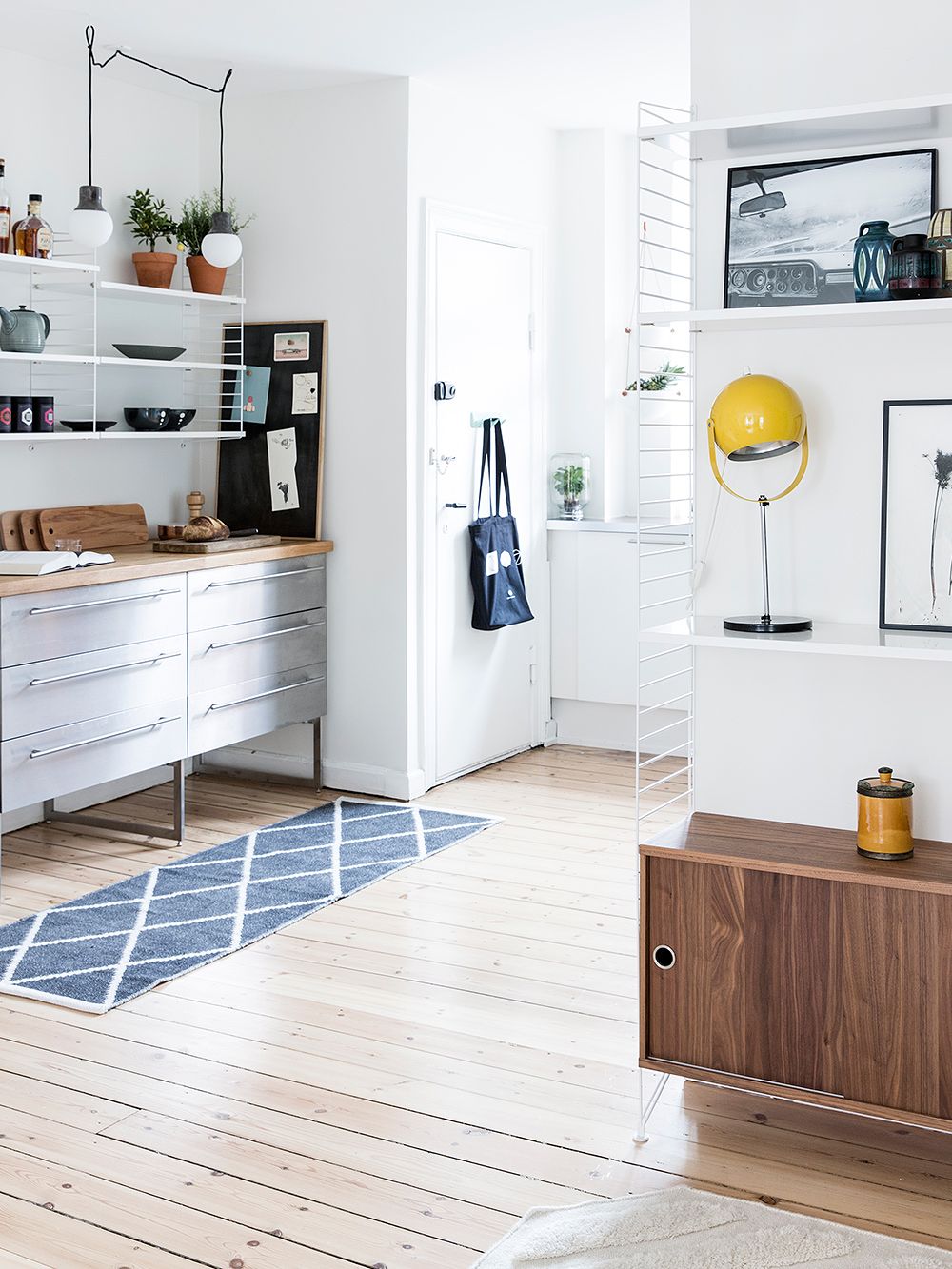 The String System shelves bring more storage space to the Ikea kitchen. The yellow table lamp is a flea find, while pendant lights are from &Tradition.
Like the furniture and accessories the couple have chosen for their home, they have also chosen long-lasting colors of white, gray, nude and brown with a pair of dusty pastels. "We have chosen a color scheme that gives us a fun base for our family. Our walls are held in white except for a single wall in the living room, which has a warm sand nuance that breaks the white ceiling and the other white walls in a soft way and is not too provocative", says Lill.
"We have chosen a color scheme that gives us a fun base for our family."
In addition, the couple's collection of poster art comes in as a major color factor. As they both work in the poster company Paper Collective, new posters and styles will be tried out at home. And when things in the colorful collection of art get moved around or replaced now and then, it is nice with a base without too many dominant fashion colors, you probably get tired of in six months.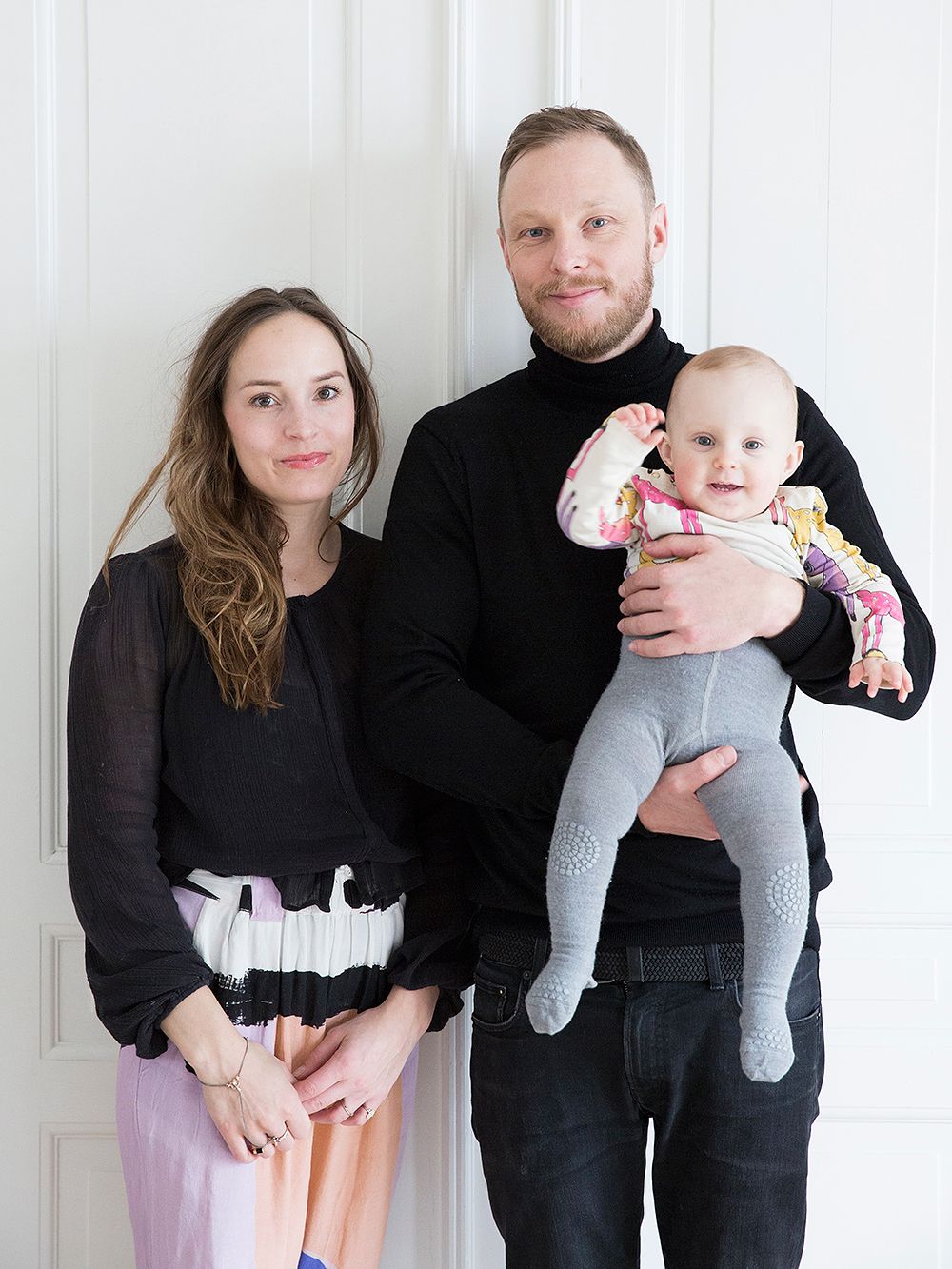 As Morten and Lill work closely with photographers, designers and artists in their jobs, they are often surrounded by beautiful and tempting things. Once they fell for a coffee table by Nikolai Kotlarczyk, an Australian designer they work with, and they just had to buy the table, even though it is not in production yet.
"Many of our things are designed by people we know. That aspect adds a sentimental value to our home, and that means something to us. When a piece of furniture, a rug or a lamp has a story and thus tied up to feelings and memories, it has a longer life. It will be more than just one thing", says Morten.
Discover the posters by Paper Collective here >
Text: Pia Olsen-Living Stories/House of Pictures Images: Pernille Kaalund/House of Pictures