Ville and Janne's home in Kallio, Helsinki charms with passionately collected art, whimsical ornaments from abroad, and the forest-green tiled stove.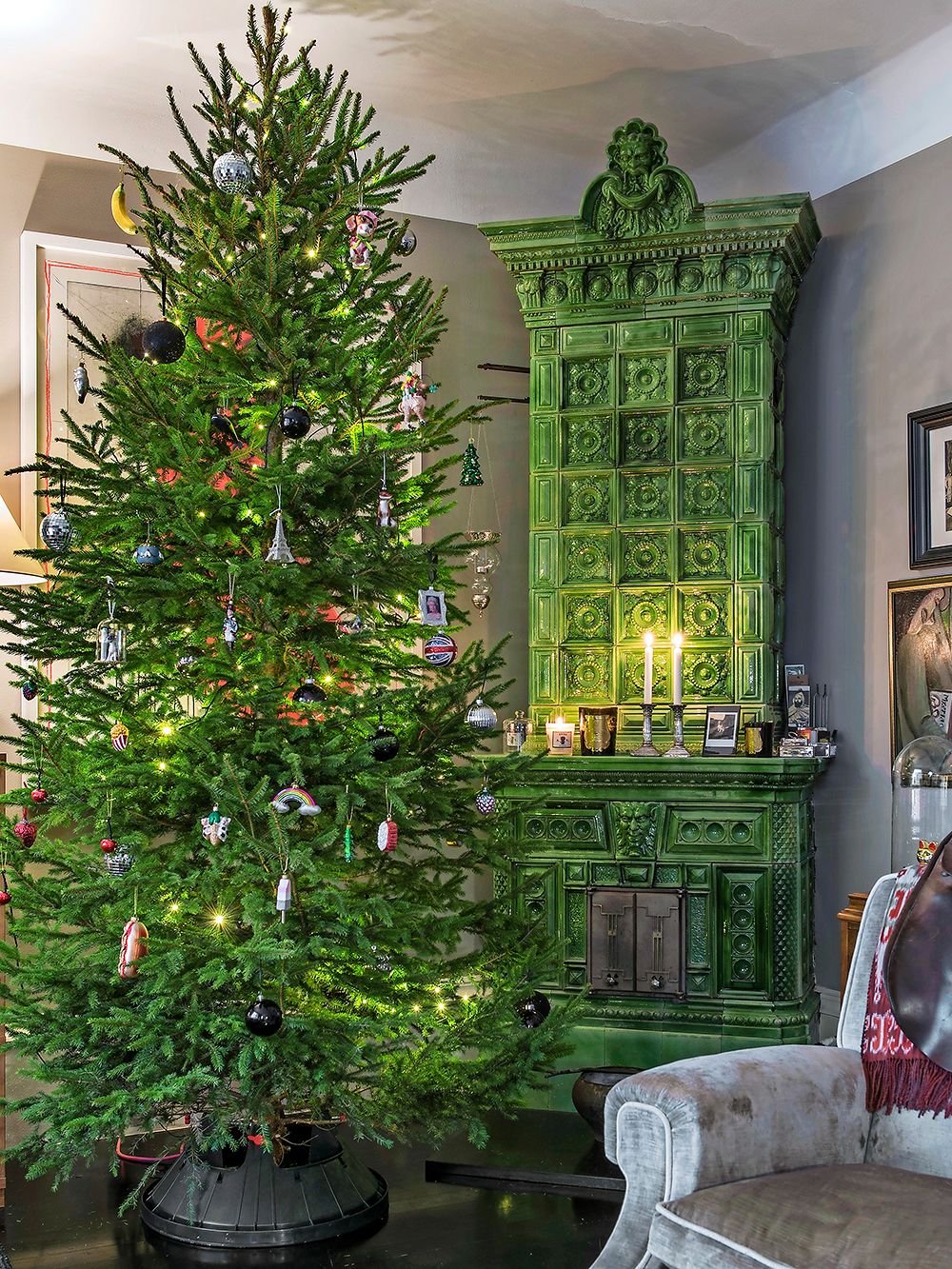 Residents:
Ville Tuppurainen, 45, a midwife working at HUS Information Management, and Janne Markkanen, 34, a nurse and student, plus Uma, 5, a beagle. Their 60-square-meter home in the Art Nouveau-style Ihantola apartment building, designed by O.E. Koskinen in 1907, is located in the Kallio district of Helsinki.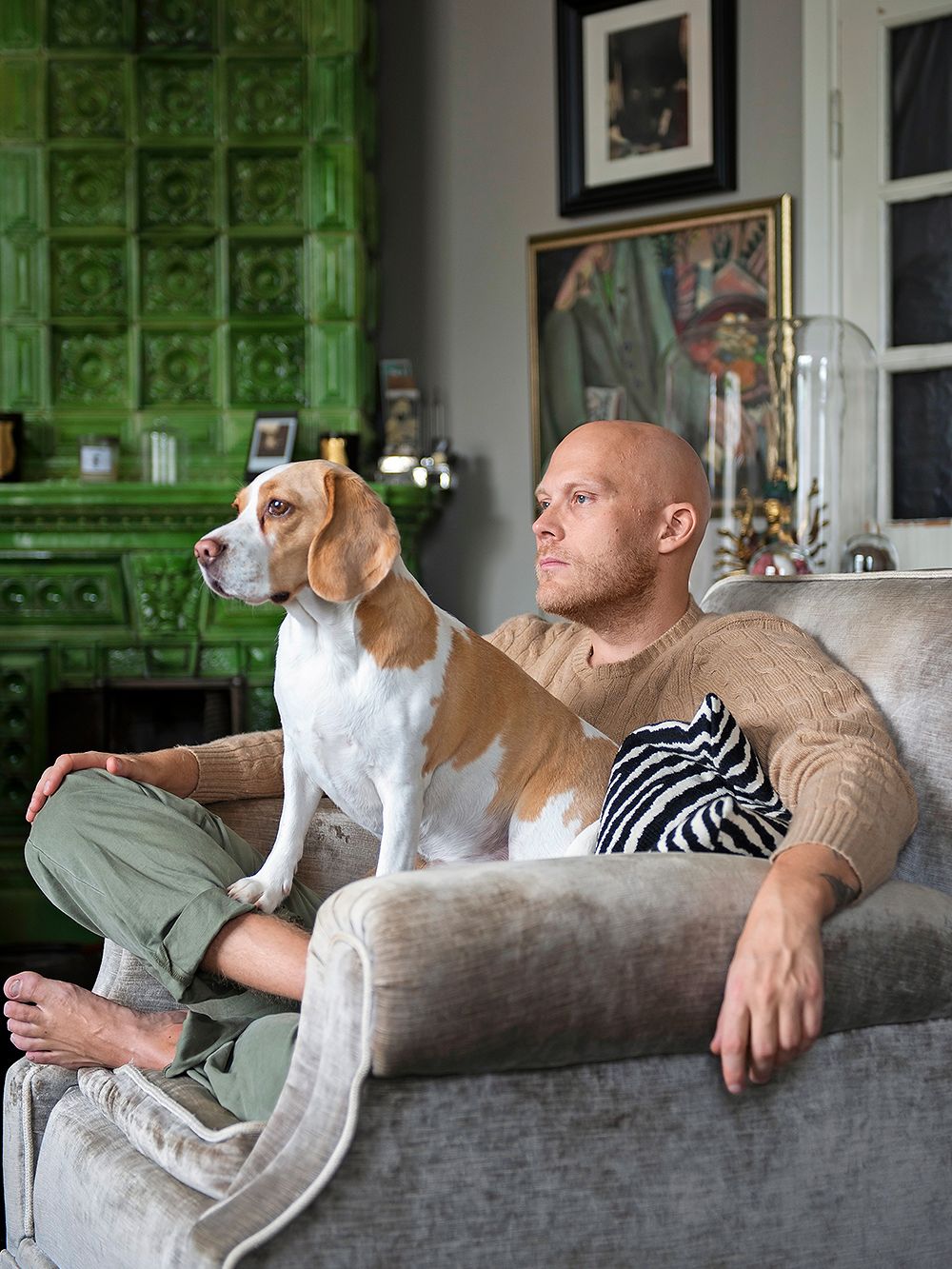 THE BELLS OF KALLIO CHURCH, situated on the opposite side of the street, toll a gentle invitation to hear the message of Christmas. Ville has enjoyed the Art Nouveau building's fine views for 13 years now, and Janne moved in with him five years ago. They think the Ihantola House is a great place to live, as it is quite communal, to be in Helsinki.
Thanks to the 3.2-meter ceiling height, the 60-square-meter home feels spacious. The beautiful old ornate tiled stove in the living room originates from 1907, when the house was completed. The stove is still in working order, and the couple burn a fire in it every week in wintertime.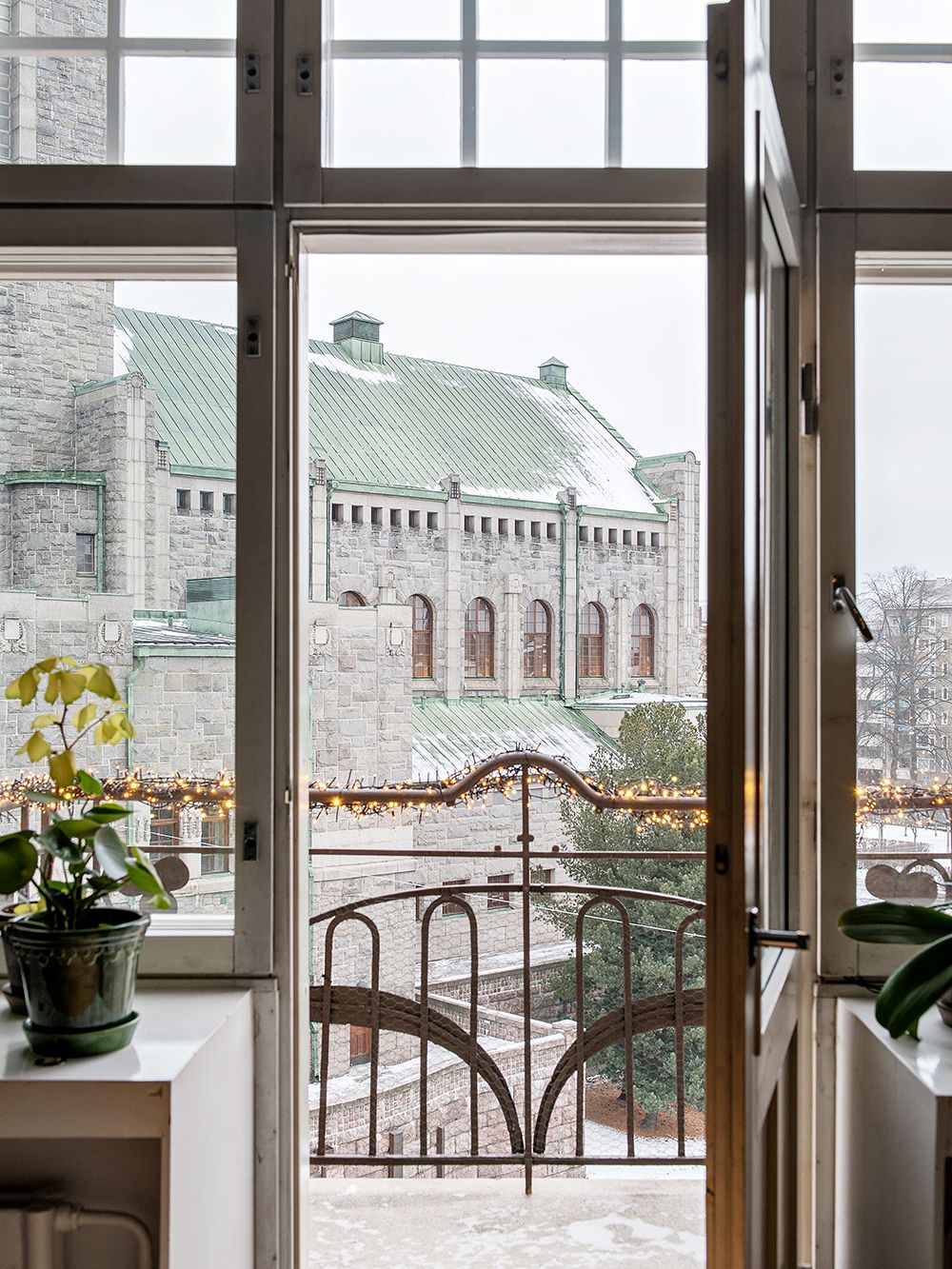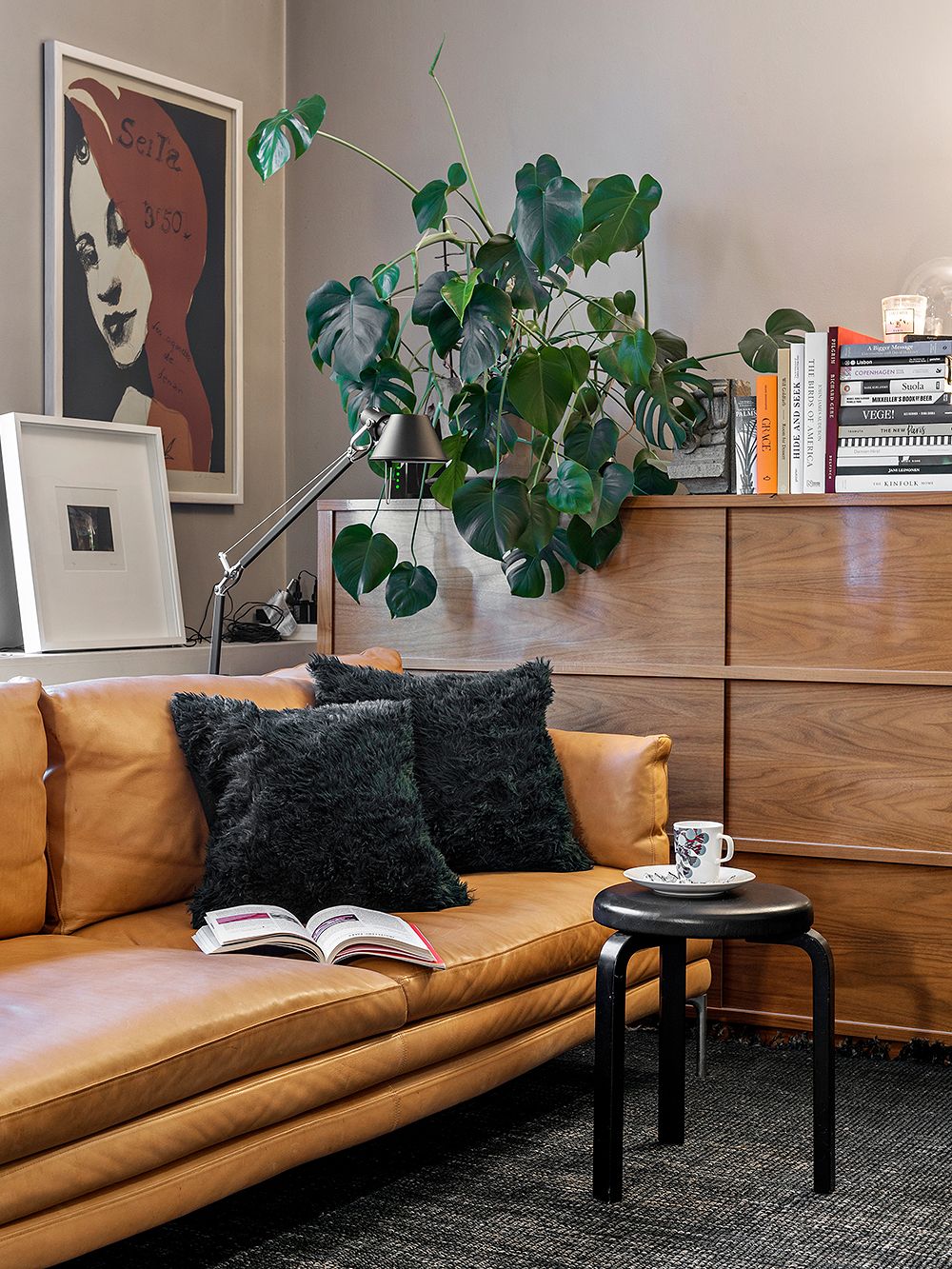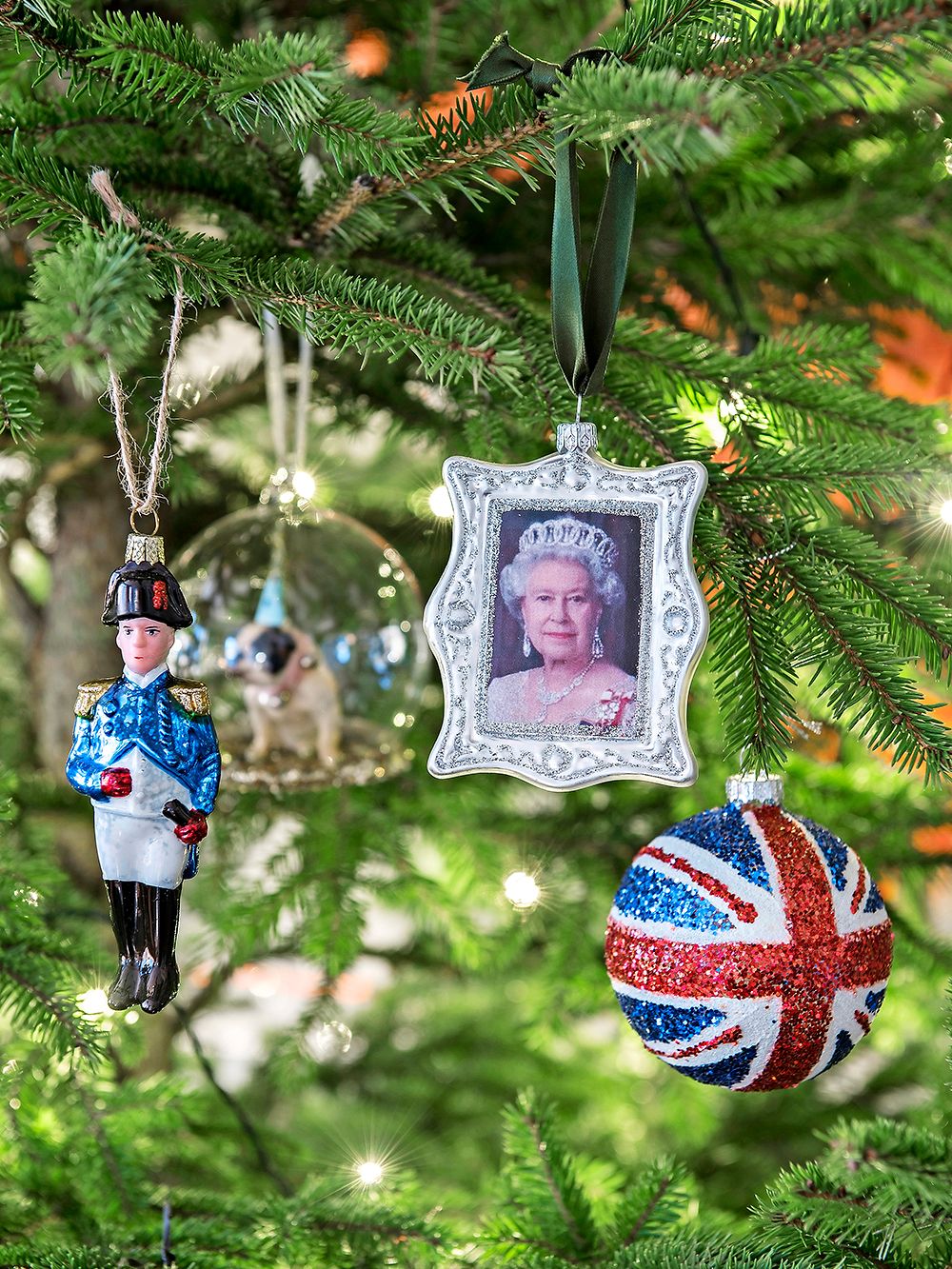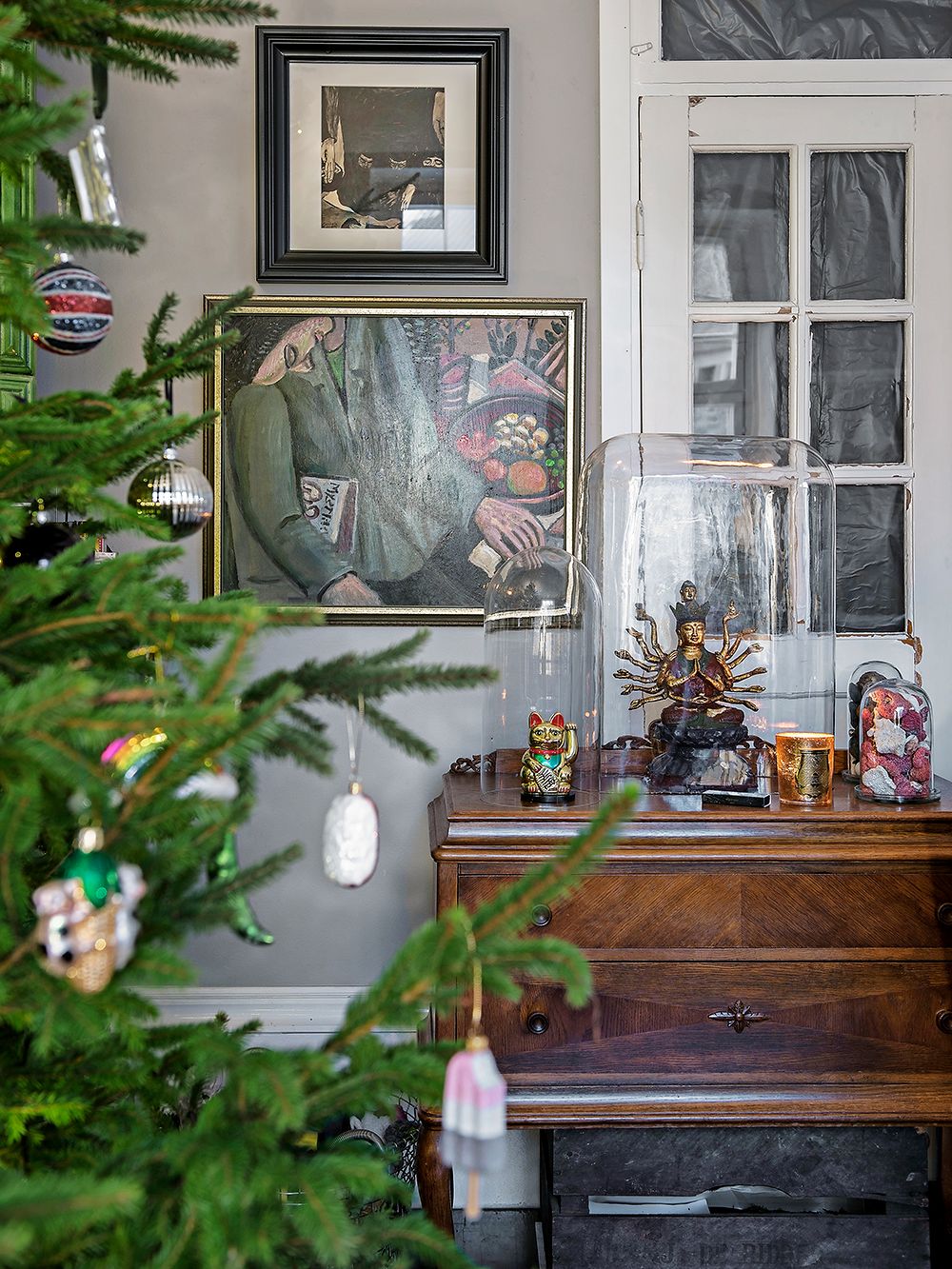 What does your home tell about you, Ville?
"We have not done any special decorating in our home. Instead, we have acquired bits and pieces, and they make the place feel like home. It often feels pretty full with all the stuff, but all items come with a story and a special feeling. We travel a lot. Besides Iceland, our favorites are Copenhagen, Marrakesh and Paris. My sources of inspiration for interior decoration are magazines, books, social media and travel. All these experiences and memories make this our home, making it personal and giving it a lot of character."
"We like black, gray and neutral shades. Art and textiles add color."
The colors in your home are gentle and atmospheric. How did they come about?
"We like black, gray and neutral shades. Gray was an easy choice for the walls. I wanted a dark floor and it was darkened by adding layers of stain. Finally, it was black, and I was satisfied. We coated it with lacquer. Art and textiles add color."
Your passion for art is evident. Tell us about it!
"When I was young, I had a summer job at the Savarte Art Gallery in Kotka. I made my first purchases there, which were by Ina Colliander and Kirsi Neuvonen. My current favorites are Sami Lukkarinen, Jani Leinonen, Kim Simonsson, Tiina Kivinen, Marjatta Tapiola and Sam Vanni. My most recent acquisition is Siemen by Tiina Kivinen, which is yet to be framed. Some of the works of art in my collection just lean against the walls."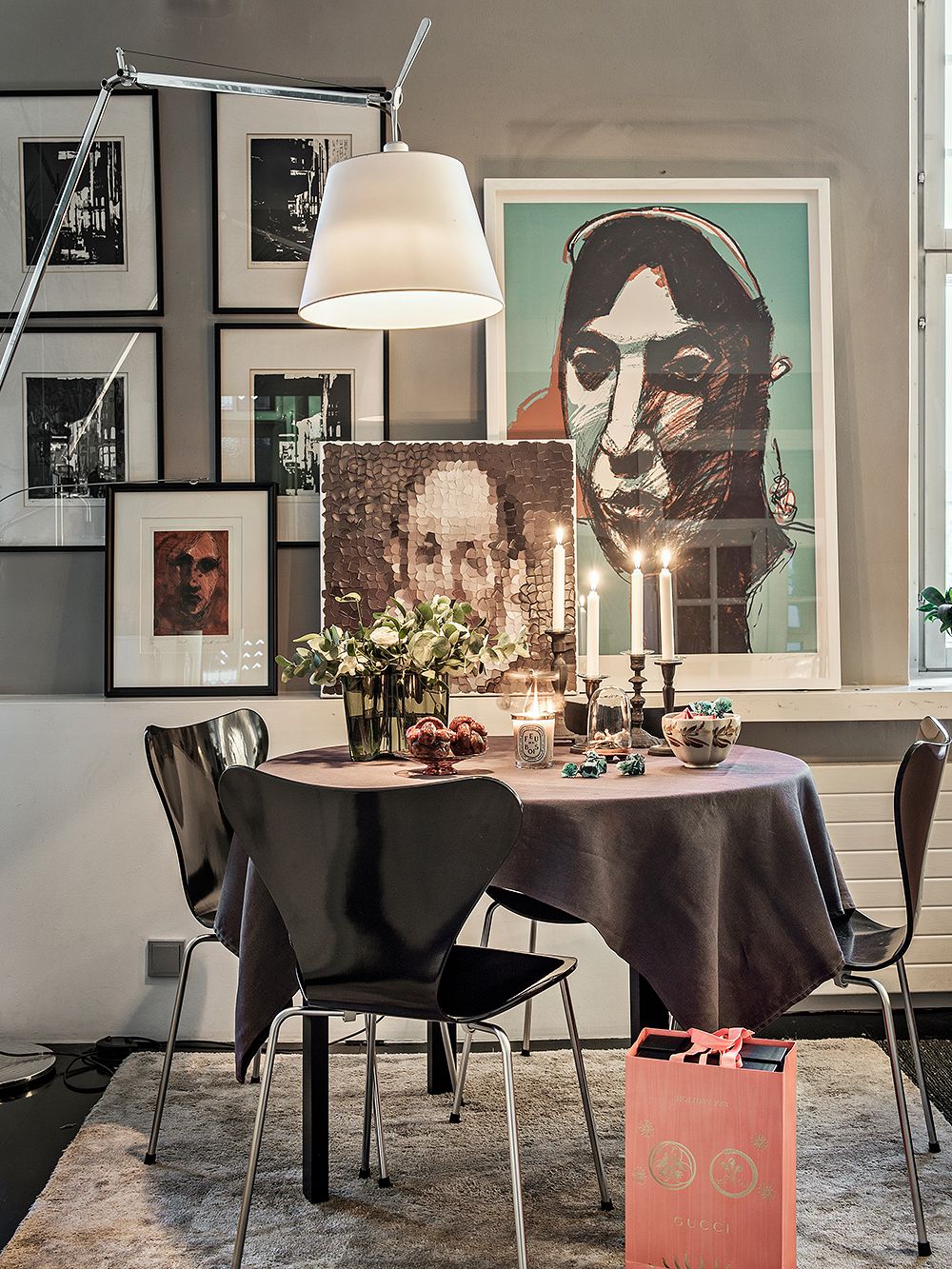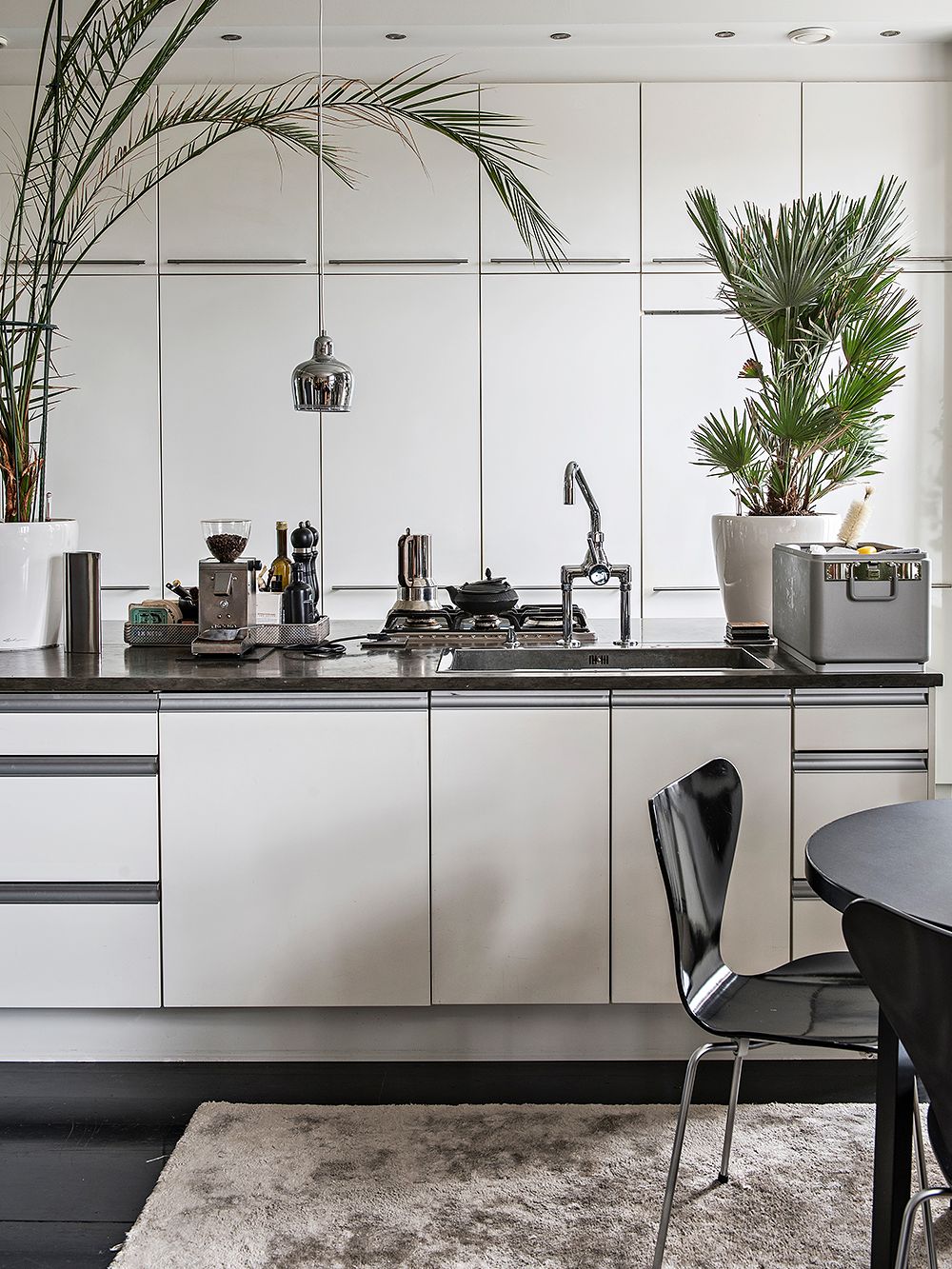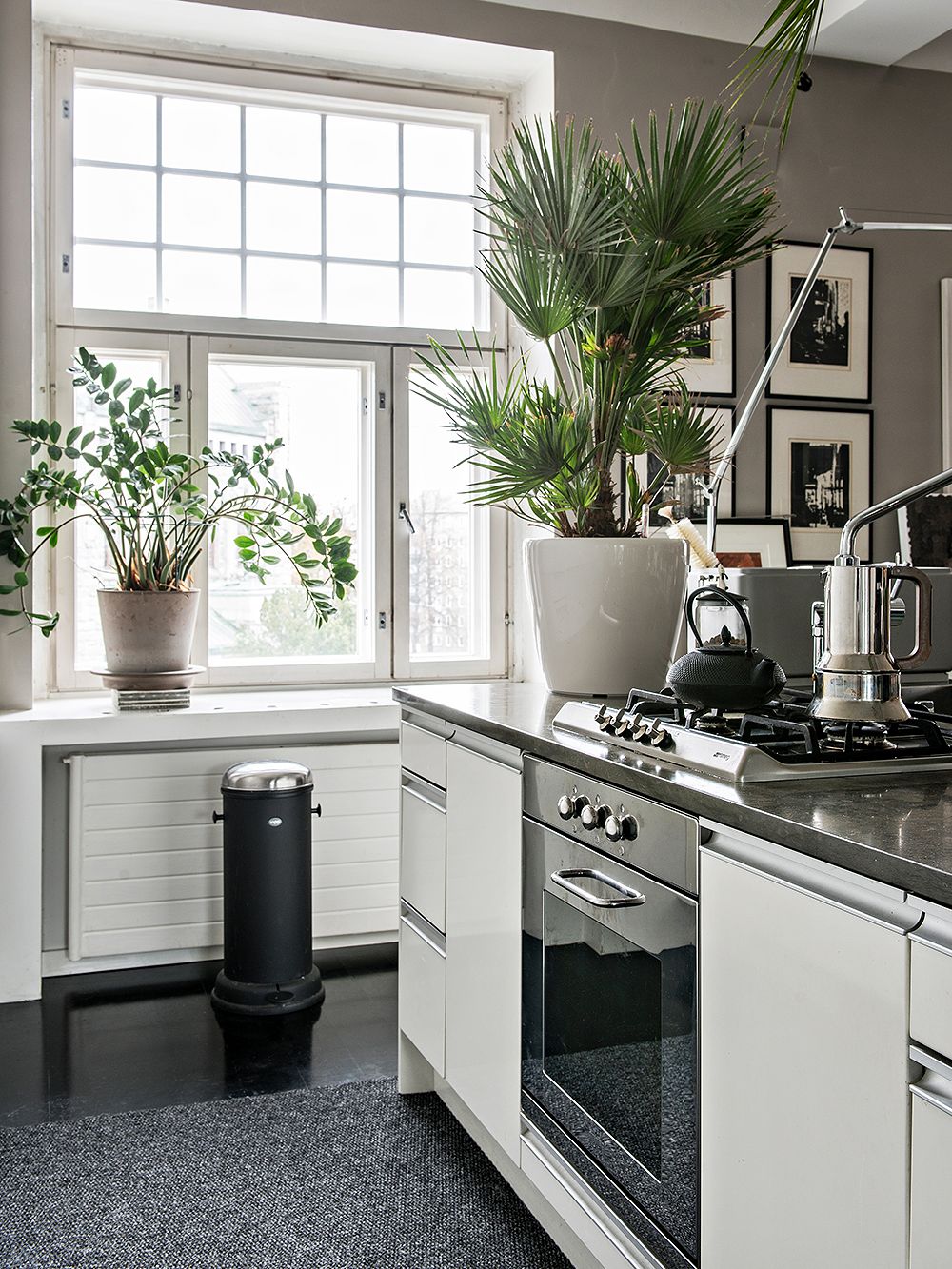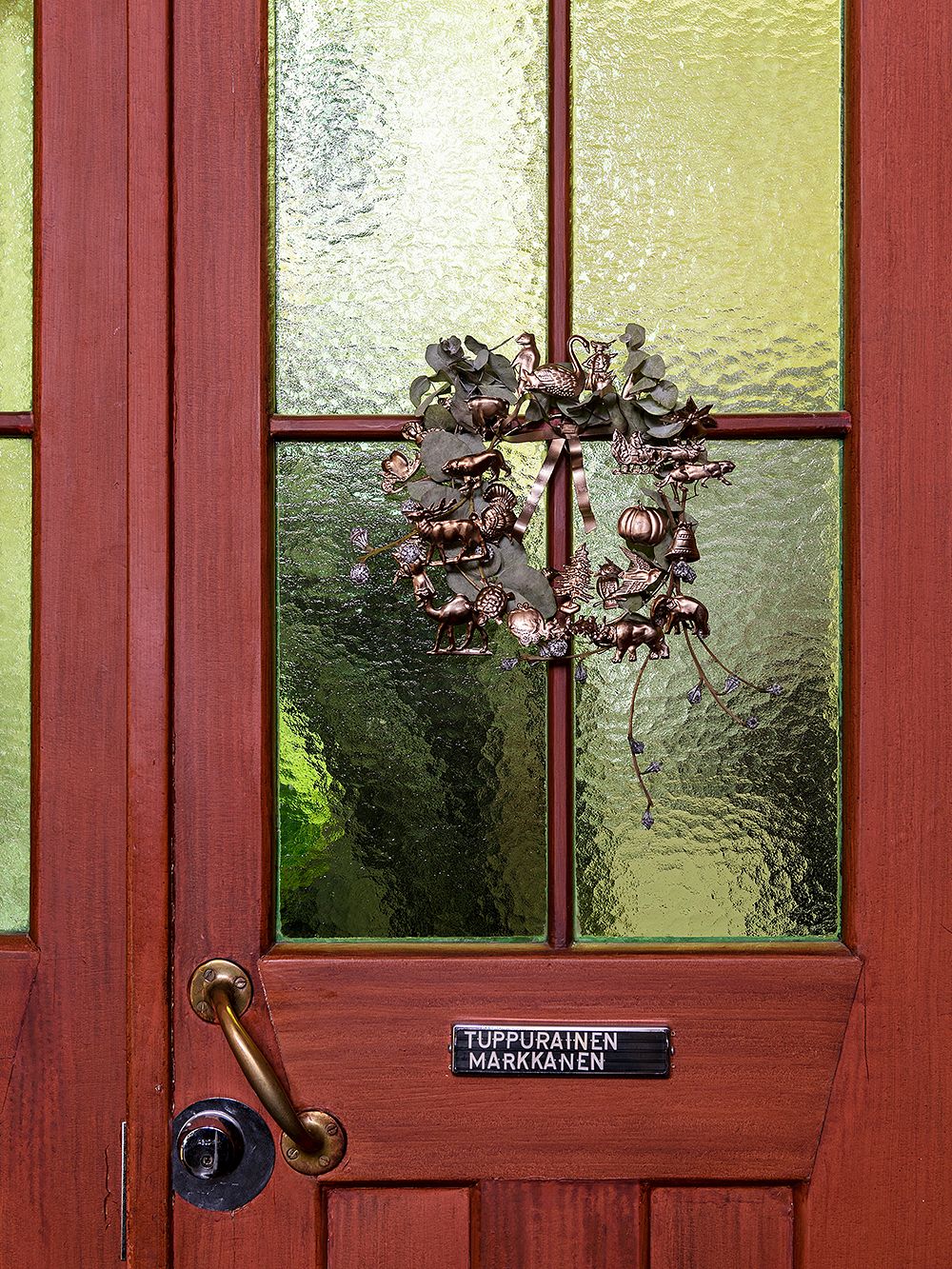 How do you get into the Christmas spirit?
"We have both worked in the hospital for a long time, and the way we spend Christmas always depends on whether we are working or off work and what kind of shifts we happen to have. I work in IT management at HUS Helsinki University Hospital and this Christmas, I'm off work. Janne, too, is working in the hospital, so this upcoming Christmas depends on his shifts.
Before Christmas, we run around town buying gifts, despite the decision we make every year that next year we won't be buying them! We also favor intangible gifts and charities in Finland and abroad."
"We get our Christmas tree from the Hakaniemi market. The room height is 3.2 meters, and often the top of the tree reaches the ceiling."
What kind of Christmas traditions do you have?
"For many years, we have met with friends on the day before Christmas Eve, which is my birthday. We exchange small gifts and mementoes, enjoying food and drinks. On Christmas Eve, we often go to the Kulttuurisauna public sauna and have a dip in the cold sea.
The meals consist mainly of fish, because Janne doesn't eat meat, and I don't particularly miss it. We have often spent Christmas in Kotka, where I come from. There, we enjoy the traditional Christmas casseroles made by my mother."
What must you absolutely have at home for Christmas?
"A Christmas tree is a must! We get it from the Hakaniemi market, and it must be tall. The room height is 3.2 meters, and often the top of the tree reaches the ceiling. In future, we intend to get a star for the top. However, finding the right one has proven difficult. Sweets are another must."
Could you tell us more about your distinctive Christmas decorations?
"We often buy Christmas decorations as souvenirs. Some of them are from Paris, Astier De Villatte's shop on Rue Saint-Honoré, which has a varied and truly plentiful selection of everything insane. We have also purchased decorations from the Käthe Wohlfahrt shop in Berlin, Liberty in London, and Proloque in Helsinki. Most decorations seem to be food-related; food is a key part of Christmas for us as well."
Text: Piia Kalliomäki Photos: Pauliina Salonen
The article was originally published in the Avotakka magazine's issue 12/2019.