Inspired by the 70s, Tanja designed and Jussi executed the renovation of an apartment in Espoo, Finland. The decor is a combination of sumptuous colors, flea-market finds, and design classics.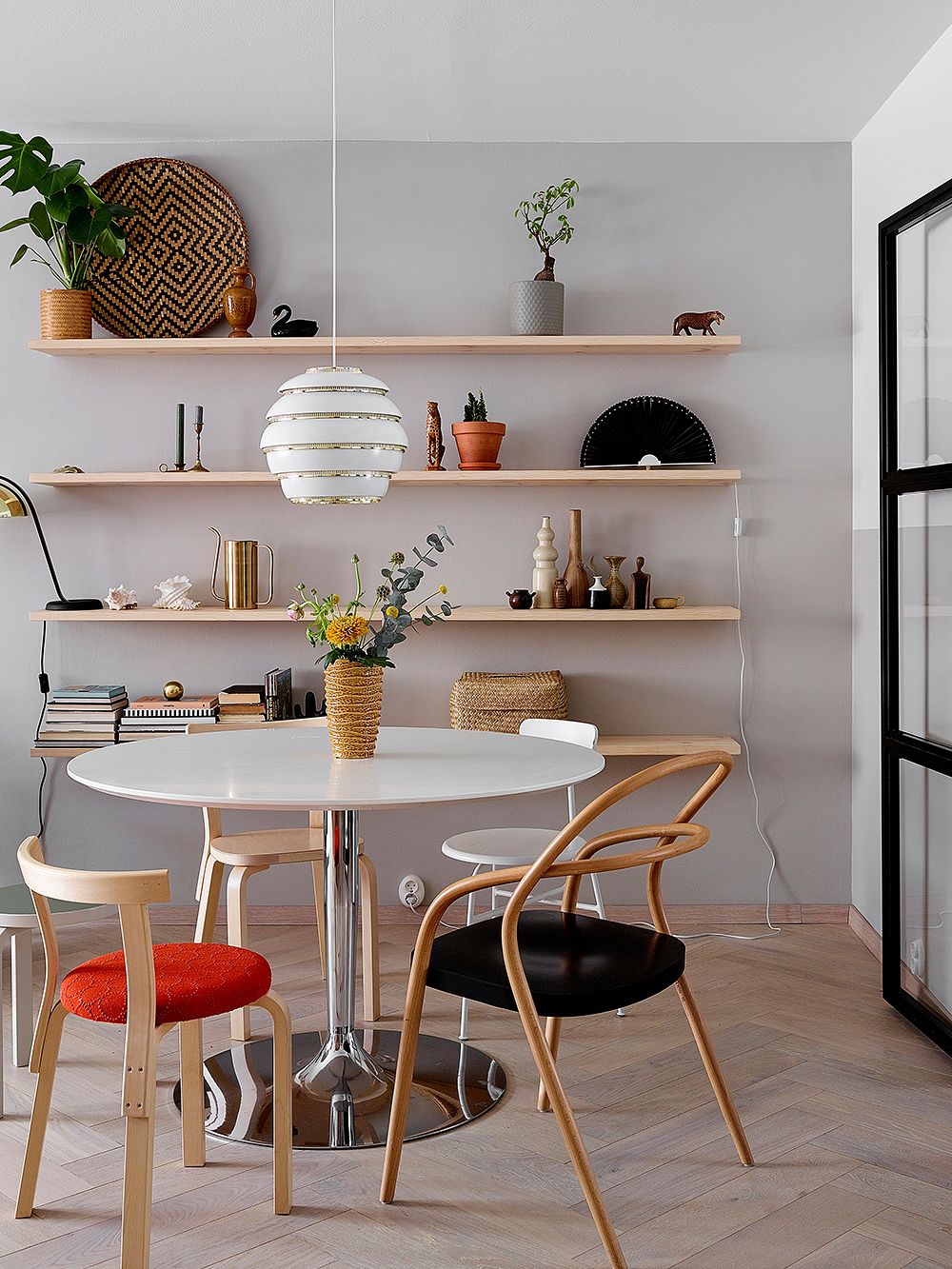 Residents:
Tanja (37) a sales representative from the fashion industry, Jussi (40) a carpenter, and their children Valma (1.5), Vieno (4) and Moona (12). Their home is a 98-square-meter, fully renovated three-room apartment in a 70s tower block in Espoo, FInland.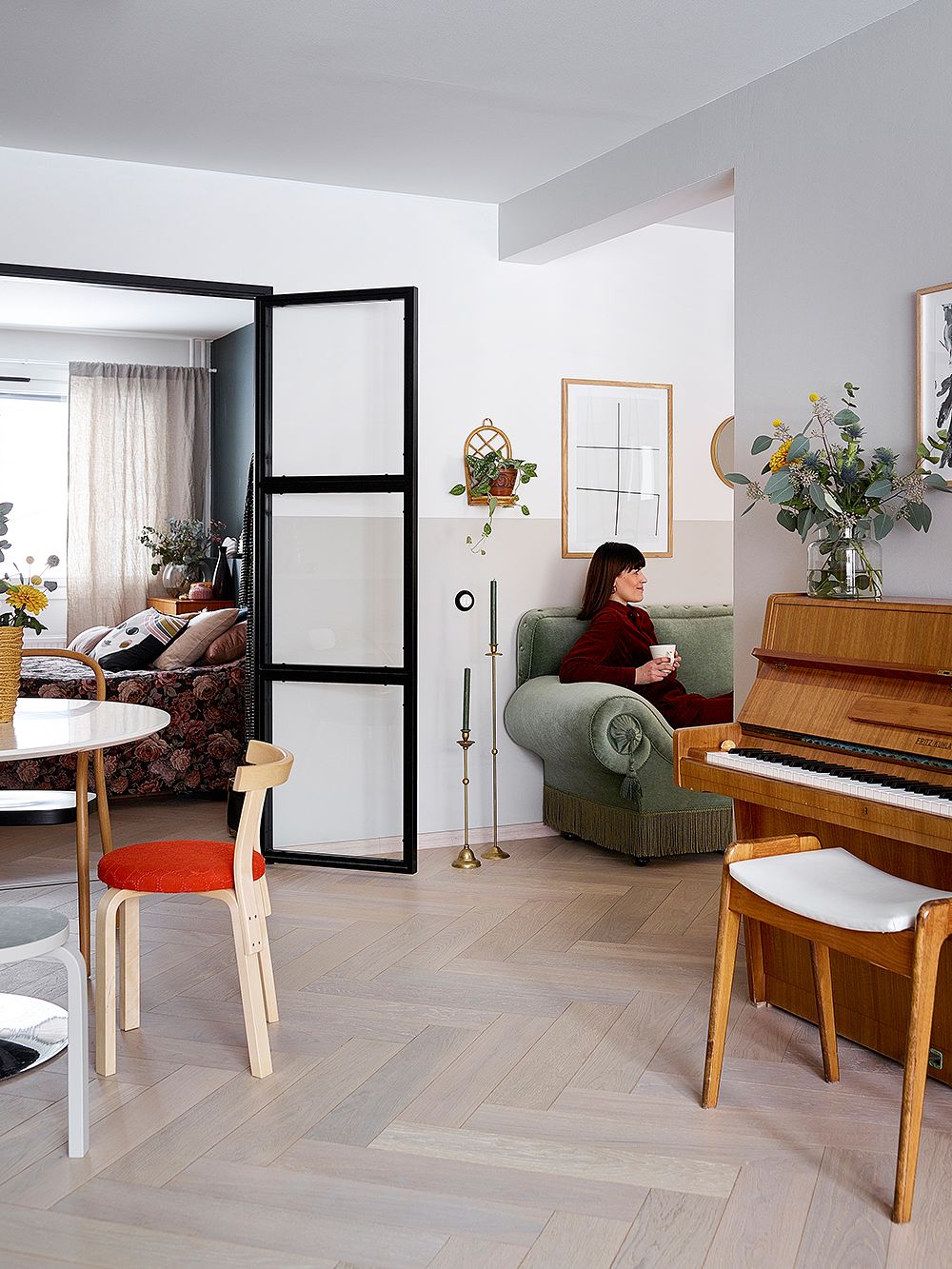 WHEN DESIGNING A FULL RENOVATION remotely, from another town and almost entirely by yourself during breaks from busy family life, it helps if you genuinely enjoy repairs. This is the basis on which Tanja and Jussi, who moved from Lahti to Espoo for work-related reasons, transformed their almost uninhabitable Olari apartment into a beautiful and personal residence.
They were delighted with the apartment's layout. With the housing company about to engage in a plumbing renovation, the couple could influence the choice of surface materials for the wet rooms. The purchase went through in 2017, when Tanja was pregnant with her youngest daughter, Valma. The renovation schedule was tight due to the move. Tanja only managed a few, 15-minute viewings of the apartment as the basis for the design. Luckily, she had prepared a long list of interior decor ideas.
"The apartment building seemed normal at first sight. Luckily, we grasped the opportunity," comment Tanja and Jussi.
Tanja, who works in the visual profession of fashion, has a sharp eye for style and color. Jussi, a carpenter for whom handiwork is a way of life, has similar taste. Jussi completed almost the entire renovation himself, devoting long evenings and weekends to the apartment after work. Valma was still a six-week-old baby when the family moved in.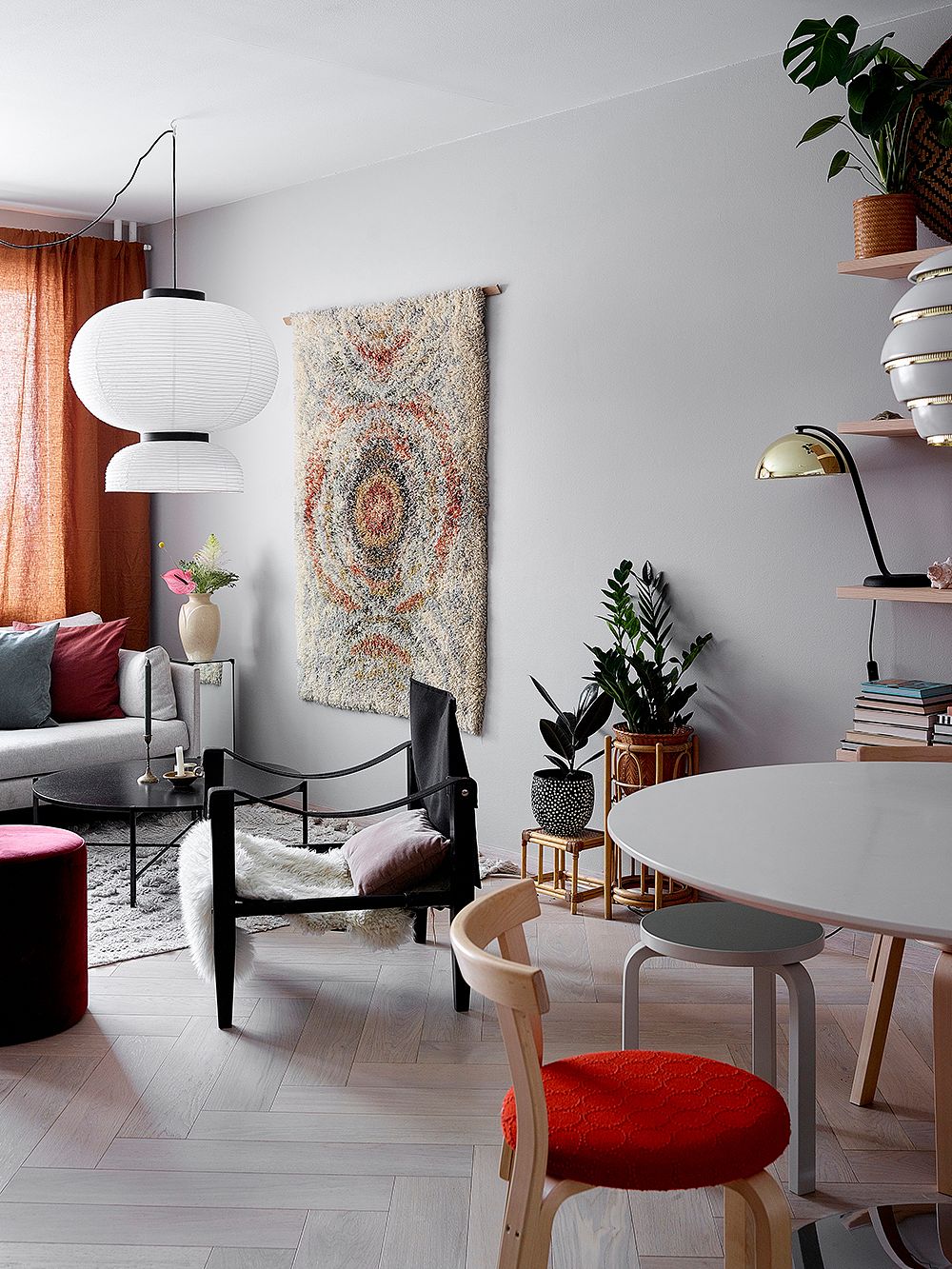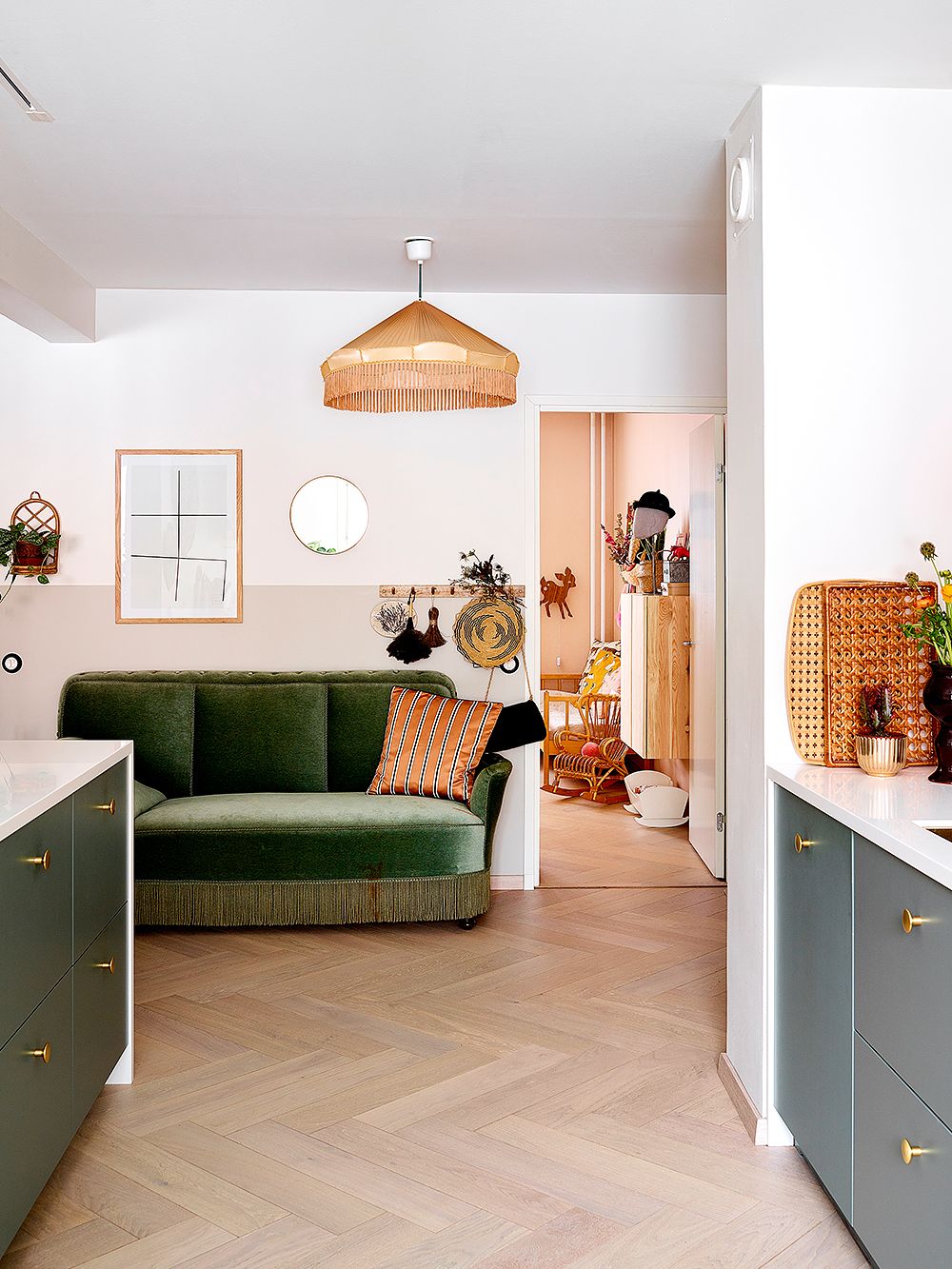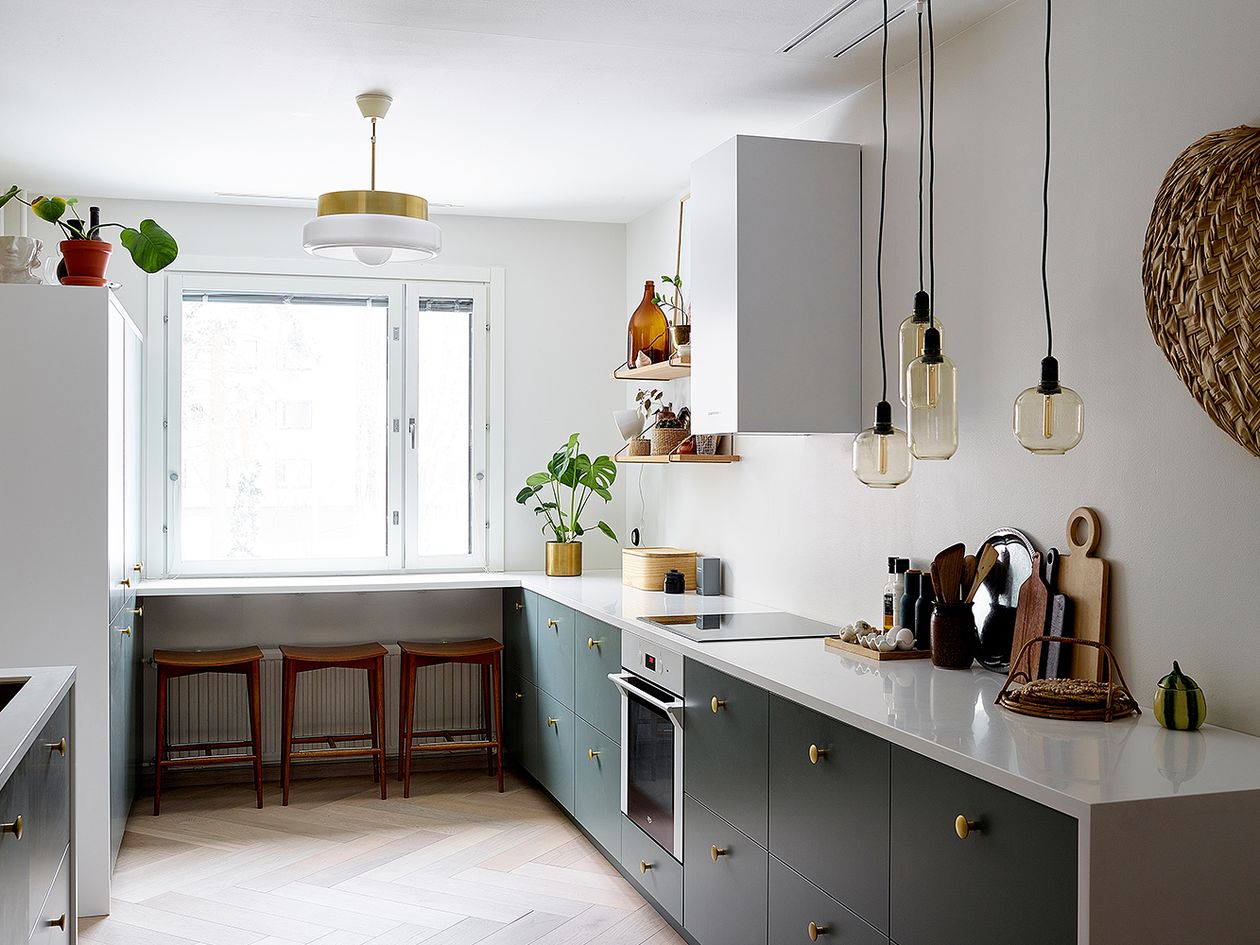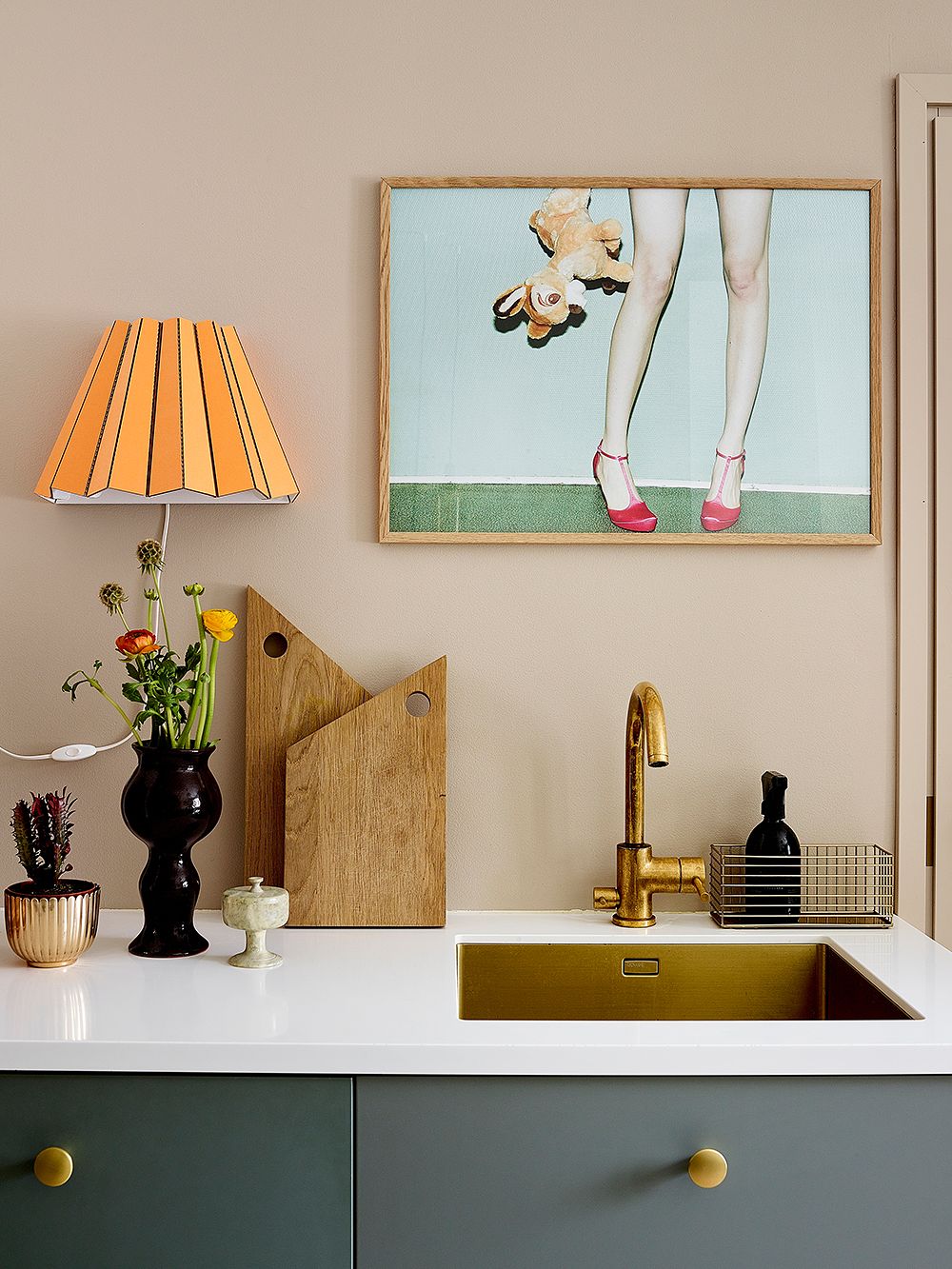 What did the renovation involve?
Jussi: "We completely renovated the apartment. We wanted to dismantle the partition between the living room and kitchen, but couldn't do so for technical reasons. However, the removal of just one partition dramatically opened up the apartment. The kitchen had been renovated, but not to our taste, so we stripped it. The flooring, which was in poor condition, clearly needed to be replaced. For us, the only choice was a white-lacquered herringbone oak parquet."
Did you stick with the same tones in the interior decor?
Tanja: "Our previous home was much lighter in color. But, because we like colors, we've never opted for black and white. Our choices for this home were inspired by 1970s influences. Because we are fascinated by the architecture of the era, our apartment is something of a compromise, further highlighting its year of construction.
"Our choices for this home were inspired by 1970s influences."
We have a lot of green in our home. I follow trends and colors as part of my work. I'm easily inspired by new tones, 
unconsciously transferring the shades that pass across my desk to my own interior decor. In many cases, changing a single surface tone can have a snowball effect."
On what basis did you choose furniture and objects for your home?
Tanja: "Much of our decor is down to chance, because we go around flea markets and recycling centers. We also buy new furniture if needed, and don't stint on lamps. In addition, we brought furniture from our old home. I can seldom resist wonderful flea-market finds, which means that furniture and interior decor tend to change quickly in our apartment.
Our cellar is filling up because I can't always bear to relinquish my old finds, even if I identify new ones to replace them. We continuously make small changes to our home and are always mid-project. However, the main themes and style remain the same."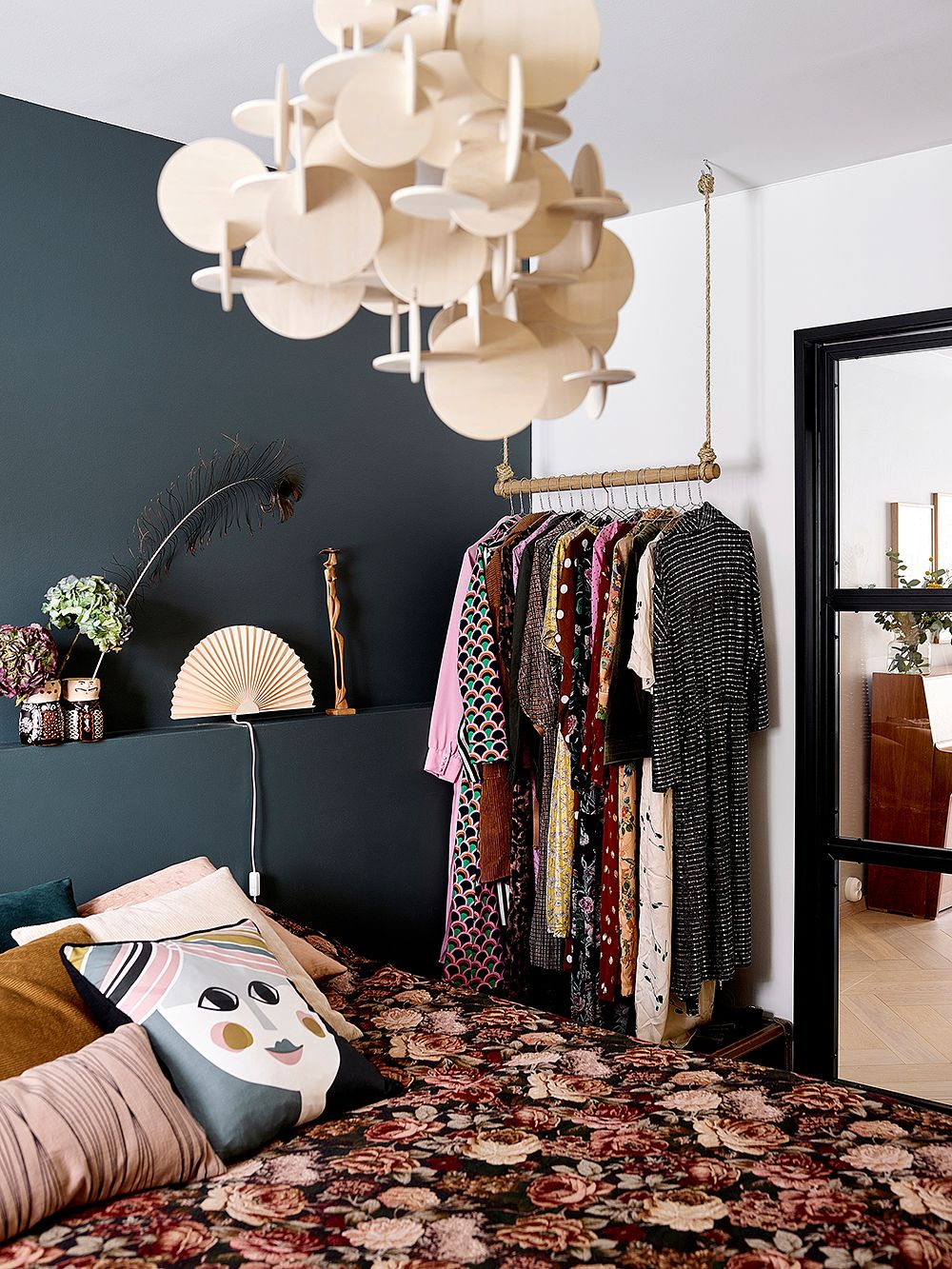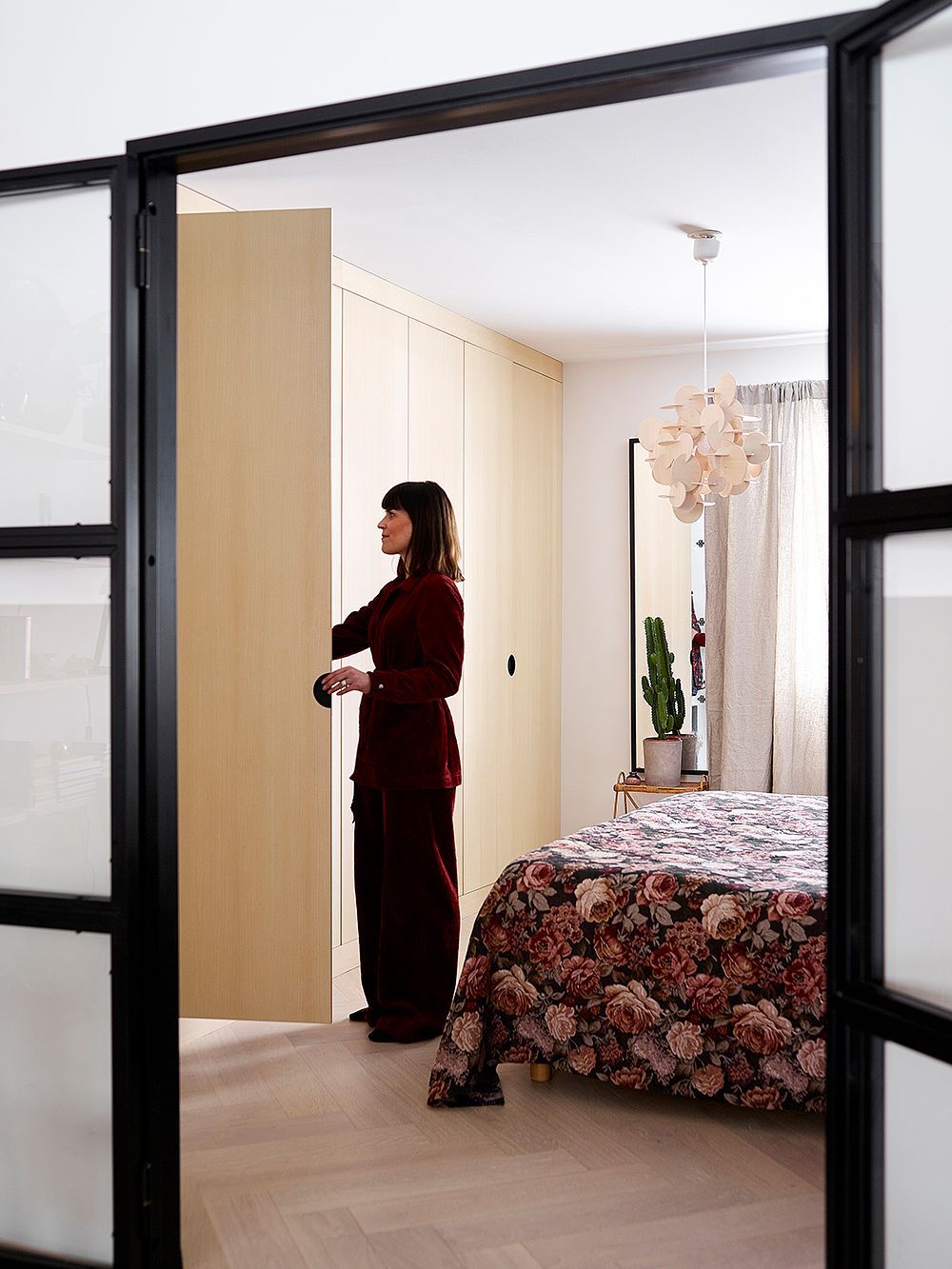 What do you particularly love about flea markets?
Tanja: "The items I collect have changed as the years go by. At one stage, I was collecting porcelain fruit and cups, building up a huge collection. Next was the turn of rattan, and items accumulated. I've always collected ceramic cups, as well as bottles and vases. I have a collection of these going back 15 years. However, I never display all of them at once and I often change my arrangements one object at a time. On the other hand, like the furniture, our decor and pictures have been changed around several times in our 18 months here."
What furniture or objects would you never give up?
Jussi: "As the first of our somewhat dearer joint purchases, the A331-pendant light, also known as the Beehive, will continue to accompany us from one home to the next. Our little teak sideboard, with its fun folding doors and slim, separate stand, feels like a fixture in our home. We never want to part with objects and dishware received as gifts or heirlooms."
"As the first of our somewhat dearer joint purchases, the A331-pendant light, also known as the Beehive, will continue to accompany us from one home to the next."
Do you have a favorite material?
Tanja: "Without a doubt, our favorite material is wood. Jussi is skilled at working with wood and can shape it into beautiful objects for our home. Slatted wood of various kinds is attractive and fits in with the spirit of our home. We have designed slatted wainscot for the back wall of the bedroom. The lower part will be rounded wooden slats, while the upper section of the roof is painted."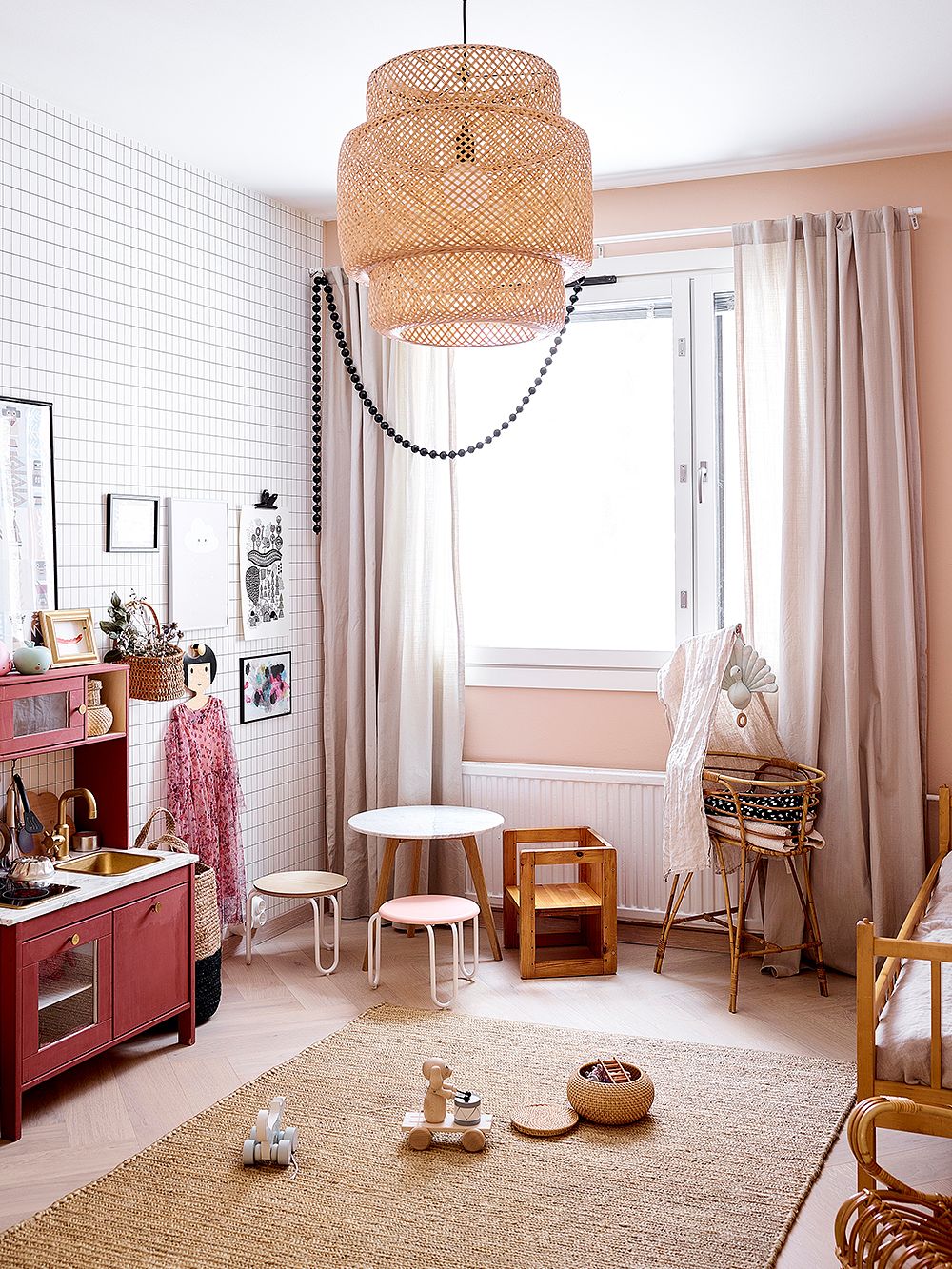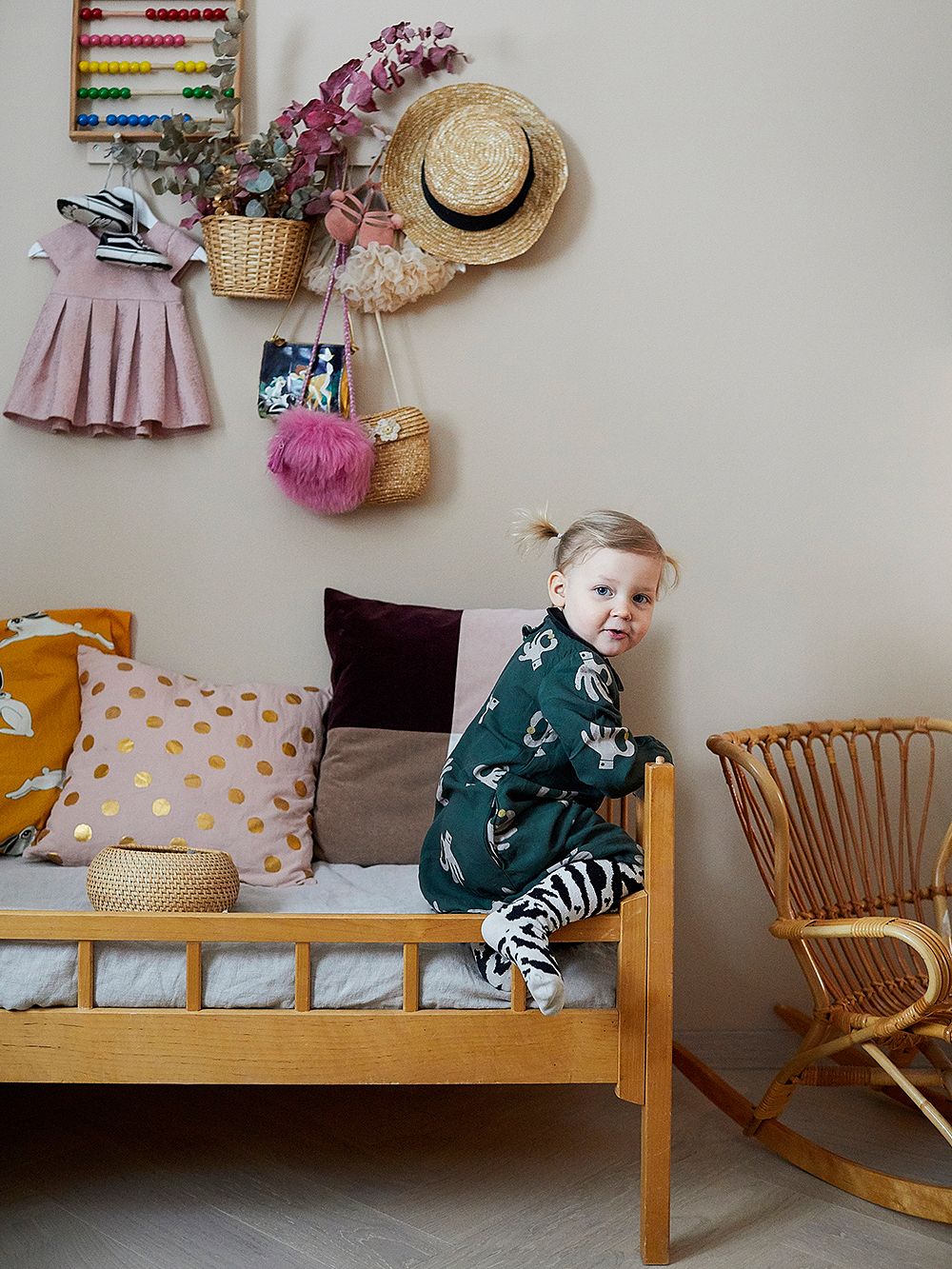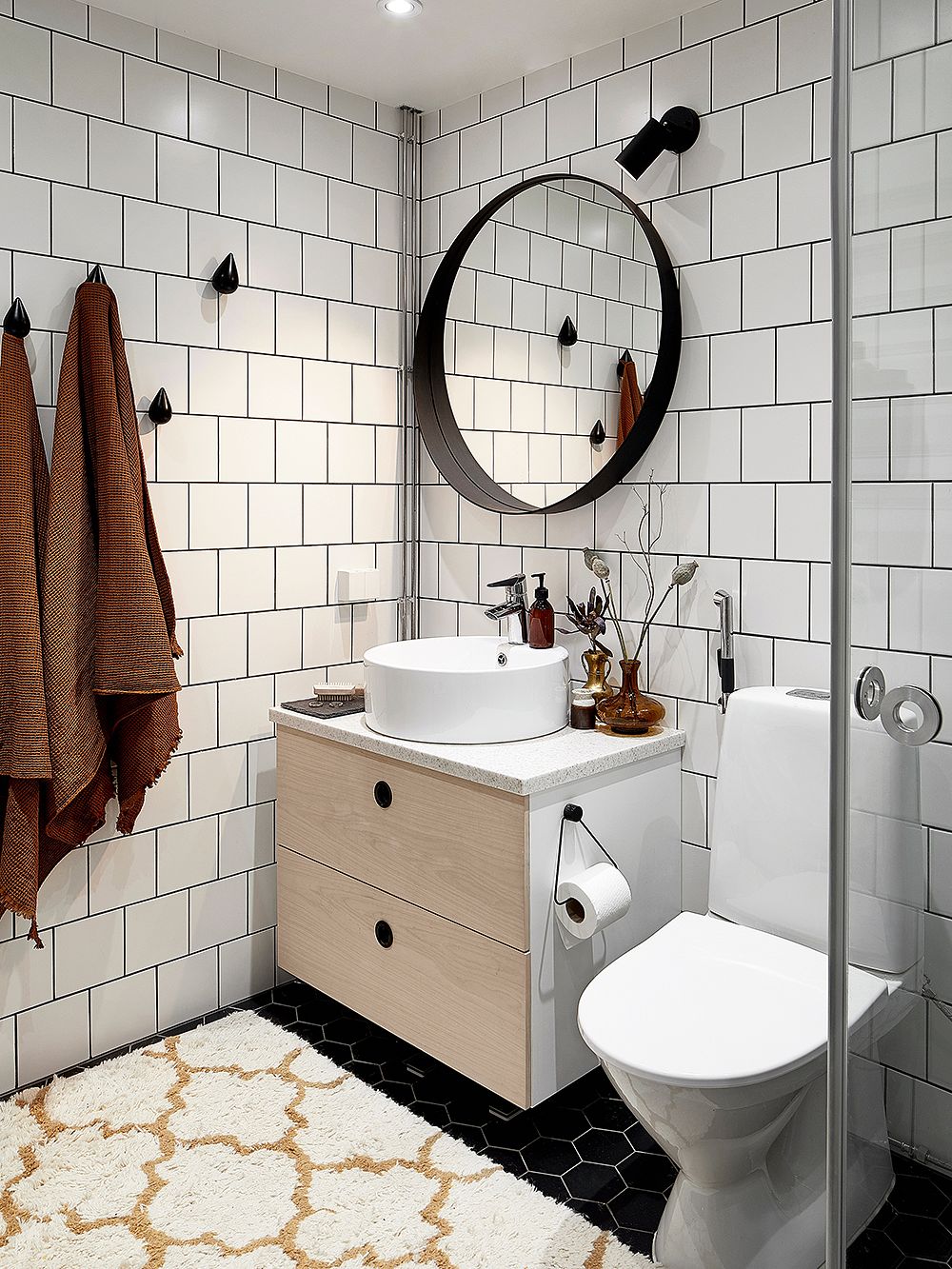 How did you create your beautiful children's rooms?
Tanja: "I think that a children's room should have a soft, if not neutral, tone, since plenty of color and sparkle is added by their toys and other objects. Furniture and other items used in children's rooms can be fun. However, because the occupants of children's rooms get to choose what is on show, the decor shouldn't be too carefully planned or serious."
Text: Mirsa Kaartinen Photography arrangements: Nita Hauhia Photos: Krista Keltanen
This article was first published in Avotakka's issue 9/2019.