Potato suits a wide variety of tastes and is a true multi-purpose wonder of the food world. Try potatoes boldly for example on white pizza and as Asian-style flattened potatoes or roast some sweet potatoes with accompaniments in the oven.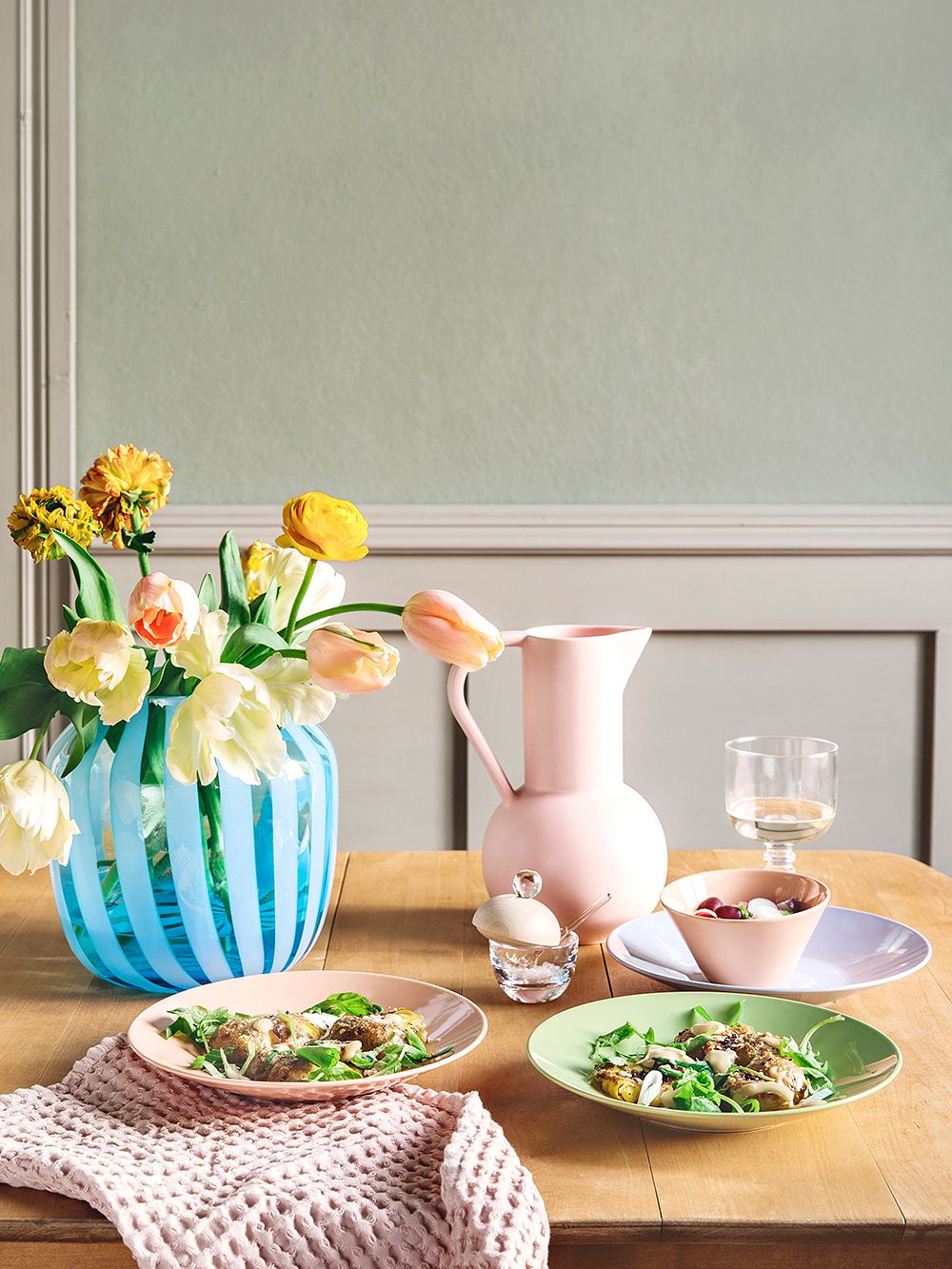 EARLY SPRING may look bleak in the veggie department. Not to worry – just abandon all wilted lettuce and go for some root vegetables instead. Due to fashionable diets and other trendy veg, the good old potato has lost popularity in recent years. Needlessly so, because potato is a splendid ingredient; its mild flavor matches almost any spice, seasoning or accompaniment, and it is inexpensive, non-perishable and easy to prepare.
Today, there are many interesting varieties of potatoes available, and if you fancy a change, why not try blue or red potatoes? Sweet potato is a good alternative to use in traditional potato recipes, as its mild and sweet taste is suitable for many dishes.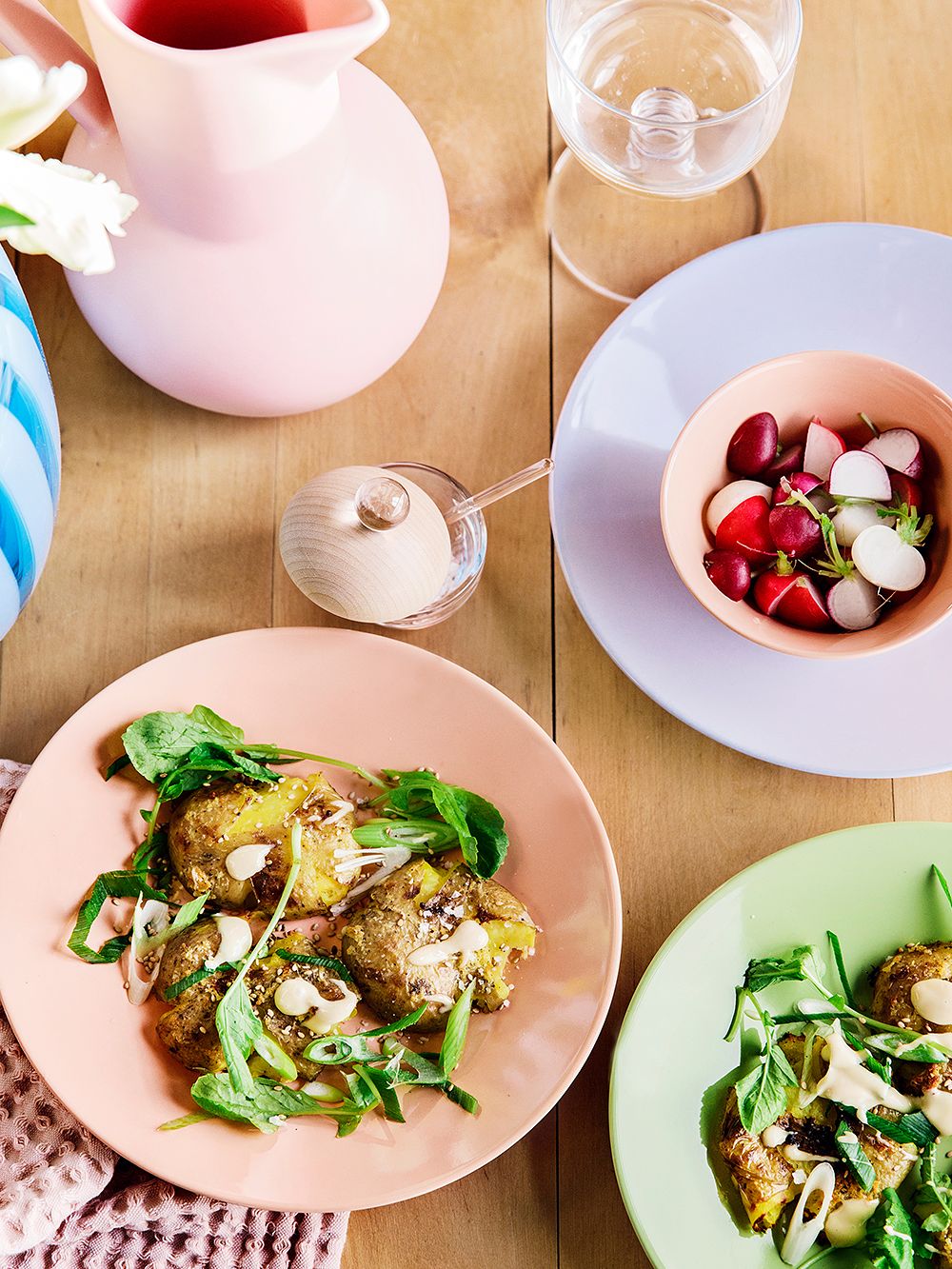 Flattened potatoes, soy mayonnaise and pickled radishes (serves 2–3)
Flattened potatoes are literally boiled potatoes pressed flat and roasted in the oven. The potatoes stay soft and creamy inside, while the outside becomes crispy and delicious, as flattening maximizes the area that goes crispy in the oven.
You can use leftover boiled potatoes for this dish, which is ideal to avoid food waste. Asian-style accompaniments are prepared while the potatoes roast in the oven. The nice tangy flavor of radishes with salty soy mayonnaise is ideal to spice up the mild potatoes.
Potatoes:
1 kg small potatoes
1 dl rapeseed oil
1–2 cloves of garlic
1 tablespoon grated ginger
1/2 tsp salt
Soy mayonnaise:
2 dl mayonnaise
1/2 tsp toasted sesame oil
2–3 tbsp soy sauce
Quick-pickled radishes:
1 bunch of radishes
1 dl white wine vinegar
1 tbsp sugar
1/2 tsp salt
For garnish: roasted sesame seeds, radish leaves, spring onions
Follow these steps:
Boil the potatoes in lightly salted water until they are almost done. Let them cool and dry them well, as wet potatoes will not go crispy. Preheat the oven to 225°C. Cover the baking tray with baking paper and spread the potatoes on. Flatten each potato carefully by hand.
In a bowl, mix the grated garlic, ginger, oil and salt. Spread the mixture over the potatoes. Roast for about 15 to 20 minutes, or until the potatoes go slightly brown.
Prepare the mayonnaise by mixing all ingredients together.
Cut the radishes in half or in four wedges, depending on the size. Mix them in a bowl with the vinegar, salt and sugar and place in the fridge for a while.
Serve the potatoes hot with the soy mayonnaise and radishes. Sprinkle on some sesame seeds, chopped spring onions and, if you like, radish leaves.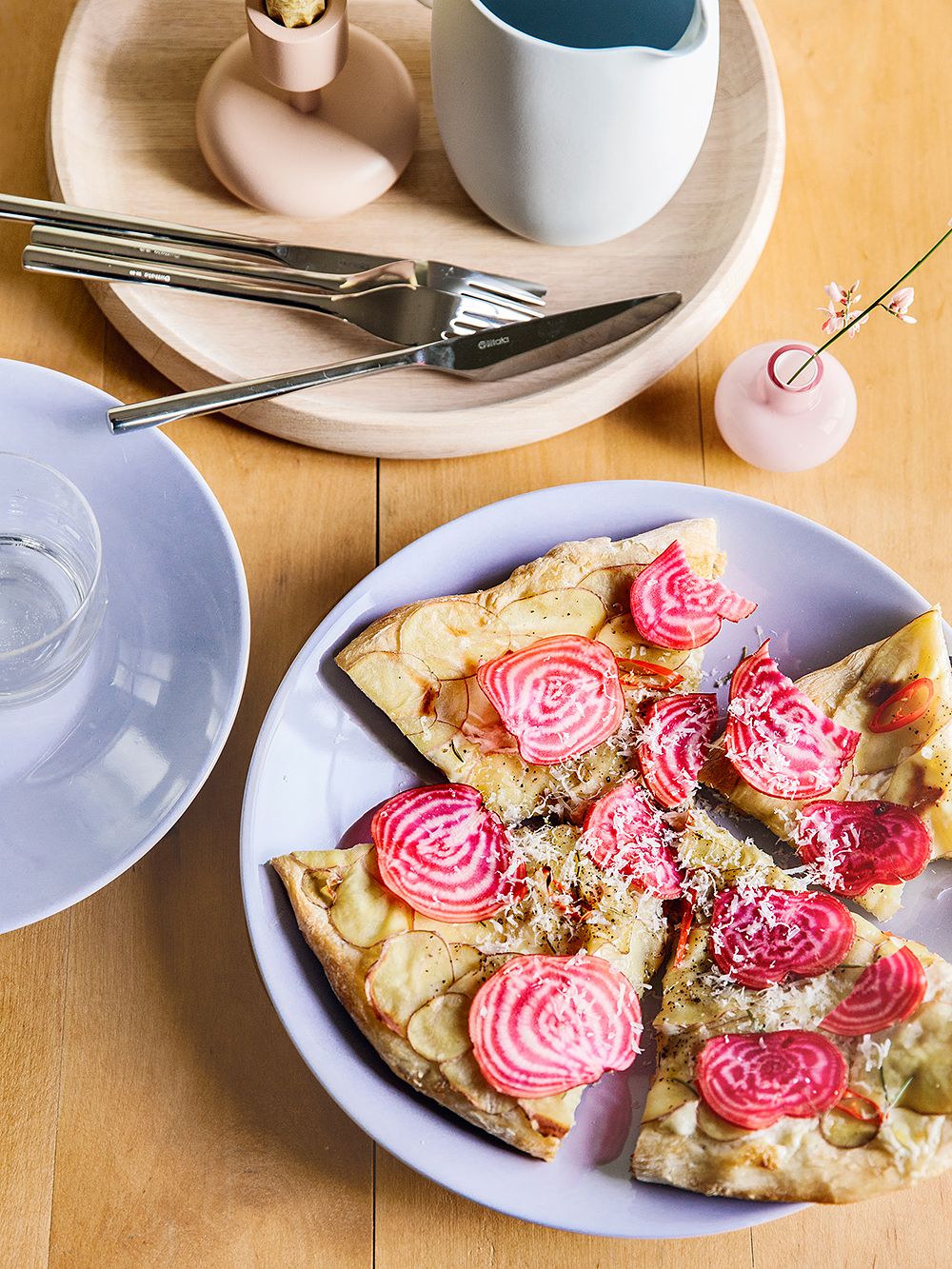 White potato pizza (serves 2–3)
Pizza is best with just a few toppings. White pizza is made without tomato sauce, and for example crème fraiche can be added for creaminess. Chili and rosemary give flavor to the very thin potato slices.
You can also add more flavoring to your pizza after it comes out of the oven. In this recipe, thinly sliced, beautiful red-and-white striped beets add crunch and sweetness, but even the more traditional rocket can be used to bring freshness and texture.
Base:
3.5 dl flour
1 tsp salt
1/2 tsp dry yeast
2 dl water
Toppings:
1 tub (à 150 g) crème fraiche
1 dl grated pecorino cheese
1–2 potatoes
1 red-and-white striped beet
1 chili
fresh rosemary
salt and black pepper
olive oil
Follow these steps:
Mix the dry ingredients and add the water, stirring just enough to make a dough. Cover the dough and leave it to rise overnight in the refrigerator or a few hours at room temperature.
Preheat the oven to 250°C. Cover a baking tray with baking paper and sprinkle with flour. Place the dough on the baking paper and spread it out with your hands to form a round base – do not use a roller, as it makes the base go flat and rock hard. Let the base rise under a cloth for about half an hour.
Meanwhile, slice the potato and red-and-white striped beet into very thin slices, using a mandoline slicer or a sharp knife. Chop the chili and rosemary.
Spread the crème fraiche first on the base and sprinkle the cheese over it. Spread the potato slices on the base so that they overlap and sprinkle the chili and rosemary on top. Season with salt, black pepper and olive oil. Bake the pizza in the lower part of the oven for about 15 minutes or until the edges go slightly brown.
Before serving, spread the red-and-white striped beets on top of the pizza and grate some more pecorino.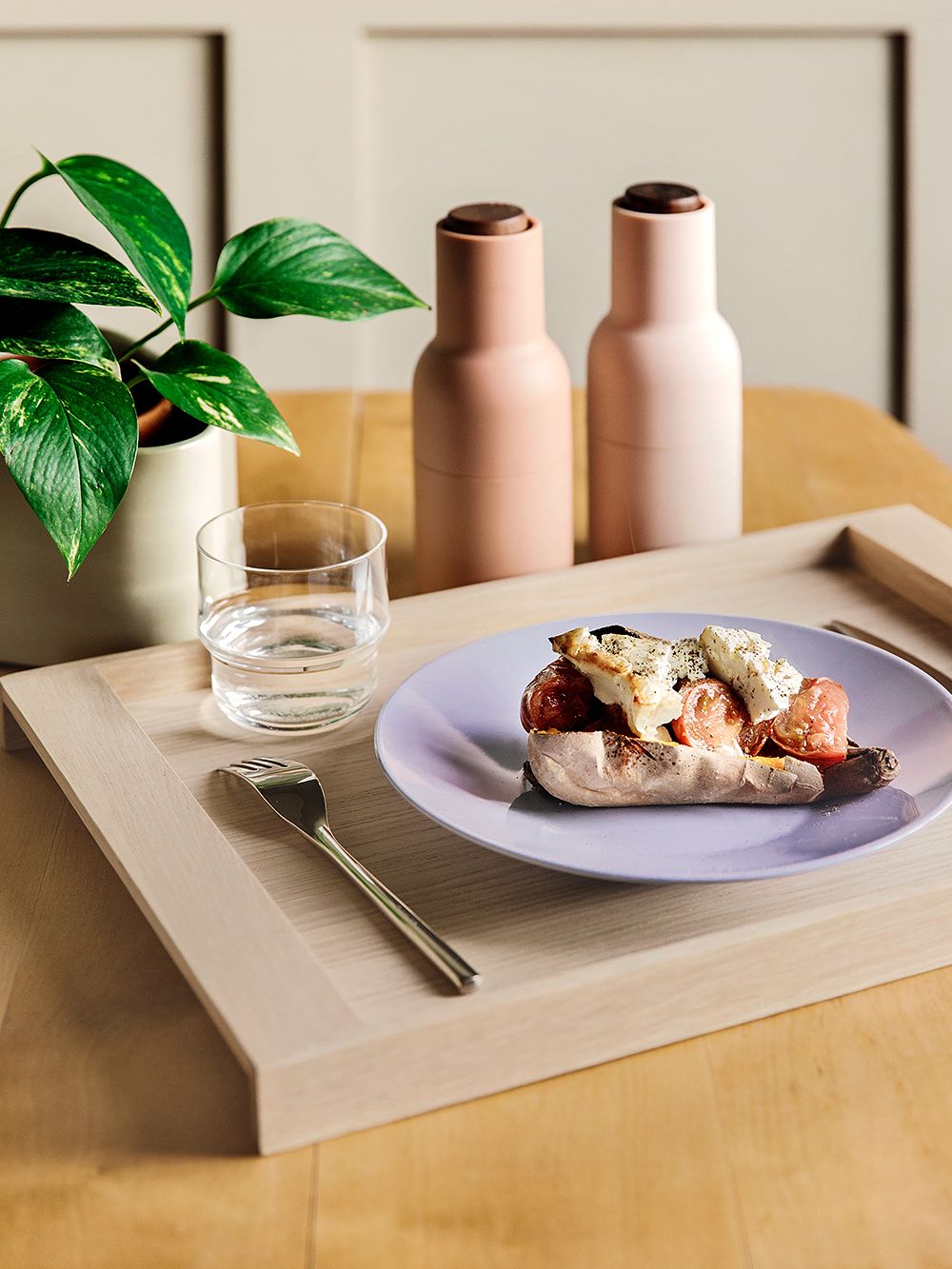 Oven-baked sweet potatoes with roasted tomatoes and feta (serves 2–3)
Baked potato is a classic delicacy that can also be made from sweet potatoes for a change. This dish is easy to prepare in the oven. Tomatoes add succulence to the sweet potatoes, and the salty feta, which becomes irresistibly delicious in the oven, brings saltiness which the sweet potatoes need. Choose small sweet potatoes as they are quick to cook in the oven.
Ingredients:
2–3 small sweet potatoes (1 per person)
2–3 tomatoes
1 packet (200 g) feta
olive oil
salt and black pepper
Follow these steps:
Wash and dry the sweet potatoes, stick a few holes in them with a knife and roast them in the oven on baking paper at 150C for about 45 minutes, or until the sweet potatoes are soft. When the sweet potatoes are almost ripe, remove the tray from the oven for a moment and place the tomato wedges and feta on the side.
Season the tomatoes with salt and grind some black pepper on top of the feta and tomatoes and crown the whole with olive oil. Raise the heat to 225°C and roast for 10 minutes, until the tomatoes have become juicy and the feta has gone slightly brown.
Carefully split the hot sweet potatoes with a knife and spoon in some tomatoes and crumbled feta. Enjoy at once for example with green salad.
See also:
• All tableware at Finnish Design Shop >
Text and photos: Suvi Kesäläinen