Lighting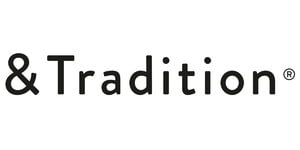 &Tradition | Lighting
&Tradition (AndTradition), previously known as Unique Copenhagen, is a Danish company, synonym of Nordic heritage in contemporary design. By changing its name, the company's goal is to emphasize its way of combining solid handicraft with modern design, and Nordic tradition with high quality. &Tradition works with both emerging and established designers and is renowned for producing some of Verner Panton's and Arne Jacobsen's most celebrated designs.
Craft meets art. Function meets form. Material meets potential. This is the Nordic tradition and heritage. &Tradition aims to bridge these values to contemporary design, reshaping, redefining and reinventing materials, techniques and forms. &Tradition utilizes and combines new materials, uncovers new techniques and breaks boundaries in manufacturing.
The Danish company wants to challenge the limits of function, form and materials. The collection of &Tradition not only covers iconic designs and undiscovered gems from the masters of yesterday, but also features new works from the leading designers of today and from the talents of tomorrow, those talents who may create the classics of the future. &Tradition scouts for design talent beyond borders and handpicks production facilities that will provide the finest quality, wherever they are.
&Tradition markets its collection through an international network, but their roots are still Nordic and tradition is still a part of their identity. &Tradition believes in design that is made to last from sustainable production, and respects nature that provides the raw materials.
This brand has collaborated with: Arne Jacobsen, Verner Panton, Hee Welling, Norm Architects, Mia Hamborg, Benjamin Hubert, Anderssen & Voll, Samuel Wilkinson, Sami Kallio, Luca Nichetto, All The Way To Paris , Jørn Utzon, Space Copenhagen, Jaime Hayón, Flemming Lassen, Signe Hytte, Viggo Boesen, Jakob Thau, Kastholm & Fabricius , Sebastian Herkner, John Astbury, Hvidt & Mølgaard, Edward van Vliet
Some popular &Tradition products: &Tradition furniture, &Tradition lighting
---
The most comprehensive lamp store for Nordic designer lamps
If you're looking to buy a new designer lamp in Scandinavian style, you've come to the right lamp store! We at Finnish Design Shop love good lighting design, Nordic aesthetics and high quality. Possibly because of the long and dark winters of the North, lighting has a very special place in our heart. We like to have proper general lighting in the whole house, but we also enjoy turning off the main lights and switching on smaller mood lights for a cosy ambience. Finnish Design Shop's carefully curated lighting shop is filled with some of our favourite designer lamps ranging from ceiling lamps to table lamps, floor lamps and wall lamps.
How to choose your new lamp
Choosing the perfect light fixture is not always an easy task. Lighting design is a form of art, and it takes a special eye to create an optimal balance between all the luminaires in the space. Start by thinking about what kind of lighting you wish to acquire. A hanging pendant light or flush ceiling light with a diffuser is a good option for vibrant general lighting with no glare, whereas a direct spotlight or desk lamp is a great choice when you want to highlight only some parts of the room or need light for working. If you're looking for a bedside lamp, the light should be bright enough for reading but gentle enough to not fill the whole room with light. And for decorative mood lighting, it's best to pick a lamp that provides a warm, diffused glow.
It's also wise to pay special attention to the size of your new lamp: if the lamp is too large for the room and has no empty space around it, it might create a cramped feeling – and respectively, if you choose a tiny lamp for an ample space, it might not stand out or provide enough light. In case want to be able to switch the light from bright to dim, opt for a light fixture with a dimmer or connect your lamp to a dimmer switch. In terms of light sources, you can choose either a lamp with an integrated LED unit or a classic luminaire with a replaceable bulb. And in case you want to carry your lamp out to the patio, check out our selection portable and cordless lamps. We also stock a versatile selection of weatherproof outdoor lamps.
Update your home with Scandinavian designer lighting
When you finally know which type of light fixture is best suited for your needs, you can start the best part: browsing through our selection! The main focus of our lighting shop is on modern Scandinavian lighting supplemented with some of our favourite designer lamps from countries such as Italy, Spain, England, USA and South Korea. If you're looking for a mid-century style designer lamp from Scandinavia, you can start by discovering the iconic Alvar Aalto lamps by Artek, the Poul Henningsen lamps by Louis Poulsen and the Svend Aage Holm-Sørensen lamps by Warm Nordic. For more contemporary Nordic lighting, you should definitely check out the collections of Pholc, Menu, Nuura and Secto Design, and for those captivated by Italian designer lighting, we stock a versatile range of classics by Oluce, Flos, Foscarini and Artemide. The list could go on and on, but just a few more: the Marset lamps from Spain are always a joy to the eye, Le Klint and Gubi have wonderful Danish lamps for various styles, and the British designer lamps by Tom Dixon are just simply gorgeous!
Whether you're looking for a strong statement piece or a luminaire that seamlessly blends into the decor, we've got you covered! We enjoy bold and sculptural chandeliers that really stand out, but we also love the feeling when the whole decor has that harmonious, understated and uniform look. Whatever your choice, the most important thing is that the luminaire is made of quality materials that stand the test of time. The diffused glow of opal glass lamps works in any interior, as well as the organic appearance of wooden or ceramic lampshades. We also like to play with contrasting materials: an industrial-style metal lamp can pair beautifully with a rice paper lampshade, and brass or marble details give a sophisticated touch for any kind of setting. In addition to materials, you can also play with contrasting colours or surface textures. When you've finally found your new luminaire, check if you need to purchase light bulbs or any additional accessories: our selection of lighting accessories is filled with standard LED bulbs as well as eye-catching decorative bulbs.
Inspiration and ideas for home lighting
To help you with the selection of your new designer lamp, we picked a few articles from our online magazine Design Stories. These stories provide you with inspirational tips and ideas for your home as well as deeper insights into some of the most famous Scandinavian lighting designs:
• 9 tips for home lighting – shop your favourites >
• Bedroom lighting ideas from our lamp store – 6 layers of light >
• Find an ideal design lamp for each room of the house >
• Poul Henningsen – master of soft light >
• Paavo Tynell created artistic light >
Some popular categories:
Gubi lighting
,
Hay lighting
,
Flos lighting
,
Louis Poulsen lighting
,
Louis Poulsen pendant lights
,
Menu lighting
,
Muuto lighting
,
Foscarini lighting
,
Artemide lighting
,
Artek lighting
,
Kartell lighting
,
Fatboy lighting
,
&Tradition lighting
,
Artemide floor lamps
,
Tom Dixon lighting
,
Marset lighting
,
Flos floor lamps
,
Flos table lamps
,
Tom Dixon pendant lights
,
Flos pendant lights
,
Poul Henningsen lighting
,
George Nelson lighting
,
Verner Panton lighting
,
George Nelson pendants
,
Muuto pendants
,
Artemide table lamps
,
Le Klint lamps
,
Artemide desk lamps
,
Luxo lighting
,
Fermob lighting
---