Fast worldwide delivery to over 180 countries
Free shipping to Germany for orders over 150 €
Free shipping to Belgium for orders over 150 €
Free shipping to Spain for orders over 150 €
Free shipping to the Netherlands for orders over 150 €
Free shipping to Ireland for orders over 150 €
Free shipping to Greece for orders over 150 €
Free shipping to Portugal for orders over 150 €
Free shipping to France for orders over 150 €
Free shipping to Estonia for orders over 150 €
Nearly 90,000 items in stock and ready to ship
Chairs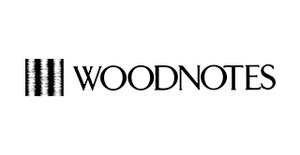 Woodnotes | Chairs
Woodnotes is Finnish design brand founded in 1987 by textile artist Ritva Puotila and her son Mikko Puotila. The essential idea behind Woodnotes was to create modern design from durable, ecological and beautiful natural material, spun paper yarn. Today, Woodnotes' collections have expanded from paper yarn carpets to furniture and home accessories, but spun paper yarn products still form the core of the company.
Woodnotes was the first company to utilize paper yarn in modern design solely because of its own qualities and certain look, not as a substitute for other materials. Today, Woodnotes is an internationally awarded brand whose products are sold in over 40 counties. One of its most successful products is Harri Koskinen's k-chair that has quickly become a well-known classic of Finnish design.
This brand has collaborated with: Harri Koskinen, Ilkka Suppanen, Minna Ahokas, Ritva Puotila, Tanja Sipilä, Woodnotes, Ulla Koskinen, Mari Isopahkala, Raffaella Mangiarotti
---
Chair design the Nordic way – pick the perfect chairs for your life and style
Oh, chairs! It's hard to get enough of them if you're a true design enthusiast. Besides its obvious functional use, a well-made designer chair provides you with so many enjoyable little details that we don't know where to start with. It's the combination of function, form and feeling that makes some chairs just truly special. You might sense it already when you see the chair, but when you sit on it, you just know it. No matter if it is a generous armchair, a practical dining chair, a sturdy bench, sleek bar chair or a simple stool, a high-quality designer chair instantly feels like a lifelong companion.
If you're looking for your new favourite chair, you've come to the right place! Our chair collection is filled with true gems of Scandinavian and Finnish furniture design, ranging from treasured mid-century classics by Charles & Ray Eames, Eero Aarnio and Alvar Aalto to awarded chair designs by contemporary Nordic designers, such as Hee Welling, Sami Kallio and Iskos-Berlin. In terms of materials, colours and chair types, there's an abundant selection to choose from. The most common materials of our chairs include wood and metal in a range of finishes, but you can also opt for a rattan chair, plastic chair, webbing chair, or an upholstered chair in fabric, leather or sheepskin. Our chair collection also includes office chairs, rocking chairs, bean bag chairs as well as poufs and ottomans.
While browsing through our chairs, you might also want to delve into inspirational stories about Nordic chair design. Our online magazine Design Stories provides you with many in-depth articles about classic and more contemporary designer chairs from Finland, Scandinavia and beyond. Why not start with these fascinating stories:
• The Karuselli chair represented the dynamic design of its time >
• The Domus chair – from a multipurpose dorm chair to a design favorite >
• The return of the Eames Fiberglass Chair >
• 50 years of Bubbles – Eero Aarnio's classic chair turns the big 5-0 >
• Chair Times – enjoy a movie night or some quality book time with Vitra >
Some popular categories:
Gubi dining chairs
,
Gubi chairs
,
Hay chairs
,
Vitra chairs
,
Muuto chairs
,
Artek stools
,
Artek chairs
,
Kartell chairs
,
Fatboy bean bag chairs
,
Fermob chairs
,
Alvar Aalto chairs
,
Alvar Aalto stools
,
Philippe Starck chairs
,
Verner Panton chairs
,
Gubi lounge chairs
,
Kartell bar stools
---