Woodnotes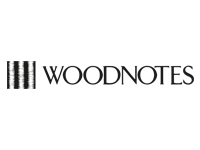 Woodnotes
Finnish textile artist Ritva Puotila founded Woodnotes with her son Mikko Puotila in 1987. Woodnotes designs are made from durable and beautiful natural material, spun paper yarn.
Although Woodnotes product line has grown over the years, spun paper yarn products still form the core of Woodnotes: The k chair by Harri Koskinen has quickly become a well known Finnish design modern classic with its modern shape, whereas Ulla Koskinen's likeable My and Roo lounge chairs have a charming, soft but sturdy structure.
Woodnotes was the first company to utilize paper yarn in a modern way in, because of its own qualities and certain look, not as a substitute for other materials. Woodnotes offers a wide range of products from paper yarn carpets to blinds and home accessories.
Woodnotes has designed pieces for the following brands: Woodnotes
---