Wesley Walters & Salla Luhtasela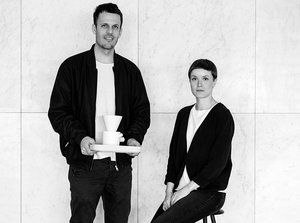 Wesley Walters & Salla Luhtasela
Wesley Walters and Salla Luhtasela are Aalto University design students, who won the first FDS Award in 2016 with their Perch bar stool. They share not only a similar taste in design but also an eventful path to the field. Their work has been influenced by both Scandinavian and Japanese aesthetics.
Walters, originally from California, studied East Asian languages in the University of Berkeley and grew an interest in design and architecture due to an exchange program in Japan and a summer job at the art department of a movie production. He started his design studies in the Tama University in Tokyo, got his first master?s degree in 2012 and moved to Helsinki to continue his education. Finnish Salla Luhtasela, in turn, worked as a pastry chef and studied architectural restoration before she discovered ceramics and applied to Aalto University in 2013.
Walters and Luhtasela, brought together by their studies, design minimalist wooden and ceramic products under the name Kaksikko, Finnish for duo or twosome. Their ceramic Piippu coffee pot and filter won the third prize in the Muuto Talent Award 2015, and the Michelin-starred restaurant Ask in Helsinki serves its menu on tableware designed by Walters and Luhtasela. Perch, the FDS Award winner, is now part of Nikari?s range of high-quality wooden furniture. 
Wesley Walters & Salla Luhtasela has designed pieces for the following brands: Nikari, Skagerak