We ship worldwide to over 180 countries! Fast and safe shipping Free shipping for all orders over 150 €
We ship worldwide to over 180 countries! Fast and safe shipping Worldwide shipping starting from 7,90 €
We ship worldwide to over 180 countries! Fast and safe shipping Free shipping for all orders over 150 €
We ship worldwide to over 180 countries! Fast and safe shipping Worldwide shipping starting from 7,90 €
Vivero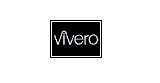 Vivero
Vivero has been a pioneer of furniture design since 1980's and has received several awards and prizes for its designs. Vivero is specialized in eye-catching designs for both public spaces and private homes, modern and classical interiors.
Vivero aims at helping people to communicate an atmosphere that their guests want to experience over and over again. Beautiful and light chairs designed by Yrjö Wiherheimo, Pekka Kojo, Ilkka Suppanen and Timo Ripatti find their place in halls, hallways, balconies and dining rooms. They are individually beautiful but can also be combined to form interesting group of chairs.
Email Signup
Subscribe to our free newsletter and be first to hear about new products, interesting people and events.