Shelving units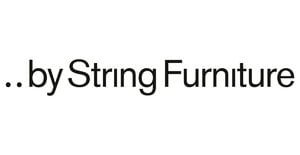 String Furniture | Shelving units
String Furniture, founded by architect and designer Nils Strinning, is a Swedish design company that specializes in home storage. Strinning designed the classic String System already in 1949, and later additions include the String Plex and String Pocket shelving systems and the String Works office collection.
String Furniture's shelving systems are practical and the structure is lightweight, yet stable. The side panels are simple to mount and the shelves are easy to move around. Shelves of different depths can be combined in the same unit and the frame functions as a bookend. When more shelf space is needed, you can simply add more units. Since its launch, the String design has received a number of prestigious international awards. Their distinctive characteristics – functionality, minimalistic design, attention to details – made of String shelving systems a favourite soon after their launch and this minimalistic icon is as contemporary and appealing today as it was back then – a timeless design, at once classical and contemporary.
This brand has collaborated with: Björn Dahlström, TAF Studio, Nils Strinning, Anna von Schewen, Mats Theselius
Some popular String Furniture products: String shelves
---
The best modular shelving systems from Scandinavia
Modular shelving units make a fantastic storage system for any space – the setup can be extended, made smaller and modified in countless different ways. A small shelf unit acquired for the first apartment can be integrated into the larger shelving system of a family home. Likewise, when moving into a smaller apartment, the modules of a large bookshelf can be divided into several smaller storage units. Finnish Design Shop stocks several popular shelving systems by premium Nordic design brands.
With modular shelving systems, your imagination is the only limit – most systems can be extended both horizontally and vertically, and a wide range of additional elements are available. Combine various shelves and shelf modules, panels, cabinets, sets of drawers and cover tops to create the storage solution for your own needs. Modules can be self-supporting or mounted on the wall, and they are available in wood and metal as well as various combinations. Many shelving units are pleasantly neutral in appearance, which makes them ideal for combining with different bookcases and wall shelves. Use colours freely and creatively: you can build the whole modular system of the same colour or combine two or more different shades. Timeless Scandinavian colour combinations include black and white, as well as white with natural wood finish, such as oak or ash.
Finnish Design Shop offers a range of the most popular Scandinavian modular shelving systems to last for years and decades to come. Our selection includes the beloved Swedish String shelves and the Stacked cubic shelf modules by the Danish Muuto. Take a look and find the right shelving units for your home!
---