Selki-asema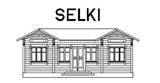 Selki-asema
Selki-asema stands out from the crowd with their bold choices in products as well as in designers. Situated in an old railway station building, Selki-asema is a fresh exception in the field of Finnish design.
Selki-asema's story began when its founder, Jukka Merta helped two talented design students to produce a prototype. However, when Anna-Katriina Tilli and Mari Relander's Anemone lamp was rejected by large manufacturer, Merta decided to manufacture it himself.
---
Show filters
---
0 matching products.
---