We ship worldwide to over 180 countries! Fast and safe shipping Free shipping for all orders over 150 €
We ship worldwide to over 180 countries! Fast and safe shipping Worldwide shipping starting from 7,90 €
We ship worldwide to over 180 countries! Fast and safe shipping Free shipping for all orders over 150 €
We ship worldwide to over 180 countries! Fast and safe shipping Worldwide shipping starting from 7,90 €
Rosenthal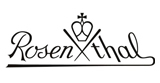 Rosenthal
Rosenthal has been an extraordinary faceted company now over 125 years. With its fascinating brands it is seen as one of the world's leading producers of up-to-date, innovative design for the well-laid table, for furniture and for giftware available in 97 countries around the globe.
Innovation and tradition form a unique breeding ground from which Rosenthal has developed. It is now one of the leading international suppliers of contemporary table and living culture. Over decades, Rosenthal has always remained alive and fascinating, united and motivated by the desire to create the best in design in every era - "what is original in our time". The brand name Rosenthal today stands for international lifestyle.
Rosenthal worked closely together with about 1000 artists, designers, architects, couturiers and prominent people from all over the world. More than 400 awards and numerous references in international museums are proof of the creative competence achieved in shape and pattern evolved. This is the background to the company promotion of young designers, public design awareness as well as personalities who bring ingenious design achievements or new artistic ideas to the world.
Email Signup
Subscribe to our free newsletter and be first to hear about new products, interesting people and events.