We ship worldwide to over 180 countries! Fast and safe shipping Free shipping for all orders over 150 €
We ship worldwide to over 180 countries! Fast and safe shipping Worldwide shipping starting from 7,90 €
We ship worldwide to over 180 countries! Fast and safe shipping Free shipping for all orders over 150 €
We ship worldwide to over 180 countries! Fast and safe shipping Worldwide shipping starting from 7,90 €
Polkka Jam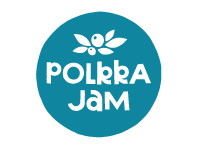 Polkka Jam
Polkka Jam represents independent Finnish design. Polkka Jam started in 2002 by printing posters and t-shirts. Today the essence of the Polkka Jam universe are colourful and joyful illustrations that can be found on posters, stationery and tea towels.
Polkka Jam products are simple and unique treasures for the everyday life and all products are made in Finland.
Email Signup
Subscribe to our free newsletter and be first to hear about new products, interesting people and events.