We ship worldwide to over 180 countries! Fast and safe shipping Free shipping for all orders over 150 €
We ship worldwide to over 180 countries! Fast and safe shipping Worldwide shipping starting from 7,90 €
We ship worldwide to over 180 countries! Fast and safe shipping Free shipping for all orders over 150 €
We ship worldwide to over 180 countries! Fast and safe shipping Worldwide shipping starting from 7,90 €
Pioni Design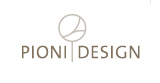 Pioni Design
Pioni Design jewellery line contains unique jewellery and small series of jewellery all hand-made in Finland. The pieces created by jewellery designer Jaana Junkkaala are whimsical, modifiable, and three-dimensional.
Pioni Design Jewellery will become your favourite everyday pieces, that small little finishing touch you can't leave home without.
Email Signup
Subscribe to our free newsletter and be first to hear about new products, interesting people and events.