We ship worldwide to over 180 countries! Fast and safe shipping Free shipping for all orders over 150 €
We ship worldwide to over 180 countries! Fast and safe shipping Worldwide shipping starting from 7,90 €
We ship worldwide to over 180 countries! Fast and safe shipping Free shipping for all orders over 150 €
We ship worldwide to over 180 countries! Fast and safe shipping Worldwide shipping starting from 7,90 €
Orrefors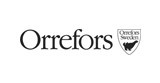 Orrefors
Orrefors is known throughout the world for its uniquely beautiful glass articles, art glass and custom glass. Situated in the historical Glasriket in Småland, Sweden, Orrefors was founded already in 1898.
Together with skilled top designers, Orrefors presents a new collection biannually. Orrefors glass articles make beautiful gifts that are a pleasure to give and receive. In addition to art glass, Finnish Design Shop carries the beautiful and unique glass lamps designed by Ingegerd Råman.
Email Signup
Subscribe to our free newsletter and be first to hear about new products, interesting people and events.