We use cookies to improve our site and your shopping experience. By continuing to browse our site you accept our cookie policy. More info
We ship worldwide to over 180 countries!
Categories by Normann Copenhagen
Bar stools & chairs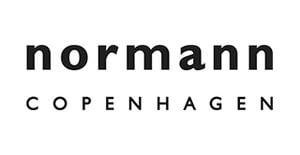 Normann Copenhagen
Normann Copenhagen is a Danish design brand founded by Jan Andersen and Poul Madsen in 1999. Ever since their first product, the iconic Norm 69 lamp, Normann Copenhagen has strived to challenge the conventional rules of design. This reflects in using traditional materials in unconventional ways and combinations.
Normann Copenhagen's fresh and innovative attitude derives from collaborations with established designers as well as the industry's fresh talents. During the years, Normann Copenhagen's furniture, lighting, textiles and home accessories have won dozens of different design awards. Their flagship store in Copenhagen is also a flagship store of modern Danish design – located in an old cinema, the 1700 square-meter showroom has often been regarded as the coolest store in Copenhagen.
This brand has collaborated with: Ole Jensen, Simon Karkov, Britt Bonnesen, Britt Kornum, Rikke Hagen, Francis Cayouette, Jacob Gudiksen, Rasmus Gottliebsen, Jozeph Forakis, Jonas Wagell, HolmbäckNordentoft, Nicholai Wiig Hansen, Iskos-Berlin, Simon Legald, Tatsuo Kuroda, Jacob Rudbeck, Andreas Lund, Asshoff & Brogård, Nis Øllgaard, Alessandro Busana, Javier Moreno Studio, Lars Beller Fjetland, Kaschkasch, Benoît Deneufbourg, Peter Johansen, Herbert Krenchel, Sigurjón Pálsson, Jan Christian Delfs, MSDS Studio, Hans Hornemann, Böttger & Ernsting, Daniel Debiasi & Federico Sandri, Femmes Régionales, Andreas Kowalewski, BÜRO FAMOS
---
Show filters
---
---