We ship worldwide to over 180 countries! Fast and safe shipping Free shipping for all orders over 150 €
We ship worldwide to over 180 countries! Fast and safe shipping Worldwide shipping starting from 7,90 €
We ship worldwide to over 180 countries! Fast and safe shipping Free shipping for all orders over 150 €
We ship worldwide to over 180 countries! Fast and safe shipping Worldwide shipping starting from 7,90 €
Order now, receive for the holidays
Order now, receive for the holidays
Muovo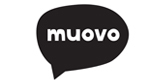 Muovo
Muovo is a design studio based in Helsinki, specialized in textile and surface design and, as the company's motto says: "Muovo designs products to put you in a good mood". The founders of Muovo are the textile designers Sanna Väänänen and Anni Kääriä: Sanna is specialized in pattern and graphic design, while Anni in woven fabrics and product design.
Sanna Väänänen graduated in 2009 with a Master's degree from the University of Art and Design Helsinki and Anni Kääriä graduated in 2007 with a Bachelor of Culture and Arts degree from the HAMK University of Applied Sciences. Sanna Väänänen and Anni Kääriä design all Muovo products, and all their products are entirely manufactured in Finland.
Email Signup
Subscribe to our free newsletter and be first to hear about new products, interesting people and events.
---