Miina Äkkijyrkkä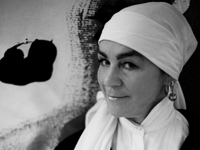 Miina Äkkijyrkkä
The Finnish visual artist Miina Äkkijyrkkä (born in 1949) is famous for her cow-themed drawings, paintings and sculptures. The Helsinki-based artist shares her time between art and watching cattle. She studied at the The School of the Fine Arts of Finland and also at the Dairy Farming School of North-Savo and at the Equine College of Ypäjä.
For Marimekko, she has designed fabrics as well as kitchen and tabletop accessories. In her famous pattern Kevätjuhla, designed for Marimekko, Miina Äkkijyrkkä pays homage to spring and freedom, and to those who dare jump into anything new and exciting. The joy of calves rushing through spring fields is embodied in the fresh background colours of the design.
With her prominent works, consisting mainly in monuments, statues realized both in metal and in bronze, and relieves, Miina Äkkijyrkkä has partecipated in numerous exhibitions and her works are represented in several museums. In 2002 Miina Äkkijyrkkä received the State Art Award, a Finnish state recognition for her lifetime work.
---