Louise Bourgeois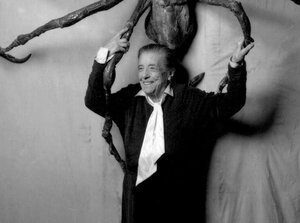 Louise Bourgeois
Louise Bourgeois (1911–2010) was a French-American artist best known for her sculptures and installations. The prolific artist's works also include paintings and graphic art. Bourgeois herself did not feel that she belonged to any particular art movement, but her works featured elements of abstract expressionism, surrealism, and feminist art. The works of the award-winning artist have been exhibited at MoMA, Tate Modern, as well as the Guggenheim Museums in Bilbao and New York, among others.
Louise Bourgeois was born in Paris in 1911. At the beginning of her artistic career, which spanned over 70 years, she focused on painting and graphic art. She only turned to sculpture, for which she is best-known, in the 1940s, after moving to New York in the late 1930s. Her art has been strongly influenced by the negative experiences of her childhood and especially her father's affair.
In the 1960s, Bourgeois' artistic expression shifted in a more organic direction, inspired by psychoanalysis, but the themes of the works continued along the same lines as before – Bourgeois still dealt with the negative emotions of human existence, such as jealousy, loneliness, and fear. From the 1970s onwards, Bourgeois increased the size and expression of her works, focusing in particular on installations and large, three-dimensional sculptures – at the same time, however, continuing her work in drawing, painting and printmaking.
Louise Bourgeois has designed pieces for the following brands: Art Partners Finland