We ship worldwide to over 180 countries! Fast and safe shipping Free shipping for all orders over 150 €
We ship worldwide to over 180 countries! Fast and safe shipping Worldwide shipping starting from 7,90 €
We ship worldwide to over 180 countries! Fast and safe shipping Free shipping for all orders over 150 €
We ship worldwide to over 180 countries! Fast and safe shipping Worldwide shipping starting from 7,90 €
Kosta Boda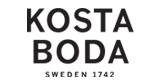 Kosta Boda
Founded in 1742, Kosta Boda, Sweden's oldest glassworks, is known for its unique and exquisite art glass. Nowadays Kosta Boda is part of the largest glassworks group in Scandinavia, Orrefors Kosta Boda AB.
The cluster of glassworks in the province of Småland, Sweden, is visited by million people annually. This world-renowned art glass manufacturer's production is characterized by strong artistic expression: luxurious vases and decorations are created with a relaxed and artistic touch.
Email Signup
Subscribe to our free newsletter and be first to hear about new products, interesting people and events.