Gift cards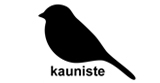 Kauniste
Kauniste was founded in 2008 by a group of young Finnish designers and craftman in Helsinki's Vallila district. Kauniste designs, manufactures, and markets their inspirational everyday textiles. The aim of Kauniste is to create items which will be enjoyed for decades.
This brand has collaborated with: Bjørn Rune Lie, Hannele Äijälä, Hanna Konola
---
Show filters
---
0 matching products.
---