We ship worldwide to over 180 countries! Fast and safe shipping Free shipping for all orders over 150 €
We ship worldwide to over 180 countries! Fast and safe shipping Worldwide shipping starting from 7,90 €
We ship worldwide to over 180 countries! Fast and safe shipping Free shipping for all orders over 150 €
We ship worldwide to over 180 countries! Fast and safe shipping Worldwide shipping starting from 7,90 €
Johtoi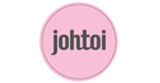 Johtoi
The Finnish company Johtoi started as a one woman's dream to replace common white electrical cords with colourful ones. Besides being aesthetically interesting, the products are also durable and ethically made. Johtoi has done a lot of work to find reliable and cooperative manufacturers that are engaged to produce timeless products of high quality.
The Valoroikka lamps are handmade in Kempele, Finland. The extension cords are made ethically in China. The factories pay legal wages, the workers are insured and they don't have to work too long hours. Child labour is not used.
Email Signup
Subscribe to our free newsletter and be first to hear about new products, interesting people and events.