We ship worldwide to over 180 countries! Fast and safe shipping Free shipping for all orders over 150 €
We ship worldwide to over 180 countries! Fast and safe shipping Worldwide shipping starting from 7,90 €
We ship worldwide to over 180 countries! Fast and safe shipping Free shipping for all orders over 150 €
We ship worldwide to over 180 countries! Fast and safe shipping Worldwide shipping starting from 7,90 €
Ingegerd Råman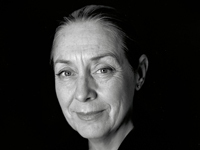 Ingegerd Råman
Ingegerd Råman (b. 1943) is one of Sweden's most renowned glass designers. After graduating from the Konstfack College of Arts, Crafts and Design in Stockholm, she worked for many years as a designer of ceramics and as a glass designer, first at Johansfors and later at Skruf. Over the years, Ingegerd Råman has received numerous awards for her work, and in 1995 she was awarded a Swedish government professor's title.
Ingegerd joined the talented team of artists at Orrefors in 1999 and her creations for Orrefors include Skyline, Slowfox and Undercover, all three of which are characterised by the purity of line and functionality that mark her approach to design. For Orrefors Ingegerd Råman has designed also Light Shadows collection, a series of sand-blasted lamps with different patterns – beautiful also when not lit, when the lamp is switched on the pattern is projected on the walls and ceiling, creating like a shadow play. Much of Ingegerd Råman's work has been exhibited around the world and she is represented at a number of museums around the world. A few examples are the Victoria & Albert Museum in London, the National Museum of Fine Arts in Stockholm and Riihimäki Museum of Glass in Finland.
Email Signup
Subscribe to our free newsletter and be first to hear about new products, interesting people and events.