We ship worldwide to over 180 countries! Fast and safe shipping Free shipping for all orders over 150 €
We ship worldwide to over 180 countries! Fast and safe shipping Worldwide shipping starting from 7,90 €
We ship worldwide to over 180 countries! Fast and safe shipping Free shipping for all orders over 150 €
We ship worldwide to over 180 countries! Fast and safe shipping Worldwide shipping starting from 7,90 €
IVANAhelsinki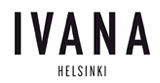 IVANAhelsinki
Paola Suhonen is the designer behind IVANAhelsinki, a fresh exception in the field of fashion. IVANAhelsinki represents a new Nordic style, Fennofolk, where Slavic melancholy meets Scandinavian design.
IVANAhelsinki is based on ethical and ecological values: Every IVANAhelsinki piece has been atelier manufactured in Finland. IVANAhelsinki was also the first Nordic fashion house to have their own show in Paris Fashion Week main show.
Email Signup
Subscribe to our free newsletter and be first to hear about new products, interesting people and events.