We ship worldwide to over 180 countries! Fast and safe shipping Free shipping for all orders over 150 €
We ship worldwide to over 180 countries! Fast and safe shipping Worldwide shipping starting from 7,90 €
We ship worldwide to over 180 countries! Fast and safe shipping Free shipping for all orders over 150 €
We ship worldwide to over 180 countries! Fast and safe shipping Worldwide shipping starting from 7,90 €
Harri Koskinen Works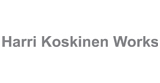 Harri Koskinen Works
Harri Koskinen Works is a collection designed by the Finnish designer Harri Koskinen and was presented for the first time at the Milan International Furniture Fair in April 2009. Harri Koskinen says he designed the collection in response to the high level of demand for his exhibition pieces. Harri Koskinen Works is the designer's own brand under which he designs and also produces his own works.
Harri Koskinen is famous worldwide for his creations, many of which have already earned the title of Scandinavian design classics. Produced in a range of different materials such as glass, wood, ceramics or textile, Harri Koskinen's designs go from tableware to lamps, vases and watches, just to name a few. The Finnish designer has received prestigious design awards and was recently awarded with the Torsten and Wanja Söderberg Prize, which is considered to be as one of the most significant design awards in the world. Harri Koskinen Works is a growing collection and all the products are made in Finland.
Email Signup
Subscribe to our free newsletter and be first to hear about new products, interesting people and events.