We ship worldwide to over 180 countries! Fast and safe shipping Free shipping for all orders over 150 €
We ship worldwide to over 180 countries! Fast and safe shipping Worldwide shipping starting from 7,90 €
We ship worldwide to over 180 countries! Fast and safe shipping Free shipping for all orders over 150 €
We ship worldwide to over 180 countries! Fast and safe shipping Worldwide shipping starting from 7,90 €
Desico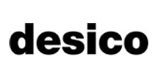 Desico
Desico's beautiful candles are hand-made in the inspiring and romantic Fiskars village milieu. Still a family business, Desico was founded in 1963 by the father of the current owner. Desico's recipe for a good candle comprises design, wax, colour agents and the wick.
Only the best and the purest ingredients are good enough for Desico candles: paraffin, stearin, and wick made from cotton. Desico's color range includes 36 rich and bright tones that are hand-mixed out of pigments used for food colouring.
Email Signup
Subscribe to our free newsletter and be first to hear about new products, interesting people and events.