We ship worldwide to over 180 countries! Fast and safe shipping Free shipping for all orders over 150 €
We ship worldwide to over 180 countries! Fast and safe shipping Worldwide shipping starting from 7,90 €
We ship worldwide to over 180 countries! Fast and safe shipping Free shipping for all orders over 150 €
We ship worldwide to over 180 countries! Fast and safe shipping Worldwide shipping starting from 7,90 €
David Design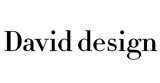 David Design
David Design is a Swedish manufacturer whose aim is to create a balance between form and function and to find new uses for the everyday objects. David Design's furniture and accessories form a versatile and refined collection.
All David Design products are done with individual, independent and playful style: every object has an idea inside. The designers include Inga Sempé and Claesson Koivisto Rune.
Email Signup
Subscribe to our free newsletter and be first to hear about new products, interesting people and events.