We ship worldwide to over 180 countries! Fast and safe shipping Free shipping for all orders over 150 €
We ship worldwide to over 180 countries! Fast and safe shipping Worldwide shipping starting from 7,90 €
We ship worldwide to over 180 countries! Fast and safe shipping Free shipping for all orders over 150 €
We ship worldwide to over 180 countries! Fast and safe shipping Worldwide shipping starting from 7,90 €
Chao & Eero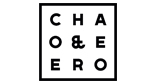 Chao & Eero
Founded on Valentine's Day of 2005 by Chao-Hsien Kuo and Eero Hintsanen, the born global company Chao & Eero stands for a love story. Love for each other, and love for creating jewelry.
Based in Lahti, Finland, Chao and Eero design and make jewelry in their own way, with original ideas and impeccable quality. Their designs often tell about the beauty and stories in daily surroundings, which reflect the simple and honest Finnish lifestyle. The effortless elegance, which can be felt, is the result of the expertise and detailed process behind every piece of jewelry.
Email Signup
Subscribe to our free newsletter and be first to hear about new products, interesting people and events.