We ship worldwide to over 180 countries! Fast and safe shipping Free shipping for all orders over 150 €
We ship worldwide to over 180 countries! Fast and safe shipping Worldwide shipping starting from 7,90 €
We ship worldwide to over 180 countries! Fast and safe shipping Free shipping for all orders over 150 €
We ship worldwide to over 180 countries! Fast and safe shipping Worldwide shipping starting from 7,90 €
Bestlite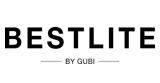 Bestlite
Bestlite today is a genuine global design icon. In 2004, the production and sales rights were acquired by the Danish design company Gubi and the Bestlite collection is today available through retailers worldwide. The collection includes table, floor, pendant and wall lamp versions.
Robert Dudley Best drew the first drafts of the lamp that would later become synonymous with his name when he studied to become an industrial designer in Paris and Düsseldorf. As the lamp was the first example of Bauhaus in the UK, strong arguments were needed before the lamp could be put into production. The lamp was produced by the manufacturing firm Best & Lloyd, founded by Best's family in 1840.
After mention in the prominent architectural magazine Architects' Journal, the architectural community opened its eyes to the lamp's potential. Bestlite gained everlasting fame when Winston Churchill placed one on his desk in Whitehall. Today the largest museum in the world for art and design, the Victoria & Albert Museum in London, exhibits and presents Bestlite as an English design classic.
Email Signup
Subscribe to our free newsletter and be first to hear about new products, interesting people and events.