We ship worldwide to over 180 countries! Fast and safe shipping Free shipping for all orders over 150 €
We ship worldwide to over 180 countries! Fast and safe shipping Worldwide shipping starting from 7,90 €
We ship worldwide to over 180 countries! Fast and safe shipping Free shipping for all orders over 150 €
We ship worldwide to over 180 countries! Fast and safe shipping Worldwide shipping starting from 7,90 €
Order now, receive for the holidays
Order now, receive for the holidays
Antti Nurmesniemi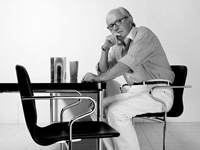 Antti Nurmesniemi
The Finnish interior designer Antti Nurmesniemi (1927-2003) is considered one of the pioneers of the Finnish design industry. Antti Nurmesniemi studied at the University of Arts and Design Helsinki before entering into an architectural practice from 1951 to 1956. In 1953 he married Vuokko Eskolin-Nurmesniemi, a leading textile designer for Marimekko.
During his career Nurmesniemi created a wide range of products, including pieces of furniture, telephones, kitchenware and even trains. His most famous designs include the sauna stool, which was designed for Helsinki Palace Hotel and has a horseshoe shape, the enamelled coffee pot for Wärtsilä, which represents a typical product of Finnish Modernism with its industrial and colourful look, and the Triennale chair, which was awarded a Gold Medal at the Milan Triennale in 1960. Antti Nurmesniemi designed also furniture for Artek and tableware for Arabia. He is represented in numerous museums worldwide. During his long career as an industrial designer, the designer has received numerous of prizes and honours, including two Grand Prix at the Milan Triennale, the Pro Finlandia medal and the Lunning Prize.
Email Signup
Subscribe to our free newsletter and be first to hear about new products, interesting people and events.
---