Anna Miquel Andreu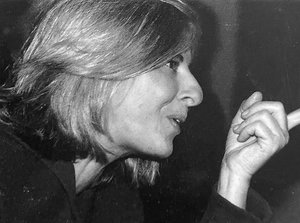 Anna Miquel Andreu
Anna Miquel Andreu (1949–2015) was an acclaimed artist focused on paintings and film animation. Her first solo exhibition was held in 1972, and after that, her works have been on display in numerable solo and group exhibitions at art fairs, galleries and museums.
Born in Barcelona, Spain, Anna Miquel Andreu studied fine arts at La Escuela Superior de Sant Jordi, where she also obtained the title of Professor of Drawing. She later continued her studies at The State University of Dallas, Texas, and the University of Barcelona, where she obtained her doctorate and was nominated Professor of Drawing – she taught painting, drawing, film animation until 2010 when she was given the title Professor Emerita.
Anna Miquel Andreu's work has been in exhibitions in Austria, Germany, Finland and Spain, to name a few, in galleries such as Sala García Castañón – Fundación Caja Navarra, Universal museum in Graz, Galeria Trama and Canals-Galeria d'Art in Sant Cugat de Vallès. She has also had exhibitions at Nova in Sadabell, Ateneu in Cadaqués, Pérgamon in Barcelona, Sala Parés in Barcelona, Àmbit in Barcelona, and others.
Anna Miquel Andreu has designed pieces for the following brands: Art Partners Finland
---